Storytelling Evening & Dinner with Joe Langley - Jazz, Blues, Gospel and R&B Singer

Saturday, April 25, 2020 from 7:30 PM to 10:30 PM (CEST)
Event Details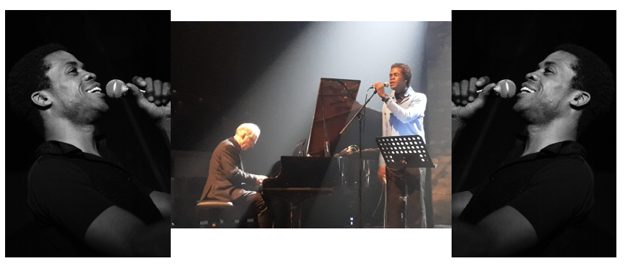 Joseph Jeremiah Langley
The Renaissance Man 
           Joseph Jeremiah Langley's talent knows no boundaries. A modern-day Renaissance Man, he is a painter, writer, poet, teacher, counsellor, circus performer, radio talk show host (RFPP.net), music composer, globe trotter, and adventurer. Most notably, he is a singer of Jazz, Blues, Gospel, and R & B where he has performed and collaborated with several groups in Paris and internationally for over 30 years.  His current gig and passion is working with The Paris Jazz Repertory Septet on Concert Climat, a musical trilogy of suites dedicated to the environmental crisis and composed by Joe Makholm. Additionally, he works with the French musician Supadry and the German musician Barny Burns on other diverse musical creation and recording projects. At this Storytelling Evening, in addition to sharing his story, Joe will showcase his diversity singing some of his Jazz, Blues, Gospel and R & B favorites.
            A native of Rocky Mount, North Carolina, hometown of Theloniouus Monk, Joseph grew up with Jazz and Gospel music in his blood. Whether singing as a child musical prodigy in the church choir or traveling throughout Europe singing and doing acrobatics on a horse in the Zingaro Circus (created by Bartabas, the famed French producer /artist/director), Joseph always finds his place in the music world.
              He has even loaned his voice to numerous musical recordings and films in the US and France such as the "Le Nouveau Monde" by Alain Corneau and documentaries, "When African Americans came to Paris" by Joanne and David Burke. Beyond the musical realm, he held the position of Director - Black Hair Care Division for L'Oreal in Europe….how diverse is that!
              Academically, Joseph studied at Davidson College in North Carolina in the US and in France at the Sorbonne, Parsons School of  Design in Paris and at the University of Montpellier and the Theological Seminary School, also in Montpellier,
                The menu is at the inspiration stage and as usual will start with Champagne followed by 5 courses and other beverages - wine, cremant, beer, juice, tea and coffee.                                                                                                                                                                                 Yours in story,  
                                                                                                                 Bernadette          
For a teaser of the evenings performance you can listen to his music on Spotify and view his video creations on his You Tube Channel.
luckycatster@gmail.com
You Tube Joseph Langley
www.numberonemusic.com/JosephLangley   
 If you have never been to a Storytelling Evening here is an FAQ
WHAT ARE THESE STORYTELLING EVENINGS? 
 
Events at a private residence where a storyteller (author, entertainer, artist, musician, magician, opera singer, dancer, actor, expert in a particular field) tells a story around culture, lifestyle, entertainment, travel or the arts. The idea is to ENTERTAIN, AMUSE, EDUCATE, ENLIGHTEN or any combination thereof.
WHERE DO THESE EVENTS TAKE PLACE?
Usually in Paris at the private residence of Host Bernadette Martin. However, with the launch of Storytelling Evenings Las Vegas in 2017, events can be held at any location across the globe.
WHO ATTENDS? 

25-30 Storytelling aficionados who hail from across the globe and understand English. French translation can be provided if needed.
WHAT IS THE DINNER MENU?
 
The menu varies and is a very important part of the evening. With advice from a Chef, cuisines from the "four corners of the globe" have ranged from Mexican, Italian, Lebanese, Thai, Canadian, Spanish, Indian, French, Cajun, French, regional French and oftentimes fusion. Vegetarian and Vegan options are available with advance notice. Wine, juice, and other beverages are served as well as a selection of teas and coffee with a delightful dessert.

WHAT IS THE COST?
  
45 Euros  which includes presentation, 5 course dinner, champagne, wine, beverages, juice, dessert, coffee.

HOW DO I REGISTER? 
On this site  below
HOW OFTEN ARE THESE STORYTELLING EVENINGS? 

Once a month usually on a Saturday
DO YOU WELCOME SUGGESTIONS FOR STORYTELLERS?
 Yes!  This could be you, someone you know in Paris or someone who may be passing through.

WHO HAVE BEEN THE PREVIOUS STORYTELLERS?
 For a full list and description of the past 50 plus Storytelling Evenings, view on this site   
www.storytellingevenings.com 
Save This Event
When & Where

Private residence. Codes sent with RSVP
55 Boulevard Richard Lenoir
75011 Paris
France


Saturday, April 25, 2020 from 7:30 PM to 10:30 PM (CEST)
Add to my calendar