Storytelling Evening & Dinner with Gwen Sampe - Jazz Singer

Saturday, June 15, 2019 from 7:30 PM to 10:30 PM (CEST)
Event Details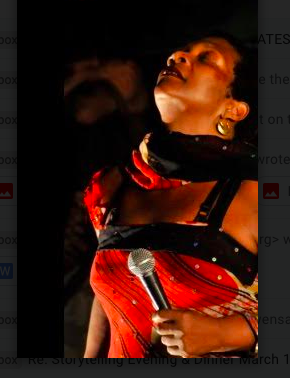 GWEN SAMPE
          Gwen Sampé is a jazz singer for whom the art of improvising is an integral and indispensable part of her musical soundscape. Born in Houston, Texas, into a family that loves singing, her approach to jazz singing is rooted in the past yet unapologetically modern. With jazz she discovers her soul.She received her B.A. in political philosophy from the University of Houston. Later she received a scholarship from the British Arts Council and studied at the Guildhall School of Music and Drama.
     At this Storytelling Evening through song, poetry and movement she will tell her story of the resilience of a creative spirit and her life as an improvising musician. This spilling over into a life where she has learned to live, to change, to adapt, to embrace and to survive.
           Although primarily known as a jazz singer, her artistic experience is rich and diverse. She has performed in and directed jazz=inflected mixed arts pieces including a one woman show "From The Fields To The Concert Hall,"  an improvised opera, "L'Inquietude des Funambules," by Luc Boltanski and "Turnings," based on the poetry of Wole Soyinka. In 1990 she took the role of "God" in Benjamin Britten's "Noye's Fludde," the first woman to do so. She is currently working on another one-woman show "Boundaries," which she premiered in Paris before performing it in Italy.Recently she has been collaborating with Iranian dancer/choreographer Mehdi Farajpour.Gwen studied dance with Yolande Burke and Bill Louther in London, and with Elsa Wolliaston in Paris.
            She has released 2 albums, the first "Water Gazing," in 2002 and "Conversions," in 2014 with pianist Jobic Le Masson.
            Over the years she has taught in various community music projects in Ireland and England and France, working with the disabled, people with learning disabilities, the elderly, young children, teenagers-at-risk, prisoners, late learners, and amateur singers. In London she had the pleasure to work for community arts such as the Pan Intercultural Arts For Social Change and Sound People Collective. In Paris she works with the association "Culture et Hôpital."
          The 5-course menu is below starting with champagne and other beverages served. 
                                                                   Yours in Jazz,
                                                                                     Bernadette  

CHAMPAGNE & CANAPES
Gumbo Dip 
Shrimp, Okra, Parmesan & Cream Cheese on Toasted Baguette
Seasonal Crudités
Carrots, Bell Peppers, Cucumber, Zucchini
with Cajun Spinach Roasted Pecan Dip
 SOUP
Sweet Corn Gazpacho
with Tomatoes, Cucumber & Tomatoes
MAIN COURSE
Chicken Creole on Rice 
with Cayenne, Bell Peppers, Tomatoes & Celery
DESSERT
Banana Bread Pudding
BEVERAGES
Champagne served w/ Canapes, Red & White Wine, Crémant, Beer, Juice, Coffee, Tea
If you have never been to a Storytelling Evening here is an FAQ
WHAT ARE THESE STORYTELLING EVENINGS? 

Events at a private residence where a storyteller (author, entertainer, artist, musician, magician, opera singer, dancer, actor, expert in a particular field) tells a story around culture, lifestyle, entertainment, travel or the arts. The idea is to ENTERTAIN, AMUSE, EDUCATE, ENLIGHTEN or any combination thereof.
WHERE DO THESE EVENTS TAKE PLACE?
Usually in Paris at the private residence of Host Bernadette Martin. However, with the launch of Storytelling Evenings Las Vegas in 2017, events can be held at any location across the globe.
WHO ATTENDS?

25-30 Storytelling aficionados who hail from across the globe and understand English.
WHAT IS THE DINNER MENU?

The menu varies and is a very important part of the evening. With advice from a Chef, cuisines from the "four corners of the globe" have ranged from Mexican, Italian, Lebanese, Thai, Canadian, Spanish, Indian, French, Cajun, French, regional French and oftentimes fusion. Vegetarian options are available. Wine, juice, and other beverages are served as well as a selection of teas and coffee with a delightful dessert.

WHAT IS THE COST?
 
45 Euros  which includes presentation, 5 course dinner, champagne, wine, beverages, juice, dessert, coffee.

HOW DO I REGISTER?
On this site    
www.visibilitybranding2015.eventbrite.com

HOW OFTEN ARE THESE STORYTELLING EVENINGS? 

Once a month usually on a Saturday
DO YOU WELCOME SUGGESTIONS FOR STORYTELLERS?
 Yes!  This could be you, someone you know in Paris or someone who may be passing through.

WHO HAVE BEEN THE PREVIOUS STORYTELLERS?
 For a full list and description of the past 50 plus Storytelling Evenings, view on this site   
www.storytellingevenings.com

When & Where

Private residence. Codes sent with RSVP
55 Boulevard Richard Lenoir
75011 Paris
France


Saturday, June 15, 2019 from 7:30 PM to 10:30 PM (CEST)
Add to my calendar