Storytelling Evening & Dinner with Carolina Orozco - Nomad World Dancer

Saturday, October 12, 2019 from 7:30 PM to 10:30 PM (CEST)
Event Details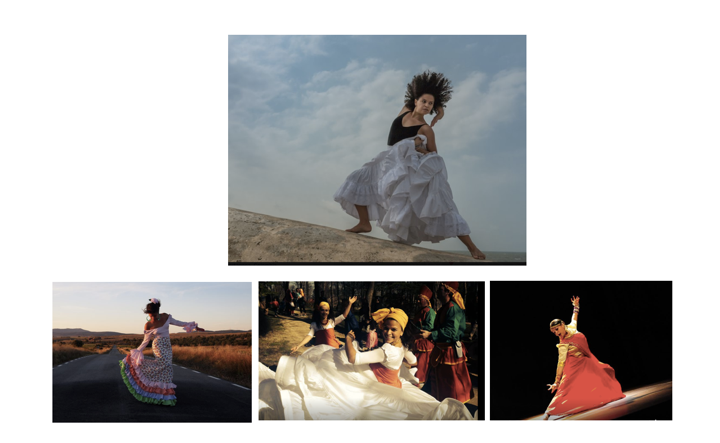 Carolina Orozco

Nomad World Dancer
        A Dancer of the World, Carolina Orozco has performed across the globe starting in her native Colombia and since throughout a 15-year career touching down in India, Benin, Ecuador, Mexico, Guadeloupe, Syria, Egypt and France. Her passion for dance was ignited in her native city of Cartagena, Colombia where her feet left the ground at a young age to pursue her passion to discover traditional dances around the world. Leading to a nomadic lifestyle, she has called "home" India, France, and Colombia where she trained and studied. Most notably in Paris at the Free Dance Song School with studies in "Choreographic Mediation", a methodology where dance is used as a tool for personal development working with groups such as young children, challenged teenagers​,​ and therapeutic workshops for people with Alzheimer's disease.
         She has joined and currently performs and tours with various professional international companies such as the Afro-Brazilian company, Tambores Nago and the Free Dance Song Company. The latter, using the Dunham technique, blends classical and jazz with ethnic dances from Africa, Haiti, Latin America, and the Caribbean. Performances include "La Mangrove" directed by Delphine Cammal and under director Hubert Petit Phar danced in "The Diaspora Festival" performing in Benin, Cartagena, Guadeloupe and Paris.  
         She returned to Paris recently after three years in her hometown of Cartagena in Colombia where she was Educational Coordinator at the Alliance Francaise of Cartagena conducting dance workshops in particular for women.  As dance transcends language and age, she currently teaches in Paris working with various groups, in particular, non-native French speaking women and with mothers and children.
    At this Storytelling Evening Carolina will tell us her story and perform a blend of traditional dances from around the world.  The menu will be Colombian inspired and as usual will start with champagne followed by 5 courses and other beverages - wine, cremant, beer, juice, tea and coffee. 
                                                          
                                                                     Yours in dance from around the world,
                                                                                                   Bernadette

Carolina Orozco
FB:   https://www.facebook.com/carolinaorozcotriana
https://www.facebook.com/carolinaworld.dance/
https://www.instagram.com/carolinaworld.dance/?fbclid=IwAR332Th-wdb-G9NhcUvGF-1296U1GgSnto2azHsUBizNqRIST9aSiK3C5kM
If you have never been to a Storytelling Evening here is an FAQ
WHAT ARE THESE STORYTELLING EVENINGS? 

Events at a private residence where a storyteller (author, entertainer, artist, musician, magician, opera singer, dancer, actor, expert in a particular field) tells a story around culture, lifestyle, entertainment, travel or the arts. The idea is to ENTERTAIN, AMUSE, EDUCATE, ENLIGHTEN or any combination thereof.
WHERE DO THESE EVENTS TAKE PLACE?
Usually in Paris at the private residence of Host Bernadette Martin. However, with the launch of Storytelling Evenings Las Vegas in 2017, events can be held at any location across the globe.
WHO ATTENDS?

25-30 Storytelling aficionados who hail from across the globe and understand English.
WHAT IS THE DINNER MENU?

The menu varies and is a very important part of the evening. With advice from a Chef, cuisines from the "four corners of the globe" have ranged from Mexican, Italian, Lebanese, Thai, Canadian, Spanish, Indian, French, Cajun, French, regional French and oftentimes fusion. Vegetarian and Vegan options are available with advance notice. Wine, juice, and other beverages are served as well as a selection of teas and coffee with a delightful dessert.

WHAT IS THE COST?
 
45 Euros  which includes presentation, 5 course dinner, champagne, wine, beverages, juice, dessert, coffee.

HOW DO I REGISTER?
On this site    
www.visibilitybranding2015.eventbrite.com

HOW OFTEN ARE THESE STORYTELLING EVENINGS? 

Once a month usually on a Saturday
DO YOU WELCOME SUGGESTIONS FOR STORYTELLERS?
 Yes!  This could be you, someone you know in Paris or someone who may be passing through.

WHO HAVE BEEN THE PREVIOUS STORYTELLERS?
 For a full list and description of the past 50 plus Storytelling Evenings, view on this site   
www.storytellingevenings.com

When & Where

Private residence. Codes sent with RSVP
55 Boulevard Richard Lenoir
75011 Paris
France


Saturday, October 12, 2019 from 7:30 PM to 10:30 PM (CEST)
Add to my calendar