Storytelling Evening & Dinner w/ Marie-Claude Bottius - Soprano AND Santa Claus coming as special guest with presents for ALL!

Saturday, December 14, 2019 from 7:30 PM to 10:30 PM (CET)
Event Details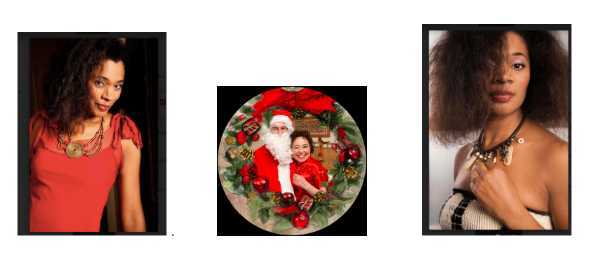 Marie-Claude Bottius - Soprano
with Santa Claus making a Guest Appearance


                               Marie-Claude Bottius is a mult-talented Soprano with amazing versatility in Opera, Contemporary Opera, Musical Theatre, Sacred Music, Caribbean, Baroque, and Gospel. In addition to telling her story, she will perform opera selections and share traditional Christmas songs from the West Indies. BREAKING NEWS! Santa Claus is expected to arrive with presents for all.
                              When asked her favorite, she admits is hard to choose as when she sings Caribbean, a reflection of her roots , she "feels the sun"...and siniging Sacred Music and Gospel she "feels my soul elevated" and Opera.... "I love immersing myself in the character roles and taking it to a heightened level". Marie-Claude was born in Paris but has solid cultural roots in the West Indies, specifically Martinique. As a child, she was inspired by parents who loved to dance and sing at home and at family parties. Interspersed with singing at church during catechism lessons, she loved watching the "Fame" TV show. 
                 Initially, Marie-Claude studied Sociology earning a Master degree at Science Po in Paris and consulted in communication before embracing her passion for a lyrical artist career. This led to studies and Masterclasses across Europe. In France at the Ecole Normale de Musique de Paris (Diplôme Supérieur d'Execution), Italy - Verdi Academy of Milan, Scala Academy of Milan, and Belgium at the Royal Chapel of Brussels. Marie-Claude is the recipient of several prestigious awards, most notably the Second Prize at "Les Clés d'Or" at the International Competition. To complement her passion for singing, she studied various genres of dance - Modern Jazz, Classic, Contemporary and "ethnical dances" - Hindu, Afro-Caribbean, and BraziliaThe list is long of Opera, Musical Theatre, and Sacred Music performances. To name a few, her repertoire of composers and roles include Pamina in Die Zauberflüte (Mozart), Donna Elvira in Don Giovanni (Mozart), Giulio in Cesare in Egitto (Handel), and Cleopatra in Semiramide (Rossini). Musical Theatre roles include Bess in Porgy and Bess (Gershwin), and Maria in West Side Story (Bernstein). Sacred Music performances include Stabat Mater (Pergolese), Magnificat (Bach), Messiah (Handel), Mass C Minor (Mozart), and Petite Messe Solennelle (Rossini).
                     Current projects include a harp duet recital called "Harpévoix" (harp and voice) and the Carib'Opera Project to promote Afro-Caribbean singers, musicians and artists with performances in Guadeloupe and Martinique.
                At this Storytelling Evening, Marie-Claude will showcase her brilliant and warm voice performing excerpts from her repetoire. As well she will touch on the story of the Chevalier Saint-George, a Black Composer from the West Indies who lived at the same period of Mozart.
                  The West Indian menu is below and as usual will start with Champagne followed by 5 courses and other beverages - wine, cremant, beer, juice, tea and coffee.                                                                                                                                                                      Yours in Opera,  
                                                                                                          Bernadette                                                                                                                                                                                                  
Marie-Claude Bottius   www.marieclaudebottius.com/
Menu
Champagne & Canapes

Caramelised Roasted Ham Appetizer
with Pineapple and Cherry garnish
Caribbean Shrimp Cocktail
with a Creole touch
Banana Bites
Crudités
Carrots, Zucchini, Cucumber, Bell Peppers
with Herb Dip
Soup
Sweet Potato Curry Soup with Ginger 
garnished with Coriander
Main Course
Cajun Chicken on Calypso Rice


Bell Pepper, Carrot, Celery
 hint of Thyme, Cilantro and Coconut
Dessert


Xmas

Upside-down Pineapple & Coconut Cake




with a dash of whipped cream


Beverages


Champagne w/Canapes, Red & White Wine, Cremant, Beer, Juice, Coffee, Tea
 If you have never been to a Storytelling Evening here is an FAQ
WHAT ARE THESE STORYTELLING EVENINGS? 

Events at a private residence where a storyteller (author, entertainer, artist, musician, magician, opera singer, dancer, actor, expert in a particular field) tells a story around culture, lifestyle, entertainment, travel or the arts. The idea is to ENTERTAIN, AMUSE, EDUCATE, ENLIGHTEN or any combination thereof.
WHERE DO THESE EVENTS TAKE PLACE?
Usually in Paris at the private residence of Host Bernadette Martin. However, with the launch of Storytelling Evenings Las Vegas in 2017, events can be held at any location across the globe.
WHO ATTENDS? 

25-30 Storytelling aficionados who hail from across the globe and understand English. 
WHAT IS THE DINNER MENU?
 
The menu varies and is a very important part of the evening. With advice from a Chef, cuisines from the "four corners of the globe" have ranged from Mexican, Italian, Lebanese, Thai, Canadian, Spanish, Indian, French, Cajun, French, regional French and oftentimes fusion. Vegetarian and Vegan options are available with advance notice. Wine, juice, and other beverages are served as well as a selection of teas and coffee with a delightful dessert.

WHAT IS THE COST?
  
45 Euros  which includes presentation, 5 course dinner, champagne, wine, beverages, juice, dessert, coffee.

HOW DO I REGISTER? 
On this site    
www.visibilitybranding2015.eventbrite.com

HOW OFTEN ARE THESE STORYTELLING EVENINGS? 

Once a month usually on a Saturday
DO YOU WELCOME SUGGESTIONS FOR STORYTELLERS?
 Yes!  This could be you, someone you know in Paris or someone who may be passing through.

WHO HAVE BEEN THE PREVIOUS STORYTELLERS?
 For a full list and description of the past 50 plus Storytelling Evenings, view on this site   
www.storytellingevenings.com 
When & Where

Private residence. Codes sent with RSVP
55 Boulevard Richard Lenoir
75011 Paris
France


Saturday, December 14, 2019 from 7:30 PM to 10:30 PM (CET)
Add to my calendar