Event Information
Refund policy
Contact the organizer to request a refund.
Eventbrite's fee is nonrefundable.
Who is this 5-session course for? Anyone who is yearning for a lift to the spirit and would enjoy developing their storytelling skills.
About this event
"I found it was something I needed that I didn't know I needed." (Course participant)
Maybe you're feeling a bit weary – not because you've done too much, but because you've done too little of what sparks a light in you.
What if there was something that could bring you real pleasure, uplift to your spirit, and possibilities for connection and community - PLUS refreshes or develops new skills that are relevant to so many areas of life both work and play, even offers avenues for exciting inquiry and research if that's your thing? Something that could be used as a new tool - or, as a needed break altogether and refreshing respite...
STORYTELLING – Good for body and soul!
Yes, the ancient yet nothing's-more-contemporary practice of storytelling – it could be just the spark you're yearning for!
"Storytelling, Body & Soul" is a course perhaps like no other you've taken...

Over 5 Thursday sessions you will:
Hear stories told by Pam Faro, international storyteller and teaching artist for 33 years.
Encounter stories that are uplifting, thought-provoking, and soul-nourishing.
Explore why humans tell stories, and the impacts on community, brain development, and the human spirit.
Learn and use the 3 Storyteller's Tools.
Select and learn at least 1 new story for telling.
Use Pam's SPIRIT Storytelling Ecology for inspiring & guiding your storytelling.
Employ the SPIRIT Story-learning Process – for learning any story.
Discuss how you can use storytelling skills & processes in your contexts – whether personal/leisure, work, ministry, community development, and more.
Tell at least 1 story in the Story Circle – a special session for course participants to share with each other their new stories.
Consider different genres of stories & storytelling (future course offerings will offer deeper dives into specific genres)
As we explore the embodied art of storytelling together, you will develop new skills, your spirit will be lifted and your soul nourished by this deeply human, creative, community-fostering (both in person & online!), accessible and often joyful practice.
* Comments from previous course participants:
"The warming of the heart that your stories created in me today…"
"Got my creative juices flowing again."
(Feedback form question: Did you learn something new, and if so, what?) – "Oh yes! How much more captivating stories can be than I already knew."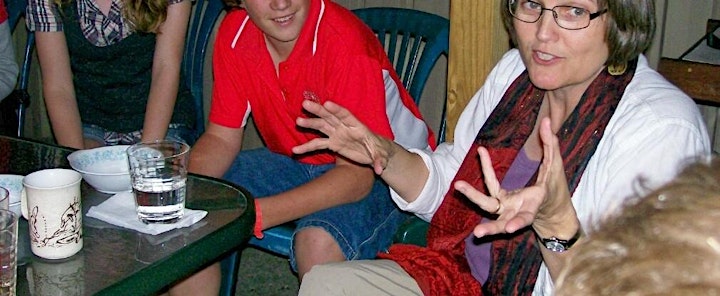 Thursdays May 13, 20, 27, June 3, 10.
Five 1½-hour evening sessions at 5pm PDT / 6pm MDT / 7pm CDT / 8pm EDT (US).[Use time zone converter for other locations.]
Who is this course for? Anyone who is yearning for a lift to the spirit and would enjoy developing new skills.
Questions? Contact Pam: pamfaro@storycrossings.com
Pam Faro (MDiv) has been performing and teaching storytelling since 1988 across the US and overseas, featured in festivals, conferences, classrooms, churches, libraries, theaters, wildlife sanctuaries, and river canoe trips! She delights in the fun, power, connection, and spiritual uplift that storytelling brings.
Audience Applause for Pam's online storytelling performances:
"Your storytelling was warm, intimate, and inviting. You rocked!!!" – Carol Birch
"The pacing was perfect! Enchanting." – Chetter Galloway
"What a storyteller - supremely well done!" – Jay Johnson
"That was superb. Could not take my eyes off you! "– Roopa Mohan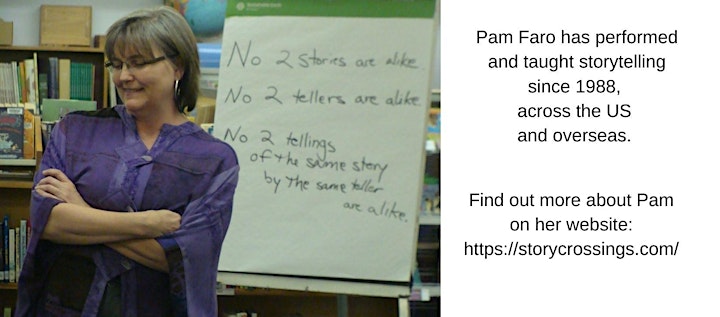 Date and time
Location
Refund policy
Contact the organizer to request a refund.
Eventbrite's fee is nonrefundable.