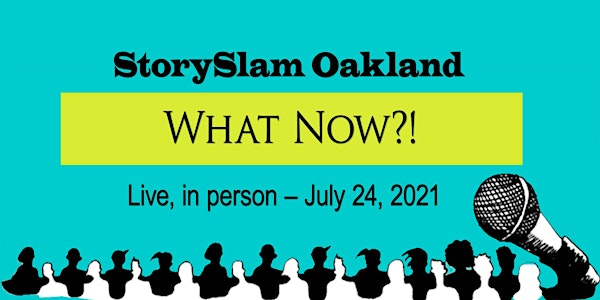 StorySlam Oakland: What Now?! True stories told live & in person
Location
Luka's Taproom & Lounge
2221 Broadway
Oakland, CA 94612
True stories from your pandemic or otherwise uncharted territory. Open-mic, 5 mins or less. Tell a true story, get a free drink.
About this event
What Now?!
True stories. Told by you, a few special guests, and storytellers from the audience.
Or just listen and laugh. Note: not all stories may be funny. Some may be genuinely touching!
We're going through an incredible time, aren't we?
Everybody's got a story from this experience.
Hence the theme: What Now?!
"What Now" could be a story about anything that's happened to you during the Pandemic.
But also — it could be anywhere you found yourself not knowing what to expect, or what to do or say.
Not knowing how to get out of something, get through something — how to make it out okay.
We want to hear how you did it, what you went through, and what happened in the end.
DETAILS
Doors open at 6:30 PM. No reserved seats.
Put your name in the hat for a chance to tell your true story and win a drink ticket.
Open-mic stories can be 5 to 6 minutes long. (We will have a timer.)
Must be true.
Must be about you, where you are the main character in the story.
We may have one featured performer tell a longer story. TBA.
No audience voting for this show — it's just a show to appreciate everyone's stories.
You'll still win a free drink ticket just for telling your true story. And it doesn't even have to be a good story! (But we hope you'll practice it a few times before the show.)
Mask policy: You may choose to wear a mask in the venue, but you are not required to. Currently, masks are not required indoors. But policies might change by the day of the show.
Food and drinks are available from Luka's. Order your food or drinks at the bar, before the show starts. There will be one intermission where you can get another drink.
This show is appropriate for older teens, and adults, as we cannot screen the content of the stories nor their delivery. That's the fun of an open-mic storytelling show — you never know what you are going to get.
But you can be sure it will be short, true, and told from memory without notes.
Hosted by Julie Soller and Inanc Karakaylac.
.All seats and tables will be FIRST COME, FIRST SERVED.
No refunds.
Doors open at 6:30. Arrive early to get a good seat. Stories begin around 7:00ish.