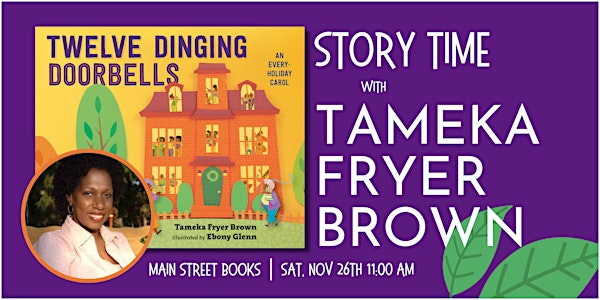 Story Time with Tameka Fryer Brown
Story & Signing with Tameka Fryer Brown
When and where
Location
Main Street Books 126 S Main St Davidson, NC 28036
About this event
Main Street Books presents a  STORY TIME & BOOK SIGNING with author TAMEKA FRYER BROWN and her new book TWELVE DINGING DOORBELLS.
ABOUT THE BOOK
Every holiday, aunties, uncles, cousins, grandparents, and neighbors come over to eat, sing, and celebrate life. But in TWELVE DINGING DOORBELLS all our main character can think about is the sweet potato pie Granny makes just for her. 
ABOUT THE AUTHOR
Tameka Fryer Brown wrote Around Our Way on Neighbor's Day, My Cold Plum Lemon Pie Bluesy Mood, and Brown Baby Lullaby. She is also a contributor to The Brown Bookshelf, an award-winning website dedicated to highlighting Black children's authors and illustrators. She is based in Charlotte, North Carolina.