Story sharing with our kinfolk and allies around the world!
Join us with special guests, Chanel C. Bowen, LCMHC, LCAS, CCS. She has a private practice in the Lake Norman area.
Refund Policy
Contact the organizer to request a refund.
Eventbrite's fee is nonrefundable.
About this event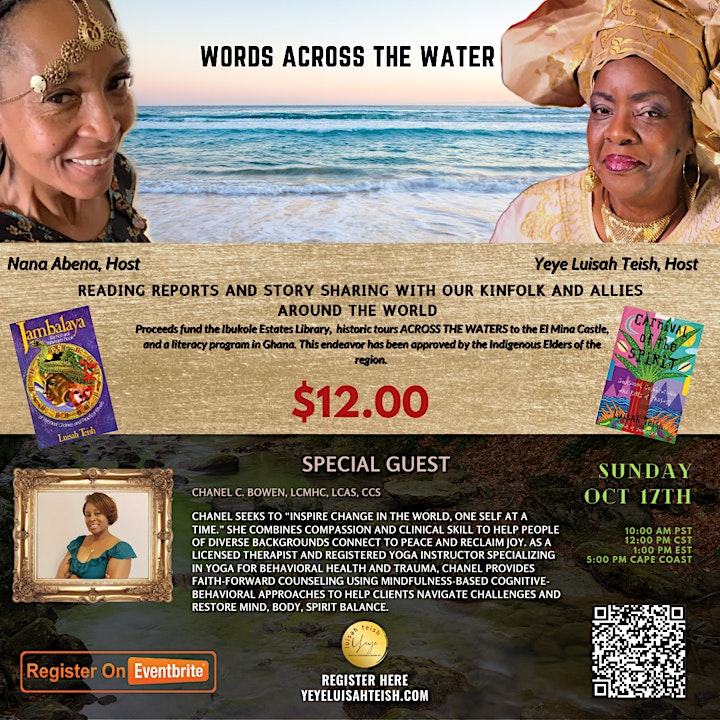 The only way we shall change long-standing perceptions and limiting concepts of Africa is for us to change the conversation. We must have a vision and we must develop Africa." - Nana Abena Serwaa
"WORDS ACROSS THE WATERS" proudly presents the fourth in a series of events designed to reunite us across the African Diaspora.
This program honors the mighty Ancestors on whose shoulders we stand! Ibae Egun!
The "Words Across the Water" book party and performance series is hosted by Yeye Luisah Teish and Nana Abena Serwaa. Each party in the series consists of music, art, conversation and dramatic readings from Yeye Teish's book "Jambalaya" and other selected writings. Yeye will elaborate with her wisdom and expertise as an Elegant Elder, which weaves together our common heritage and shared destiny as daughters and sons of Mother Africa.
WORDS ACROSS THE WATERS features readings by Elegant Elders, luminary artists, tradition bearers, and community builders:
~ Yeye Luisah Teish is the legendary High Priestess of Oshun and Ifa, Storyteller, and Author of Jambalaya: The Natural Woman's Book of Personal Charms and Practical Rituals. She is globally renown as a ritual leader, artist, and activist who rallies for the interests and sacred well being of women, children, and our environment. Visit www.yeyeluisahteish.com.
~ Nana Abena is an internationally acclaimed, educator, theater artist, storyteller, Akan priestess, and Metaphysical minister. For more than 20 years, she has been bridging the gap between African people, here, in the USA and those in Ghana, West Africa. She currently accomplishes this, through her dynamic, "East meets West" tours of various regions in Ghana, which create a multitude of social/cultural/economic exchanges between Kinfolk on both continents.
Special Guest
Chanel C. Bowen, LCMHC, LCAS, CCSChanel seeks to "inspire change in the world, one Self at a time." She combines compassion and clinical skill to help people of diverse backgrounds connect to peace and reclaim joy. As a licensed therapist and registered yoga instructor specializing in Yoga for Behavioral Health and Trauma, Chanel provides faith-forward counseling using mindfulness-based cognitive-behavioral approaches to help clients navigate challenges and restore mind, body, spirit balance.
Chanel lives in Mooresville, NC with her husband and has two children ages 10 and 20. She has a private practice in the Lake Norman area where she maintains a modest caseload to offer quality counseling and coaching services. She has a chihuahua named Maximus after the character of her favorite movie Gladiator, and spends her leisure time on a yoga mat, with her face in a book, writing poetry and songs, and listening for God in whichever way It chooses to speak.
WORDS ACROSS THE WATERS invites YOU to join this important discussion!
This and future conversations are helping create sustainable family projects and community development initiatives that shall support the education of children and adults, as well as catalyze economic development in the USA, Ghana, and other countries.
Ticket proceeds for these events help to establish Ibukole Estates Library and Gardens project in Ghana. Plans for this project include a literacy program and historical Tours Across the Waters to El Mina Castle. This is being done with the approval of the indigenous elders.
Also, you shall be invited to support by shopping our WORDS ACROSS THE WATERS globally inspired marketplace featuring products and services by women! A share of every sale benefits this good work of connecting hands and hearts in the Diaspora! SHOP YEYE'S PARADISE MARKET
****************************************************************
Register for this online for $12.00.
IMPORTANT! CHECK YOUR EMAIL! You will be sent the ZOOM link to attend this online program. Please also check your SPAM folder for communication from Eventbrite and/or Words Across the Waters.
****************************************************************
Thank you for your support! Medaase / Asante Sana!