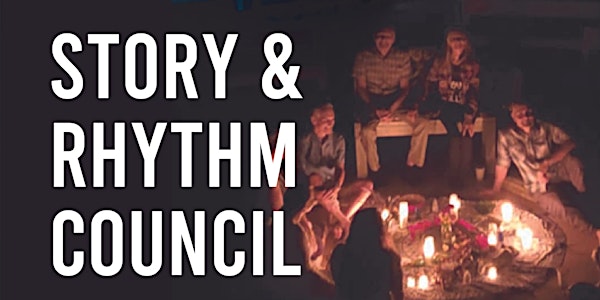 Story & Rhythm Ceremony with Leah Lamb & John Fitzgerald: TOPANGA CANYON
Harvesting our shared wisdom through story, rhythm-making, and inviting joy and connection while bringing meaning to these times.
When and where
Location
Corazón Performing Arts 125 South Topanga Canyon Boulevard Topanga, CA 90290
Refund Policy
Refunds up to 1 day before event
About this event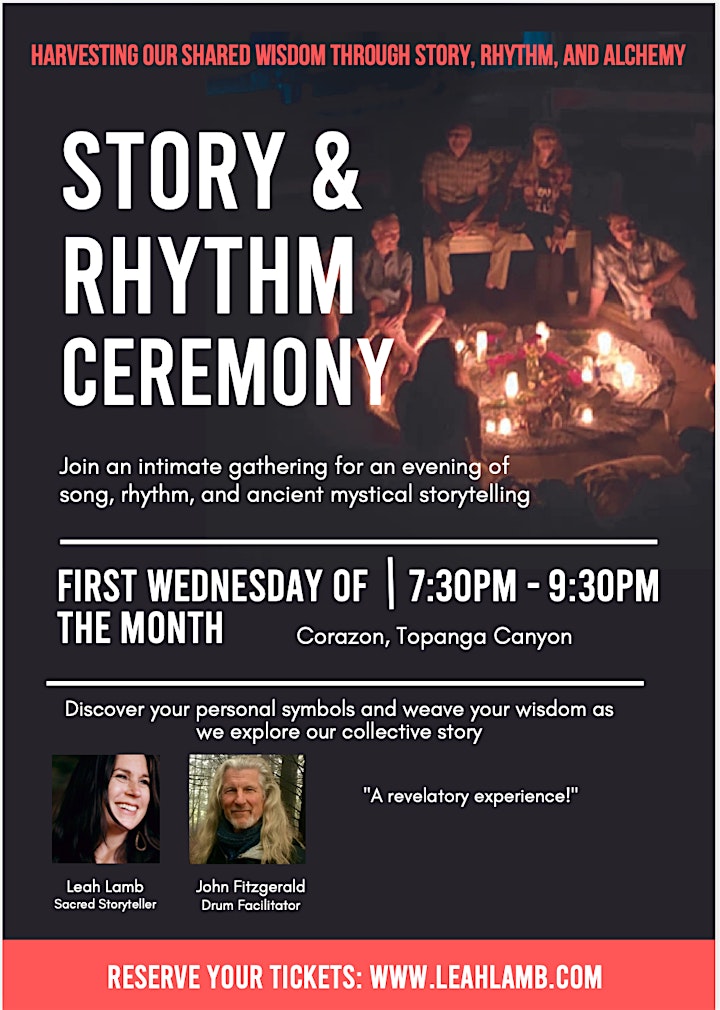 Join an intimate gathering as Leah & John bring song and rhythm to an ancient mystical form of storytelling.
We will engage with the ancient languages of metaphor, rhythm, and song, and discover your personal symbols as we explore our collective story.
Step into ceremonial time and journey with a story divined just for you.
This event is designed for a small group and will be held in an open-air setting. If you are not feeling in tip-top health we thank you in advance for staying home and joining us for the next one.
"John and Leah set up a sacred space, where rhythm and community are woven into a collaborative story making experience and each participant has a place in the collective storying. Story & Rhythm Council is like an alchemical emergence that springs from the living moment in synchrony with an archetypal intelligence."
Larry Graber, MA CBBP, Trauma Specialist & Arts Therapist
Please note:
We begin promptly, if you are not able to come on time, we ask that you respect the ceremonial nature of this gathering and join us for a futre event. Feel free to arrive 15 minutes early.
Please bring an offering for the altar: delicious food that will adorn on our altar as sacrament to be shared at the end of our evening together (think yummy things ...fruit, chocolate, cheese). We welcome any meaningful object for the altar as well, a stone, a feather, an image, which you will take home with you. Please plan to stay afterward for a bit of food, lovely conversation and connection!
Please come in good health, we ask if you are feeling sick that you stay at home and rest and join our next event.
No experience is necessary: drums and percussion will be provided.
https://leahlamb.com/upcoming-classes/
"When Leah first shared Soul Stories with me, I understood exactly what she is doing: she is a story oracle. Leah has a rare gift of using the ancient art of story telling as a healing art. With intelligence, depth, and a dash of playfulness she wove a story and created meaning of the metaphor so that I was able to receive a mythical version of myself, revealing some of the deepest truths that were alive in my unconscious. Soul Stories serve as yet another tool to connect to the divine self. It is an opportunity not to be missed!"-Marci Shimoff, Speaker & Author, "Happy for No Reason", "Love For No Reason", and "Chicken Soup for the Woman's Soul"
==================
Leah Lamb, MSW, Transformational Storyteller
The essence of my work is around reconnection~ to self, community, and the divine. I love being that ally to people as they awaken to the power of story in their life, and claim their power as creator of their life experience.
Leah Lamb studied at the Neighborhood Playhouse in NYC, and with many masters of story in theater, film, and the ancient art form of storytelling. She received a master's in social work and focused on the therapeutic use of the wilderness for seven years while she worked as a wilderness guide with youth at risk.
Her storytelling has taken on several mediums, including launching the green channel at the Emmy award-winning television network, Current TV, and has written for National Geographic News Watch, Fast Company and Spirituality & Health Magazine.
She was a communications consultant, working for Pachamama Alliance and The UN Climate Talks in Paris. Lamb combines this experience with her studies with metaphysical practitioners, and a year-long training with 13 moon mystery school. Her stories hold the resonance of connection with the earth, animals, and spirit. She is writing her first novel, The Whale Dreamer.
Learn More:
Soul Stories www.medicinestories.com
Leah & sacred storytelling www.leahlamb.com
==================
John Fitzgerald, BFA, Rhythm Facilitator, Trainer, and Coach
Before I fell in love with the transformational impact of coaching, I spent decades as a degreed percussionist performing jazz and classical music, and the amazing music of cultures from around the world. Rhythms, cycles and improvisation have always been central to my joy and passion, the spontaneous personal expression that is such a vital part of all living cultures, and indeed, all our lives.
I bring to my coaching and facilitation the great gifts music has given me: deep curiosity, the capacity to listen for rhythm, relationship and cadence, and an ability to trust my intuition and improvise naturally as we explore both areas of harmony and of dissonance in pursuit of your goals and dreams.
In addition to my one on one work with individuals and organizational leaders, I have designed and facilitated team-building, communication and leadership workshops for over 20 years.
John Fitzgerald Coaching
Coaching & Facilitation for Individuals & Organizations
Learn More: http://johnfitzgeraldcoaching.com/