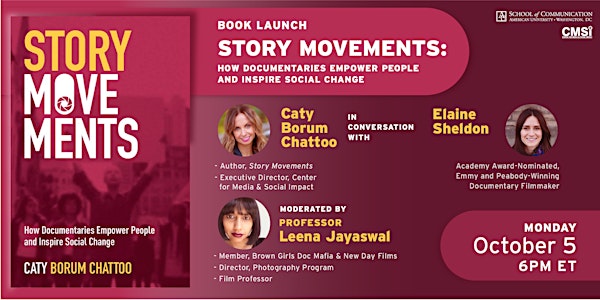 Story Movements: How Documentaries Empower People and Inspire Social Change
BOOK LAUNCH: Story Movements: How Documentaries Empower People and Inspire Social Change by Caty Borum Chattoo
About this event
Join us on Monday, October 5th at 6pm Eastern for the launch of Professor Caty Borum Chattoo's new book, "Story Movements: How Documentaries Empower People and Inspire Social Change "(Oxford University Press). Caty will be joined in conversation with Elaine McMillion Sheldon, an Academy Award-nominated, and Emmy and Peabody-winning documentary filmmaker (Heroin(e), Recovery Boys), moderated by Professor Leena Jayaswal, AU School of Communication Interim Associate Dean for Faculty Affairs and Director of the Photography Program. Also a documentary filmmaker, Leena is a member of Brown Girls Doc Mafia and New Day Films.
About the book:
Only a few years after the 2013 Sundance Film Festival premiere of Blackfish - an independent documentary film that critiqued the treatment of orcas in captivity - visits to SeaWorld declined, major corporate sponsors pulled their support, and performing acts canceled appearances. The steady drumbeat of public criticism, negative media coverage, and unrelenting activism became known as the "Blackfish Effect." In 2016, SeaWorld announced a stunning corporate policy change - the end of its profitable orca shows.
In an evolving networked era, social-issue documentaries like Blackfish are art for civic imagination and social critique. Today's documentaries interrogate topics like sexual assault in the U.S. military (The Invisible War), racial injustice (13th), government surveillance (Citizenfour), and more. Artistic nonfiction films are changing public conversations, influencing media agendas, mobilizing communities, and capturing the attention of policymakers - accessed by expanding audiences in a transforming media marketplace. In Story Movements: How Documentaries Empower People and Inspire Social Change, producer and scholar Caty Borum Chattoo explores how documentaries disrupt dominant cultural narratives through complex, creative, often investigative storytelling. Featuring original interviews with award-winning documentary filmmakers and field leaders, the book reveals the influence and motivations behind the vibrant, eye-opening stories of the contemporary documentary age.
Meet the Panelists:
Caty Borum Chattoo is Executive Director of the Center for Media & Social Impact (CMSI), an innovation lab and research center at American University that creates, showcases and studies media designed for social change; and Assistant Professor at the American University School of Communication in Washington, D.C. She is an award-winning documentary producer, scholar, professor and strategist working at the intersection of social change communication, documentary and entertainment storytelling. In addition to "Story Movements," she is also the author of "A Comedian and An Activist Walk Into a Bar: The Serious Role of Comedy in Social Justice," with co-author Lauren Feldman, was published by University of California Press (2020).
As a documentary producer, her films and TV programs have aired in the U.S. and India. Her creative and scholarly work has been funded by leading global and national philanthropies. In the U.S. and around the world, she is a featured speaker and workshop leader on the topic of storytelling, communication, and social justice. Her peer-reviewed research on the intersection of storytelling, creativity and social change is featured in leading journals in communication and the humanities. She serves on the Board of Directors of three leading media-serving organizations: The Peabody Awards, Kartemquin Films, and Working Films.
Leena Jayaswal is a documentary filmmaker, award-winning photographer and Professor in the School of Communication at American University in Washington DC, where she is the director of the new BA in Photography. Her photography and film work often deals with the intersections of being Indian and American. This work has been nationally recognized in galleries around the country, including solo shows at the Gandhi Memorial Center, and International Visions Gallery. Group shows include Arthur M. Sackler Gallery, The Washington Project for the Arts/ Corcoran Gallery of Art, Arlington Arts Center, Kathleen Ewing Gallery, Lexington Art League and the Studio Gallery. Jayaswal has photographs in group collections with the Society of Photographic Education's Multicultural Caucus at the Center for Photography, En Foco, Light Work, Photo Center Northwest and the Asian American Arts Centre. Previously she has worked for famed photographer, Mary Ellen Mark, and with the Sandra Berler Gallery. Her award winning films have been screened in various film festivals around the country. "Crossing Lines" was picked up for national distribution by NETA and has been broadcast on over 100 PBS affiliates across the country. The film has won numerous international and national awards including the prestigious Gracie Allen Award, and is currently being distributed by New Day Films. Her latest film, "Mixed", a collaboration with Prof. Caty Borum Chattoo, explores what it means to be mixed-race in American, fifty years after the historic, landmark Supreme Court Decision, Loving v. Virginia which made interracial marriage legal. Jayaswal is also working with artist Monica Bose on a feature documentary about climate change, called, "Rising Up to Climate Change: Storytelling with Saris." Jayaswal has become the School of Communication's Officer of Inclusion.
Elaine McMillion Sheldon is an Academy Award-nominated, and Emmy and Peabody-winning documentary filmmaker based in Appalachia. She is a 2020 Guggenheim Fellow. Sheldon is the director of two Netflix Original Documentaries - "Heroin(e)" and "Recovery Boys" - that explore America's opioid crisis. "Heroin(e)" was nominated for a 2018 Academy Award and won the 2018 Emmy Award for Outstanding Short Documentary. The short film premiered at the 2017 Telluride Film Festival and went on to screen hundreds of times across America as part of a community-driven impact campaign.
In 2020, she released "Tutwiler," a rare and intimate look at motherhood inside one of America's most notorious prisons. "Tutwiler," a collaboration with The Marshall Project and PBS Frontline, raises questions about how our nation is handling the growing crisis of incarcerated pregnant women, and what happens to their newborns. The 34-minute film is a finalist in the ONA Journalism Awards.
Her 2019 film "Coal's Deadly Dust" - a PBS Frontline and NPR collaboration - investigates the rise of severe black lung disease among coal miners, and the failure to respond. This joint investigation with NPR's veteran reporter, Howard Berkes, reveals the biggest disease clusters ever documented, and how the industry and the government failed to protect miners. "Coal's Deadly Dust" was nominated for a 2020 Writers Guild of America (WGA) Award, a 2019 Peabody Award, and two 2020 News & Doc Emmy Nominations for Outstanding Investigative Report in a Newsmagazine and Best Story in a Newsmagazine.
In 2013, she released "Hollow," an interactive documentary that examines the future of rural America through the eyes and voices of West Virginians. Hollow received a Peabody, Emmy nomination and 3rd Prize in the World Press Photo Multimedia Awards.
Her co-directed work "Meet Salia" for Sesame Street in Communities won a 2020 Daytime Emmy Award. The short film explores addiction and recovery from the viewpoint of a child and her family's resilience.
Elaine was named a 2018 USA Fellow by United States Artists, one of the "25 New Faces of Independent Film" by Filmmaker Magazine, and one of "50 People Changing The South" by Southern Living Magazine. In 2016, Chicken & Egg Pictures awarded her with the inaugural "Breakthrough Filmmaker" award. She has been commissioned by Netflix, Frontline PBS, The Center for Investigative Reporting, The New York Times Op-Docs, TEDWomen, Field of Vision, and The Bitter Southerner. Sheldon has appeared on The Daily Show with Trevor Noah, Anthony Bourdain's CNN Show Parts Unknown and Meet The Press with Chuck Todd. She's a founding member of All Y'all Southern Documentary Collective.
She lives in Knoxville, Tennessee with her husband and filmmaker, Curren Sheldon.
Co-Presented by:
American University School of Communication