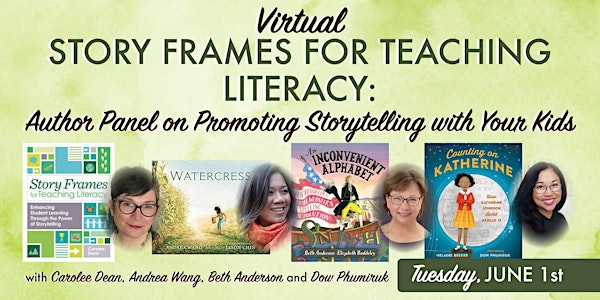 Story Frames for Teaching Literacy Panel: Promoting Storytelling with Kids
Join Carolee Dean and 3 bestselling children's authors to discuss the importance of personal narratives and connection through storytelling.
About this event
Using books to stimulate a discussion about past experiences is an engaging way to help kids of all ages connect with caregivers and family members and build autobiographical memories. Sometimes these conversations result in new stories you may want to write down and keep.
Join us June 1st to ring in summer reading with an author panel featuring bestselling local authors Andrea Wang, Beth Anderson, and Dow Phumiruk, moderated by Carolee Dean, as they talk about their books, their personal experiences with writing, and why they believe personal narratives are important.
Carolee Dean is a board certified speech-language pathologist specializing in the treatment of dyslexia. With more than 20 years of experience in the public schools, she now focuses on teletherapy, consultation, and resource development. She is a former president of the Southwest Branch of the International Dyslexia Association and an award-winning author of the young adult fiction titles Comfort, Take Me There, and Forget Me Not. She frequently combines her knowledge of story structure and learning differences to speak at national and international conferences on the subject of narrative intervention.
Andrea Wang is the award-winning author of picture books The Nian Monster, Magic Ramen, and Watercress. The Many Meanings of Meilan, her debut middle grade novel, publishes in August 2021. Andrea's work explores culture, creative thinking, and identity. She is also the author of seven non-fiction titles for the library and school market. Andrea holds an M.S. in Environmental Science and an M.F.A. in Creative Writing for Young People. She lives in Centennial with her family.
Beth Anderson, a former English as a Second Language teacher, has always marveled at the power of books. With linguistics and reading degrees, a fascination with language, and a penchant for untold tales, she strives for accidental learning in the midst of a great story. Beth lives in Loveland, Colorado where she laughs, ponders, and questions; and hopes to inspire kids to do the same. She's the award-winning author of TAD LINCOLN'S RESTLESS WRIGGLE, "SMELLY" KELLY AND HIS SUPER SENSES, LIZZIE DEMANDS A SEAT!, and AN INCONVENIENT ALPHABET. Beth has more historical gems on the way.
Dow Phumiruk is an award-winning author/illustrator of several children's picture books. She was born in Bangkok, Thailand and immigrated to the United States while still a young child. Dow's illustration debut, Maya Lin, a collaboration with Jeanne Walker Harvey, garnered numerous accolades. Since then, with 13 books published and/or to come, Dow's work has amassed abundant praise including starred reviews and awards. She has been a member of the Society for Children's Book Writers and Illustrators since 2011 and currently serves in the role of Co-Regional Advisor for the Rocky Mountain Chapter. In addition, Dow is a clinically retired general pediatrician (MD, Texas Tech University Health Science Center, 1997) and teaches medical students part time at Rocky Vista University School of Osteopathic Medicine. She lives in Lone Tree, Colorado with her family and enjoys sewing and light hiking.
IMPORTANT EVENT & TICKET INFORMATION