STORY Event Series - Lightning Talks March 2017 (Rescheduled from March 14,...
Description
STORY EVENT SERIES PRESENTS: Lightning Talks March 2017
Date: Tuesday, March 28, 2017 (Rescheduled from March 14, 2017)
Time: 6:00 PM - 9:00 PM
5:30 - 6:00 PM - Registration

6:00 - 7:15 PM - Lightning Talks (Session #1)

7:15 - 7:30 PM - Intermission, Refreshments*

7:30 - 9:00 PM - Lightning Talks (Session #2)
* Light refreshments will be provided (dessert, coffee, water). Participants are welcomed to bring their own 'brown bag' meals as well wine/beer.
NOTE: Refunds are not provided for this event. Instead of a refund STORY will provide credit to future events upon request.
EVENT OVERVIEW:
STORY Event Series is pleased to return for its second year with a new format. This year we focus on 'lightning talks' - presentations lasting eight minutes each. We'll feature an eclectic mix of presenters including professionals at the top of their craft across a range of disciplines.
Topics includes:
Counterculture and Story, Architecture and Story, Sports and Story, Evolving role of media and Story, Social media and Story, Data and Story.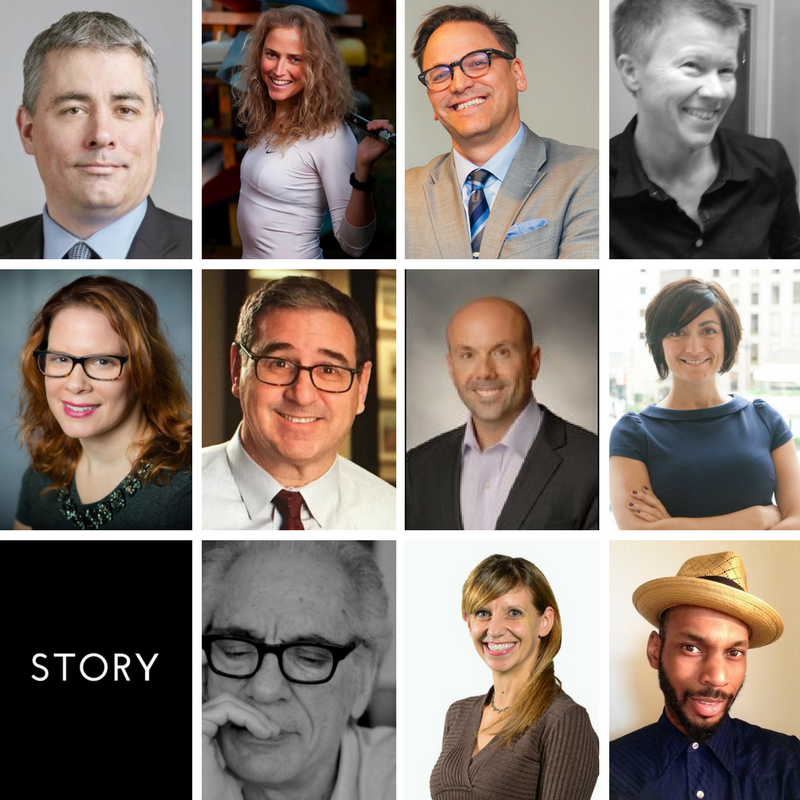 * Panelists are listed in alphabetical order and do no follow the image above.
PANELISTS:
+ Shay Anderson, Manager at Pricewaterhouse Cooper (PwC) Forensic Technology Solutions: Investigative Analytics Group
Over the last 20 years Shay has worked in a number of industries as a financial, data and business analyst, working with Fortune 500 companies, consulting firms, state and federal agencies, small businesses, as well as the US military. He is an experienced systems developer and data manager with expertise in data visualization, process optimization, customizing dynamic dashboards/reports, social network analysis and social media analytics. Shay has graduate degrees from the Maryland Institute College of Art (MICA) in Information Visualization and the University of Maryland College of Information Studies (iSchool) in Information Management. Since January Shay has been working within PwC's Analytics Innovation Accelerator (AIA) team exploring how advanced visualization capabilities can be leveraged on client engagements to improve storytelling and aid the exploration of data. Shay is also a combat veteran and recipient of the Army Commendation Medal.
+ Pam Boteler, Athlete & President, WomenCAN International
Pam Boteler is a pioneer for women in the world of Olympic Canoeing. She made USA Canoe/Kayak history at the 2000 U.S. National Sprint Canoe/Kayak Championships by becoming the first woman to compete in Sprint (or high kneel) Canoe – against the men - winning gold and bronze medals in the Intermediate classes. Her work on and off the water helped spur USA Canoe/Kayak to change its bylaws in 2002 to add women-only canoe events to the Nationals, equal to the men, making the U.S. the second country in the world to do so.
As President of WomenCAN International, Pam is a leading global voice in the fight for inclusion of and equality for women in Olympic Canoeing. Now with over 50 countries with women competing in both the Sprint and Slalom canoe disciplines, women's canoe events are on the verge of Olympic inclusion in Tokyo2020. For her work she is an honored member of the World Paddle Awards Academy. Pam's paddle-sport career spans 25 years competing for the Washington Canoe Club in Washington DC. In her spare time she is a consultant with The True Athlete Project, a non-profit organization focused on leveraging sport as a powerful tool for self-mastery and positive social impact. She also works full-time managing a leadership program at the Department of Defense.
+ Stephen Menick, Emmy-Award Writer & Director
Stephen Menick is a three-time national Emmy®-nominated writer and director of hundreds of short documentaries, many for the Emmy®-awarded My Generation on PBS. He is also the recipient of a national Edward R. Murrow award and four regional Emmys®. His promotional spots for the American Red Cross were aired at a media budget of more than $6 million over two years. Menick teaches branding at the Johns Hopkins Advanced Academic Programs and West Virginia University's Reed College of Media.

+ Marisa Peacock, Principal and Chief Strategist for The Strategic Peacock

Marisa Peacock is the principal and chief strategist for The Strategic Peacock. As a social business strategist and marketing consultant, Marisa helps organizations create and implement online strategies that enhance their online presence. Marisa is also an adjunct faculty member at Maryland Institute College of Art (MICA) and West Virginia University's Reed College of Media. She resides in Arlington, VA.

+ David Pepper, Visual Storyteller at Pepper Productions
David Pepper's work with major brands includes web series, commercials, corporate image, documentaries and an Emmy®-award winning TV series. Using an "engagement first" social strategy, he creates multi-platform content that grows audiences while achieving measurable business goals. Years of globetrotting inspired him to found The World Says What Project to combine visual storytelling and the power of social media to foster better understanding and positive change across cultures.
+ Jim Scott Polsinelli, Creative Director / Senior Vice President, DDC Public Affairs

Whether it's a TV spot, website, digital property or online ad campaign, Jim Scott Polsinelli leads the department of art directors, interactive designers, videographers and writers that develop all the creative products at DDC Public Affairs. JS specializes in solving complex communications problems with simple visual solutions. He is an award-winning Creative Director with 20 years of experience creating integrated, multi-media advertising, public affairs, and branding campaigns at agencies like Porter Novelli, Ogilvy, Wunderman, and Booz Allen Hamilton. He has an M.A. from the University of Missouri and a B.A. in English from St. John's University. And yes, he has two first names.
+ Rasul Sha'ir, Founder & CEO, Cnvrgnc
As the son of a Panamanian immigrant and a former FBI agent turned Las Vegas entrepreneur, Rasul learned early in life how diversity nurtures and fuels creativity. As a design thinker, blogger, and music enthusiast, Rasul's focus is on developing narratives around business, technology and culture, and how to help communities weave together stories that help them thrive in a global marketplace.

Since 2007, he has helped develop digital products and marketing initiatives for Fortune 100 companies such as Verizon, Wal-Mart, Sony, AllState, and Kaiser Permanente, and for the R&D division of KDDI, Japan's second largest telecommunications company. In 2010 he founded TEDxWDC, as a vehicle to help drive more productive conversations around creativity, innovation and shared narratives in the Washington D.C. region.
+ Jennifer Trezza, China Practice Manager at SmithGroupJJR
Jennifer has spent the past 15 years focused on storytelling through photography, graphic design, and journalism; incorporating PR and Communications strategies to elevate creative industry leaders within their target markets.

She recently joined SmithGroupJJR in August as their China Practice Manager, co-leading the Shanghai office operations and the launch of eight practice areas in the China market.

Jennifer is also a Global Executive Masters candidate at the Parsons School of Design in Paris, France, where she studies Strategic Design and Management with an international cohort of fifteen professionals. The program focuses on the processes and implementation of Design-Thinking. She has a BA in Political Science and Photography from The George Washington University.
+ Jordana Well, Creative Director of Experience Design at Interface Media Group (IMG)
Jordana is an award-winning Creative Director of Experience Design for Interface Media Group. Always focused on how stories can best be told in each media, Jordana has spent her career working in a wide range of formats, from live-action and animated TV series, to online blogs and mobile apps, to interactive kiosks and immersive 3D interactive VR. She is "medium agnostic," always looking for new and innovative ways to tell stories, while also relying on tried and true storytelling methods.

Throughout her career, Jordana has had the privilege of working for and with organizations such as National Geographic, The Discovery Channel, Newseum, National Museum for the American Indian, Conservation International, and Children's National Medical Center. Jordana has won several industry awards, including an Emmy, several Cine Golden Eagles, and multiple PEER awards. She obtained her double undergraduate degree in Biology and English from Columbia University and a Masters degree in Educational Technology from Harvard University.
+ Scott Williams, COO & Senior VP of Sales and Marketing at Newseum
R. Scott Williams is the author of "An Odd Book, How the First Modern Pop Culture Reporter Conquered New York," available April 1 on Amazon.com. Williams is the chief operating officer and senior vice president of sales and marketing at the Newseum in Washington, D.C. Williams earned his degree in journalism from the University of Memphis. He then held positions at several advertising agencies and organizations, including Elvis Presley Enterprises, Inc. He currently serves on the board of the D.C. chapter of the American Advertising Federation and on the board of the Historical Society of Washington, D.C.

He lives with his wife and daughters in historic Arlington, Va. Passionate about discovering and sharing forgotten stories from the past, in his spare time he explores the history of the American south, especially around his home in West Tennessee.

His first book was "The Forgotten Adventures of Richard Halliburton: from Tennessee to Timbuktu."
EVENT SERIES HOST & PRODUCER:
Ann E. Yoders, AEY Marketing & Events
Ann Yoders is a creative marketing executive with over 15 years experience creating and executing marketing strategies for brands, in addition to hosting highly regarded, often sold-out events on topics related to industry transformation.
Ann's current work focuses on providing creative marketing strategy (including storytelling) and market research for companies looking to better engage audiences.
ABOUT THE WORKSHOP SERIES:
STORY is an event series focusing on themes related to story and the role of storytelling throughout various fields and disciplines. The series is designed to bring together a community of creatives from seemingly unrelated fields to collaborate and bring back fresh insights to their work. STORY launched in 2015 in Washington, DC.