Description
STORY 2015

October 1-2, 2015 :: Nashville, TN

An Uncommon Creativity Conference

STORY is an uncommon creativity conference for 1,000+ amazing people in downtown Nashville. The event features presenters from a variety of creative fields, including artists, filmmakers, musicians, authors, innovators and designers, among others. Our goal is to fuel the creative class through inspiring performances and captivating presentations.
STORY 2015 Presenters
We're excited to announce this year's presenters. Visit the STORY 2015 website for complete bios along with new additions and bands.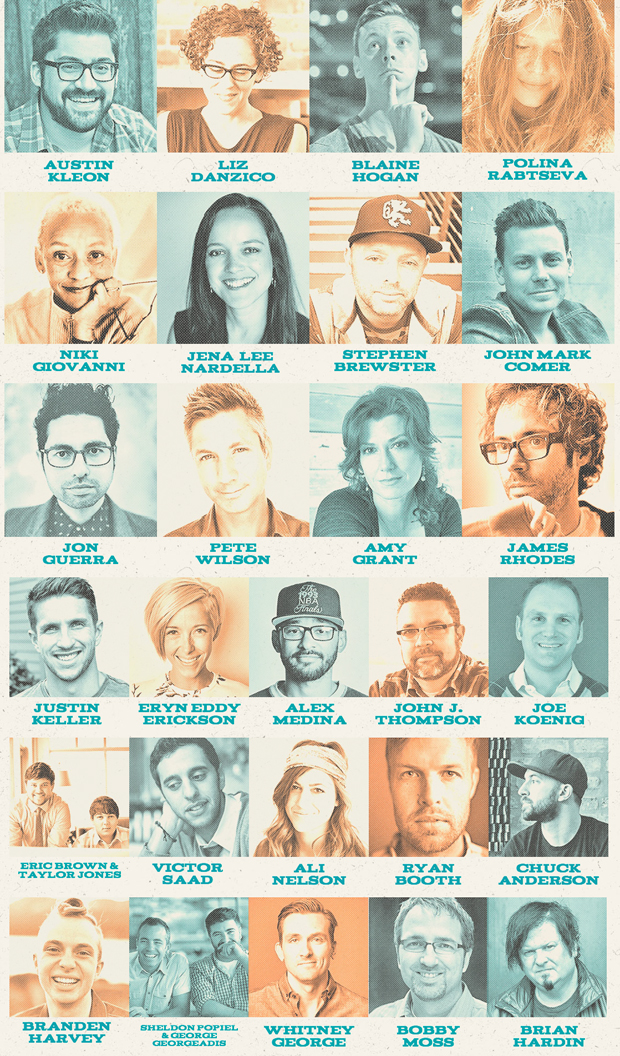 Cancellation Policy
Tickets are transferable but non-refundable. If you need to transfer your tickets, please email us with the names of those taking your place.

Past Speakers
Here are some of the speakers who have presented at STORY in past years:
Sean Astin

- actor in over 70 films (Lord of the Rings, Goonies, Rudy)


Kyle Cooper

- founder of Prologue Films, leading VFX company


Tom Ryan

- Former CEO of Threadless.com

Ed Saxon

- producer of The Silence of the Lambs, Philadelphia, etc


Esther Havens

- humanitarian photographer


Ann Voskamp

- New York Times best-selling author


Ted Dekker

- New York Times best-selling thriller author

Anne Lamott

- best-selling author of Traveling Mercies


Makoto Fujimura

- world-renowned artist and author of Refractions


Isaac Rentz

- video director for Blink 182, All American Rejects


Sleeping at Last

- musical artist

Micah Bournes

- spoken word artist

Founders of Mason Jar Music

- Jonathan Seale and Daniel Knobler


Charlie Todd

- creator of Improv Everywhere in New York City

Jason Fried

- founder of Basecamp, author of Rework and Remote


David McFadzean

- creator of Home Improvement, Roseanne

producer




Richard Walter

- chair of UCLA's graduate screenwriting program

Andrew Klavan

- author of True Crime and Don't Say a Word


Rich Hurrey

- character technical director for Pixar Animation


Brooke Shaden

- fine ar

t photographer, winner of Project Imagination




Howard Lichter

- global director of cr

eative outreach at Nike




Paper Route

- American indie band from Nashville, TN


Scott Harrison

- founder of charity:water


Chuck Anderson

- designer

and founder of NoPattern Studio




Donna Boyer

- chief product officer at Blurb.com


Rick Rothschild

- senior executive at Disney Imagineering for 30 years


Alexander Chen

- creative director of Google Creative

Lab

Drew & Ellie Holcomb

- singers and songwriters from Nashville, TN

Stephanie Pereira

- director of Art Programs for Kickstarter

Bobette Buster

- fi

lm

prof at USC, story consultant for Pixar, Disney

, etc

Scott Braut

- vice president of content for Offset.com at Shutterstock

Leagues

- Nashville-based rock trio, one of Paste's top bands

at SXSW