Description
Learn how asset management can provide stormwater program managers with the information, resources, and financial support they need to implement sustainable stormwater management. Using asset management, stormwater professionals can prioritize operations and maintenance needs, estimate costs, plan for upgrades, and identify funding. This forum will discuss strategies to replace deteriorating drainage systems as well as employ green infrastructure to address water quality issues in the stormwater sector.
LIMITED CAPACITY (140). While we encourage early registration, please subscribe only for confirmed attendees to allow as much participation as possible.
NOTE: This is an in-person training not a webinar
In addition, the Environmental Finance Center (EFC) at Sacramento State will offer a half-day, hands-on training for collecting field data on stormwater systems. Participants will learn about several mobile applications and tools to collect field data for use in stormwater asset management programs. The training will be held on the Sacramento State campus on June 13th, 2019, at the Office of Water Programs. No cost, although participants will need to have a mobile phone that supports apps and a laptop. The workshop will be limited to 12 participants. Must also attend the June 14 full-day forum. The EFC will contact you to confirm and provide further details.
Interested in a preview of the workshop? Check out the EFC's recently released guide: "A Toolkit for for Stormwater Asset Management and Funding." Available at http://www.efc.csus.edu/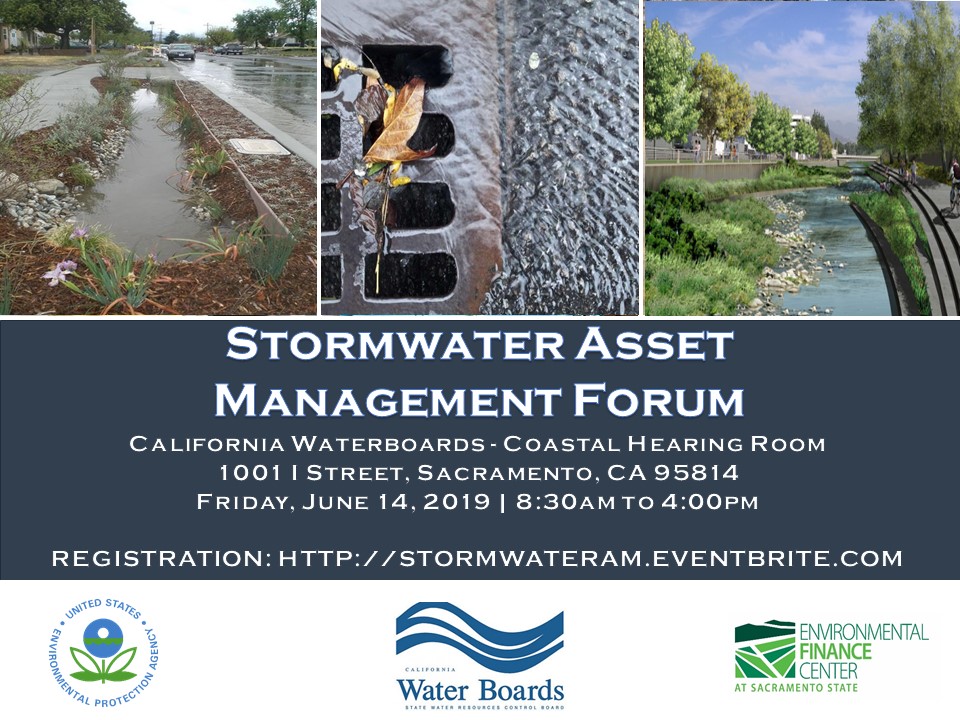 Hosted by:
USEPA Region 9

OWP's Environmental Finance Center at Sacramento State

California Waterboards