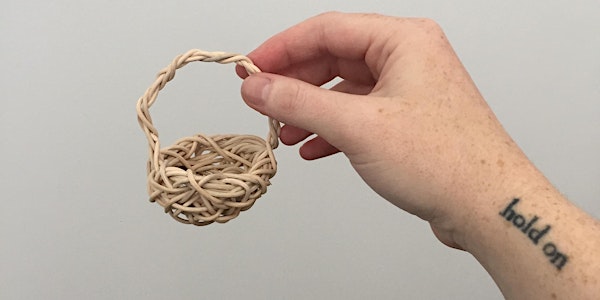 Multiple dates
"Stories of Resilience" by Teresa Audet
Would you sit with me for a short while and tell me your story?
Date and time
July 10, 2021 · 9am - August 27, 2021 · 11am CDT
About this event
"Stories of Resilience" by Teresa Audet
Do you have a story of resilience? A story of experiencing joy during times of struggle? Would you sit with me for a short while and tell me your story? It could be your own story, your grandmother's, or story of resilience found in the natural world. While you talk, I will weave a small basket for you to keep. It may not be a perfect basket, but it will be functional, if for no other purpose than to hold the memory of our interaction. Our time together will not be recorded in any way.
Teresa Audet is an artist from Minneapolis who primarily works in wood and fibers; she is currently a graduate student at UW- Madison.
Location and Time:
Coffee shops around Madison with outdoor seating areas.
Locations and meeting times are flexible and will be scheduled one-on-one. After signing up, Teresa will contact to arrange a specific meeting time and place.
Logistics and Accessibility:
I can accommodate one person per performance, or a pair telling one story.
We will meet at a coffee shop, purchase a beverage, and sit outside. I will e-mail before our meeting to set up a time and location and to discuss mask preferences; my standard will be that masks are not be required as long as we are outside, but we should wear masks if we need to go inside. I am also happy to wear a mask outdoors upon request. As we sit at the coffee shop, I will ask you to tell me a story of resilience while I weave a small basket. We can have a conversation or I can simply listen; your story could take the form of written words that you read or a song that you sing to me. The only requirements are that the story be one of joy and resiliency and that your storytelling takes a minimum of 20 minutes so I can finish the basket. At the end of our time together you will keep the basket.
I am happy to meet at another outdoor location if a coffee shop is not accessible to you.
*Sensitive content, etc, ONLY if brought up in your story, I will not bring up any topics unless you do first.
Other Info:
In the event of bad weather, we can discuss going indoors depending on how many other people are there and how we both feel. If we feel unsafe we will reschedule.
A Home Stretch Performance
Home Stretch is a "distributed festival" of small artistic acts taking place in Madison, WI between the summer solstice (21 June) and the autumn equinox (22 September). By appointment, local artists are offering intimate performances and other arts experiences throughout the summer.
In this time of transition between COVID lockdowns and eventual reopening, Home Stretch explores how forms of performance and other kinds of aesthetic sociality can help us re-learn how to be together.
The title Home Stretch refers less to the idea of the final part of a race, since the pandemic is far from over. Rather, it's about artists stretching their homes into public space, and the public stretching out of lockdown bit by bit. These art experiences are a chance to stretch both social and artistic muscles.
All events are free to attend, though some performers may pass a hat or request donations to specific causes. Information and registration is at homestretch.art.
Home Stretch is a project of Spatula&Barcode, a Madison-based arts collaborative devoted to conviviality, criticality and commensality. More information about Spatula&Barcode can be found at https://spatulaandbarcode.net/ and you can follow @spatcode on Instagram (if you post about Home Stretch on social media, we encourage you to use #homestretch).
Home Stretch is funded in part by grants from the University of Wisconsin Division of the Arts and the Madison Arts Commission, with additional support from the Wisconsin Arts Board.
About the organizer
Spatula&Barcode is dedicated to making events in which the performance of place and of hospitality are central aesthetic concerns. Discourse, food and swag are persistent elements of our work.
Spatula&Barcode was founded in 2008 by Laurie Beth Clark and Michael Peterson (both Professors in the Department of Art at University of Wisconsin - Madison).