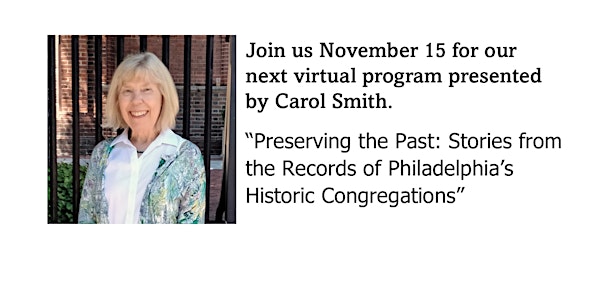 Stories from the Records of Philadelphia's Historic Congregations
Join us for our next virtual program - a discussion on the long-hidden records of Philadelphia's many historic churches
Refund Policy
Contact the organizer to request a refund.
About this event
Join us for an exciting virtual program on November 15, 2022 at 7pm with Carol Smith, archivist with Christ Church, and HSH Board Member.
Carol Smith is familiar to many in the Historical Society. After arriving in Haddonfield in 1990, her particular set of skills was quickly enlisted to assist the Society as Vice President and President, and she now chairs the Development Committee. She received a BA in American Civilization and a Masters in Material Culture from the University of Pennsylvania. An independent curator and certified Archivist, in 2005 she began her work with the archives at historic Christ Church. That led to this ambitious project in conjunction with the Philadelphia Athenaeum, and in 2022 she received the Sister M. Claude Lane award from the Society of American Archivists for her work.
Please join us to hear Carol's stories of both the project and the hidden lives brought to light at her virtual talk on November 15th. Those wishing to explore even more deeply can join the symposium "Digitizing the Records of Philadelphia's Historic Congregations" at the Athenaeum on November 16. Check out the Athenaeum's website for details, and one can even pore through the fascinating records gathered at www.philadelphiacongregations.org .