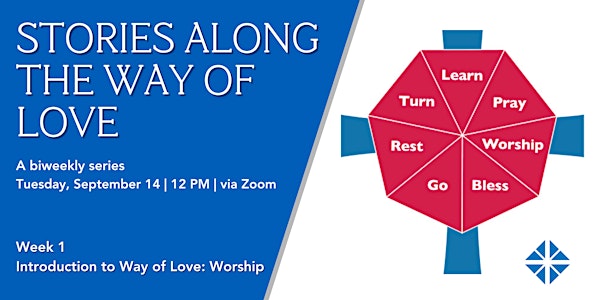 Stories Along the Way of Love
Join the ECCT Region Missionaries (Rev. Rachel Thomas, Dylan Mello & Maggie Breen) for an hour-long conversation around the Way of Love.
About this event
These seven topics (Worship, Pray, Learn, Rest, Turn, Go, Bless) will be discussed each week, with some video experiences before we meet and time to inwardly digest what each means to you. Join us for an hour roughly every two weeks beginning in September, on Tuesdays, at noon. Come for one session or come for all of them. We will meet on 9/14, 9/28, 10/12, 10/26, 11/9, 11/30, 12/14, and 1/4
We will meet via Zoom and the link will be the same for every meeting. The meeting link (and dates) will be provided in a confirmation email.
Some more information about The Way of Love can be found here: https://www.episcopalchurch.org/way-of-love/invitation/
A podcast and other materials: https://media.episcopalchurch.org/podcasts/show/the-way-of-love-with-bishop-michael-curry/
Videos and other materials: https://www.episcopalchurch.org/video/traveling-the-way-of-love-season-one/