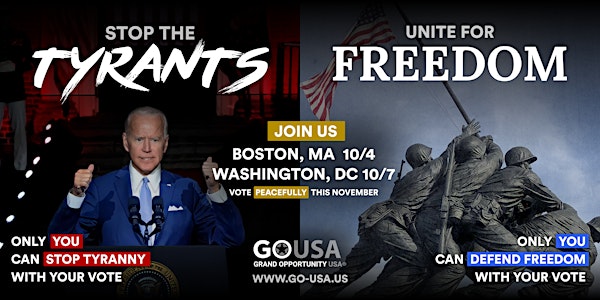 STOP THE TYRANTS & UNITE FOR FREEDOM EVENT - BOSTON
Join Our Free Public Event in Boston in Support of a Free America: "Stop Tyranny and Unite for Freedom" - Just 5 Weeks from Election Day
When and where
Location
Boston City Hall Plaza 1 City Hall Square Boston, MA 02201
Refund Policy
Contact the organizer to request a refund.
Eventbrite's fee is nonrefundable.
About this event
Please join us and a list of VIP Speakers and Candidates for Office for GOUSA's Free Public Rally & Event at Boston City Hall Flagpoles. Just 5 weeks from the critical Election Day, "Stop the Tyrants & Unite for Freedom".
President Biden', his party and the mainstream media is divisively calling 1/2 of Americans "dangerous" and "fascists"
Let's let our elected government hear us loud and clear as we PEACEFULLY demonstrate on the side of Unity, Liberty and Opportunity for All, fight to Stop the Tyranny and Defend Our Freedoms- by Voting Peacefully on Election Day, November 8th.
Do you want to: Secure our borders and stop drivers licenses for illegal immigrants? Reduce Biden's exploding crime rates, energy prices and inflation? Demand medical freedom? Revive our failing economy? Give parents control of their kids' education and lives? Stop the Woke Agenda's: CRT; child re-gendering; progressive bigotry; attacking free speech, 2A and religious rights; and worse? Then Please Join Us!
Speaker list includes (more speakers TBA):
- Mass Federal & State Candidates (more to come): Caroline Colarusso for Congress, Dean Martilli for Congress, Dean Tran for Congress, Donnie Palmer for Congress, Rayla Campbell for Secretary of State, Damian Anketell for State Senate, Aaron Packard for Statehouse, Dashe Videira for Governor's Council, more candidates TBA
- Sgt. Shana Cottone @ BFRU: Boston First Responders United
- Maureen Maloney, Fair and Secure Massachusetts (led the successful Mass ballot initiative to stop drivers licenses for illegals)
- Reverend Stevie Craft, Project 21 Black Leadership Network
- Jessica Abu, America's Front Line Doctors - Citizen Corps Director
- Julie Booras, Health Rights MA
- Shannon Llewellyn, Mom & Freedom Activist
- Kevin Alan, The Kevin Alan Show and Candidate for Lt. Gov., CT
- John Paul Moran, Founder GOUSA & the OppScore Political Credit Ratings
- Bodittle, Young Conservative Social Media Influencer
- Ella Maulding, Young Conservative Social Media Influencer
- More Speakers TBA
Join together and rally in support of all of the strong Pro-Freedom Candidates running to represent We the People. We will "Release the Scores" of hundreds of politicians via the non-partisan OppScore political credit rating system, showing who is working in support of the Constitution and the majority of people - and who is working against us.
Special Thank You to all of the Massachusetts signature gatherers who worked so hard to pass the ballot initiative to stop drivers licenses for illegal immigrants. All volunteers - Please Join Us!
Bring everyone you know who supports America!
AGENDA
10:00 Rally Event Starts, Patriotic Music
10:10: Opening Statement, National Anthem and Pledge of Allegiance
10:20: Speakers Present
12:00 Noon: Event Concludes
At Grand Opportunity USA "GOUSA", we are a 501(c)4 non-profit organization. Our purpose is to motivate, educate and mobilize audiences of all backgrounds to advance pro-American values and advocate for their personal, economic, social, educational and national interests and needs, while holding our elected officials 100% accountable. Unity, Liberty, Opportunity for ALL. Learn more about GOUSA at: https://go-usa.us/
At GOUSA, We Are "The Voice of the Forgotten 80%"