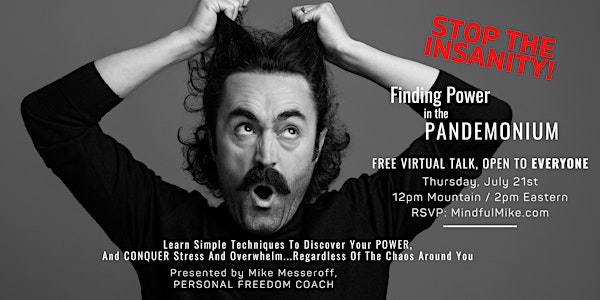 STOP THE INSANITY: Finding Power in the Pandemonium (free/open to everyone)
Take one hour to RECLAIM YOUR POWER and become happier and calmer, despite the chaotic world around you! This event is open to everyone.
About this event
THIS IS A LIVE TALK, hosted by Personal Freedom Coach Mike Messeroff.
This is definitely for you if, now more than ever, you've been feeling the desire to RECLAIM YOUR POWER and to be present in your life with a clear, calm head and with joy in your heart.
You will discover if practicing mindfulness and meditating can transform your life, as it did for Mike and continues to do so for himself and his clients.
Please join this talk if any of these feel familiar:
You are OVERWHELMED with the state of the world, politics, news, etc., and don't know how to manage all of these distractions
You are TIRED of traditional western solutions to stress, anxiety, and irritability...methods that may be drowning out and numbing your emotions instead of allowing you to learn from them
You are DRAINED from giving to everyone else first
You are WORRIED that things are only getting worse and life may be PASSING YOU BY...
In this one-hour talk, you'll discover:
How To Stop Giving Your Power Away
How To Take Your Power Back
A Secret Power, Revealed
*You must RSVP to receive the Zoom link...Claim your spot NOW and invite family and friends to join you!
Please bring a notebook and your full attention. Mike will share stories, we will be meditating together, and there will be a few quick and insightful writing exercises as well.
Everyone who RSVPs will receive a link to the recording.
--
Want to get free, LIVE COACHING from Personal Freedom Coach, Mike Messeroff?
Mike's coaching is typically reserved for his private clients, but on July 21st, you'll be able to join Mike and, in one hour, take a huge step to change your life today!
Learn more about Mike and Personal Freedom Coaching at MikeMesseroff.com. You can also check out this short video below to meet 4 clients and hear their stories: