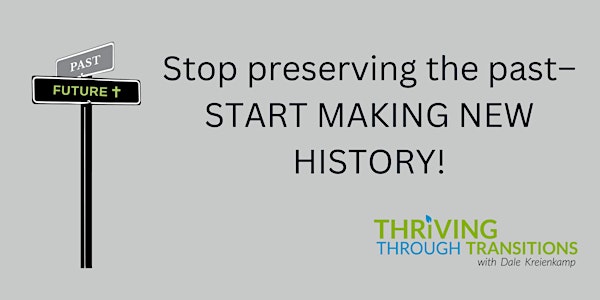 Stop preserving the past - Start making new history
Free workshop for staff, board members and lay leaders of non-profits and churches regarding navigating transitional change.
When and where
Location
THE HEIGHTS 8001 Dale Avenue St. Louis, MO 63117
About this event
Our world keeps changing. Covid has especially rocked everyone's world, bringing in new rules and new realities we must accept. Is your non-profit or congregation struggling with these changes?
Do you feel like you are treading water because no one accepts things are different, yet they also want a return to the "good old days?"
Are you uncertain how to best lead your team forward?
Join us and learn about:
Major roadblocks of change
How to address outdated staffing plans and misaligned staff
Engaging staff and constituents
The importance of formal planning
Schedule
8:00 a.m. Continental breakfast & networking
8:30 a.m. Presentation
9:30 a.m. Q & A
9:45 a.m. Adjournment
Dale Kreienkamp is the founder of Thriving Through Transitions and author of How Long, O Lord, How Long? He has 40+ years as a Human Resources Executive in non-profit healthcare and as s Consultant, coaching and guiding leaders.