Description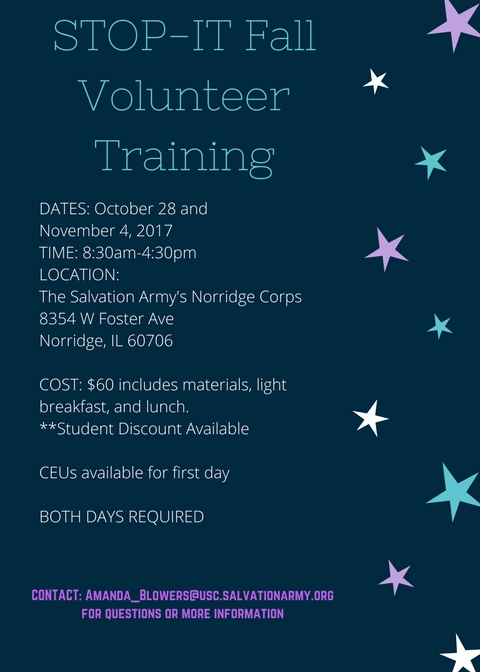 It's time for the STOP-IT Fall Volunteer Training!
We are currently seeking female-identified individuals to fill our direct support positions of Hotline Advocate, Drop-In Volunteer, and Volunteer Mentor. We are in need of weekday volunteers from 8:30am-5:00pm, week night volunteers from 5:00pm-8:30am, and weekend volunteers from 5pm on Friday until 8:30am on Monday. We are also in need of both male and female identified individuals for mentoring within our program. Additionally, volunteers interested in supporting our program through social media outreach, tabling events, and community presentations are welcome to attend. Six CEUs for LSW, LCSW, LPC, and LCPC are available for the first day only. This day is open to the public.
Please see this page for more information about any of the positions listed.
This Volunteer Training* sessions will be two consecutive Saturdays, October 28 and November 4 from 8:30am-4:30pm. Attendance for both days is required to volunteer with the program.
*Volunteer Training attendance does not guarantee a volunteer position within the STOP-IT Program. A goodness-of-fit interview and assessment is required for all direct service volunteers.
If you're interested in volunteering with the STOP-IT Program, please register by October 20. Student discount available. Please contact Amanda at Amanda_Blowers@usc.salvationarmy.org with questions or for the code.
No refund will be given if registration is cancelled within 48 hours of the first day of training.