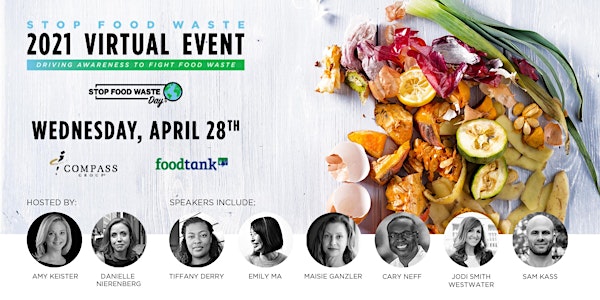 Stop Food Waste Day Virtual Event: Driving Awareness To Fight Food Waste
Join us live today at 2PM ET!
About this event
JOIN US TODAY AT 2PM ET! WATCH LIVE HERE.
HERE IS THE LIVE LINK: https://www.youtube.com/watch?v=fPwkY8afn6Y.
______
Founded by Compass Group, Stop Food Waste Day is a global day of awareness to eliminate wasted food around the world.
This years virtual event features 25+ incredible speakers discussing the food waste crisis. Brought to you in partnership by Compass Group & Food Tank.
Confirmed speakers include (alphabetical, more to be announced each day):
Eric Leroy Adams current Borough President of Brooklyn in New York City.
U.S. Senator Richard Blumenthal.
Chef Lorenzo Boni is the Executive Chef for Barilla America.
Chris Ivens-Brown is the Chief Culinary Officer at Eurest
Ed Brown is President of Restaurant Services at Restaurant Associates
Jean Buzby is the USDA Food Loss and Waste Liaison.
Rocky Dawuni is a Grammy-nominated musician and UNEP humanitarian.
Tiffany Derry is an American well known for her appearances on Top Chef.
Ron Finley teaches communities how to transform food deserts into food sanctuaries.
Maisie Ganzler is Chief Strategy & Brand Officer at Bon Appétit Company.
Dana Gunders serves as the Executive Director of ReFED, a food waste nonprofit.
Michael Hancock is the Mayor of Denver in Colorado
Sam Kass is a partner at Acre Venture Partners and former White House Chef and Senior Policy Advisor.
Amy Keister is the Senior Vice President Sustainability & Culinary at Compass Group USA.
Vi Lyles is the Mayor of Charlotte in North Carolina.
Emily Ma is the head of Food for Good at Google.
Chef Cary Neff is Vice President of Culinary Support at Morrison Healthcare.
U.S. Representative Dan Newhouse (R-WA)
Danielle Nierenberg is the President of Food Tank.
U.S. Representative Chellie Pingree (D-ME)
Enrique Salmón is head of the American Indian Studies Program at Cal State University.
Margie Saidel, VP Nutrition and Sustainability, Compass Group, Chartwells
Gene Smith, Senior Vice President and Wolfe Foundation Endowed Athletics Director, Ohio State University.
Debbie Stabenow, Chairwoman of the U.S. Senate Committee on Agriculture, Nutrition, and Forestry.
Tristram Stuart is an author and the founder of Feedback.
Haile Thomas is a Chef and Wellness + Compassion Activist.
Jon Utech is the director of the Office for a Healthy Environment at the Cleveland Clinic.
Crystal Wahpepah, Owner, Wahpepah's Kitchen
Jodi Smith Westwater is responsible for overseeing Microsoft's Dining program.
Michelle Wu is a member of the Boston City Council. She is the first Taiwanese American and first Asian American woman to serve on the council.
And many, many more to be announced very soon!
Please register today!