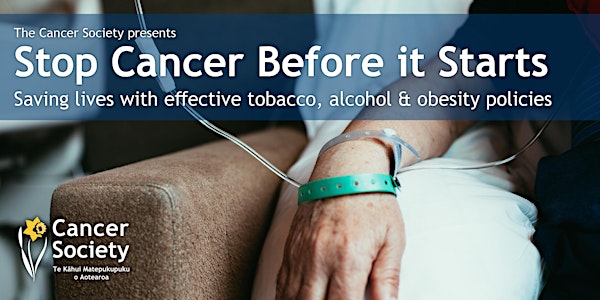 Stop Cancer Before it Starts
A one day symposium for the public health sector and policy makers.
When and where
Location
Auditorium, Auckland Art Gallery Toi o Tāmaki (entrance under the clock tower on the corner of Wellesley St and Kitchener St) Auckland Art Gallery Toi o Tāmaki Wellesley St East Auckland, Auckland 1010 New Zealand
About this event
As part of Cancer Research Week 2018, the Cancer Society invites members of the public health sector and policy makers to a one-day symposium; Stop Cancer Before it Starts: Saving lives with effective tobacco, alcohol & obesity policies.
Cancer affects more than a third of all New Zealanders. Despite considerable progress on more effective treatments, cancer remains New Zealand's single largest cause of death. However, between 30% and 50% of all cancer cases are preventable and research shows the most effective prevention strategies are national-level policies to reduce risk and harm.
The symposium will focus on three key preventable risk factors; tobacco, alcohol and obesity.
International experts Professor Gerard Hastings and Professor Anna Peeters will discuss the prevention of cancer and other life-threatening, non-communicable diseases through national-level policies. They will be joined by New Zealand experts, Boyd Swinburn, Sally Casswell, Jennie Connor, Richard Edwards and Anaru Waa, plus more speakers to be announced.
Here is the full programme:
Session 1: The Context
9.15am: Welcome
Jay Mareroa: Hāpai Te Hauora
Dr Jonathon Koea: Board Chairperson Cancer Society Auckland Northland
Dr Chris Jackson (by video): Medical Spokesperson Cancer Society NZ
9.40am: Opening Remarks
Anahila Kanongata'a-Suisuiki : MP and Government Health Select Committee
9.50am: The Marketing Matrix
Prof Gerard Hastings: University of Stirling, Scotland
10:45am: Morning Tea
Session 2: Obesity Prevention
11:15am: Obesity prevention - what next?
Prof Anna Peeters: Deakin University Melbourne
12:00pm: Obesity prevention in New Zealand
Prof Boyd Swinburn: University of Auckland
12.30pm: Lunch
Session 3: Alcohol a group one carcinogen
1.30pm: The impact of alcohol on cancer in New Zealand
Prof Jennie Connor: University of Otago
2.00pm: Commercial barriers to effective policy and what's needed to address them
Prof Sally Casswell: SHORE, Massey University
Session 4: Smokefree 2025
2.30: Achieving a Smokefree Aotearoa for all by 2025
Anaru Waa and Prof Richard Edwards
3.30pm: Afternoon break
Session 5: Changing the game
3.50pm: Health Coalition Aotearoa
4.00pm: Changing the game
Prof Anna Peeters
Prof Gerard Hastings
4.30pm: Finish
This symposium is free to attend but places are strictly limited. Please register to secure your place. Click the green register button at the top of this page and complete the form. If there are no places available, please email smokefree@akcansoc.org.nz to be put on the wait list.
For more information, please contact Cancer Society Auckland Northland on smokefree@akcansoc.org.nz.
ABOUT THE SPEAKERS
Keynote Speaker: Professor Gerard Hastings OBE
Gerard Hastings is Professor Emeritus at Stirling University (UK) and also works with L'École des Hautes Etudes en Santé Publique, Rennes. He founded the Institute for Social Marketing which he directed for many years, and his academic career has focused on researching the impact of marketing on society - both for good and ill. This has involved him in advising Government and working with policy makers and civil society both nationally and internationally.
He was a Special Advisor to the House of Commons Health Select Committee during its separate enquiries into the tobacco (2000), food (2004), pharmaceutical (2005), and alcohol industries (2010) and acts as a Temporary Advisor to the World Health Organization (WHO) on both communicable and non-communicable disease on a regular basis. He has also been an expert witness in litigation against the tobacco industry in the UK and internationally, and in 2011 successfully challenged the Industry's right to access confidential research through Freedom of Information. He currently sits on the BMA Board of Science, is a member of the Lancet Obesity Commission, a Trustee of the UK Health Forum and a Schools Speaker for Amnesty International.
He has published widely in academic outlets, especially in health and business journals. His latest books are Social Marketing: Rebels with a Cause (with Christine Domegan) and The Marketing Matrix: how the corporation gets its power and how we can reclaim it are published by Routledge.
In 2009 he was awarded the OBE for services to health care. In 2014 he accepted the Queen's Anniversary Prize for Higher and Further Education on behalf of the University of Stirling for the ground-breaking critical marketing research conducted by the Institute for Social Marketing.
Guest Speaker: Professor Anna Peeters
Anna Peeters is Professor of Epidemiology and Equity in Public Health & Head of Obesity and Population Health in the School of Health and Social Development at Deakin University, Melbourne.
Anna is a public health researcher, particularly interested in the provision of information to facilitate objective and equitable choices in public health by policy makers, practitioners and the public.
Anna is also on the council of the Australia New Zealand Obesity Society (ANZOS, President 2011-14, Chair ASM 2015), and on advisory boards and steering committees for the Parent's Jury, the Victorian government's Equity Focussed Health Impact Assessment advisory group and WorkHealth advisory group, and on the World Cancer Research Fund's Policy Advisory Group.
Anna has recently been awarded the prestigious World Obesity Federation Andre Mayer Award for 2014 and a Churchill Award (2014). Anna holds an NHMRC Career Development Fellowship.
Guest Speaker: Professor Boyd Swinburn
Boyd Swinburn is the Professor of Population Nutrition and Global Health at the University of Auckland and Alfred Deakin Professor and Director of the World Health Organisation (WHO) Collaborating Centre for Obesity Prevention at Deakin University in Melbourne. He is Co-Chair of the World Obesity/Policy & Prevention (formerly known as IOTF) and was President of the Australia and New Zealand Obesity Society (ANZOS) from 2005-7.
He has also contributed to over 30 WHO consultations and reports on obesity, authored over 300 publications and given over 400 presentations. Through these efforts he is significantly contributing to national and global efforts to reduce the obesity epidemic.
His major research interests are centred on community and policy actions to prevent childhood and adolescent obesity, and reduce, what he has coined, the 'obesogenic' food environment.
Guest Speaker: Professor Sally Casswell
Prof Sally Casswell, ONZM, BA(Hons), PhD, FRSNZ has published more than 200 articles in peer reviewed international journals, is a member of the World Health Organisation's Expert Advisory Panel on Alcohol and Drug Dependence and is currently Chair of the Global Alcohol Policy Alliance and President of the Kettil Bruun Society for Social and Epidemiological Research on Alcohol. She holds a personal chair in social and health research and is Director of SHORE and Co-director of the SHORE and Whariki Research Centre, School of Public Health, Massey University.
Her research interests are in social and public health policy, particularly in relation to alcohol. She has a particular interest in development and implementation of healthy public policy at the global level and in international collaborative research. She was selected by her peers to receive the Jellinek Memorial Award, the premier international award for alcohol research.
Guest Speaker: Professor Jennie Connor
Jennie Connor is the Chair of the Department of Preventive and Social Medicine, at Otago University Medical School. She is a public health physician and epidemiologist, who teaches epidemiology. She has 20 years experience in public health research that has largely focussed on the health effects of alcohol, injury prevention, and sexual and reproductive health, and is a theme leader in the Dunedin Multidisciplinary Health and Development Study. Professor Connor has completed two assessments of the "Alcohol-attributable burden of disease and injury in New Zealand" with international collaborators, including estimation of alcohol-attributable cancer. She is a medical spokesperson for Alcohol Action New Zealand, an incorporated society advocating for the adoption of evidence-based policy to reduce harm from alcohol.
Guest Speaker: Professor Richard Edwards
Richard is co-director of ASPIRE 2025 research collaboration and co-director of the Health Promotion and Policy Research Unit (HePPRU). Prof Richard Edwards trained as a public health physician in the UK, and came to Wellington in November 2005. He has over 20 years' experience in tobacco control practice and research in the UK and New Zealand. His main research interests are in tobacco use epidemiology and tobacco control. He has also carried out research in a variety of other areas, notably environmental epidemiology and non-communicable diseases in sub-Saharan Africa. His current research focus is on tobacco control policy research, particularly in relation to achieving the Tupeka Kore vision of ending significant tobacco use in Aotearoa/New Zealand by 2025. He is principal investigator on the New Zealand arm of the International Tobacco Control (ITC) Evaluation project.
Richard is also co-author of the Achieving Smokefree Aotearoa 2025 -a national action plan for tobacco
Guest Speaker: Anaru Waa
Anaru works at ASPIRE University of Otago and is a lecturer in public health. He has a strong interest in tobacco research and is on the national advisory group for Hapai te Hauora's National Tobacco Advocacy Service, and is a Board member of Action on Smoking and Health.