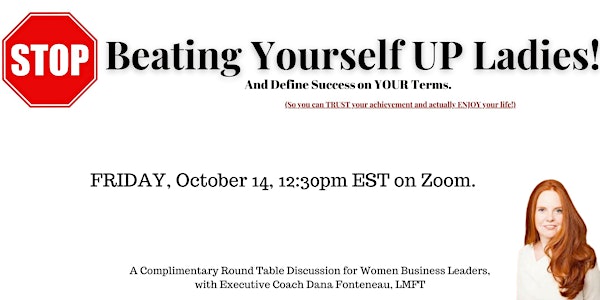 STOP Beating Yourself Up Ladies!
This FREE 1-hr webinar for female executives focuses on defining ENOUGH so you can stop beating yourselves up & enjoy your lives.
About this event
Are you a female leader haunted by imposter syndrome? Are you unable to define measurable success in a way that's not just just based on a feeling? Are you unable to stop your hustle because you don't trust your success will last? Are you trapped in scenarios comparing yourself to others and not owning the strengths and value YOU bring to the room?!
If you'd like to join a community of like-minded, ambitious, purpose driven female leaders who struggle with these same challenges, then this COMPLIMENTARY round table discussion is for you.
Join me in a discussion on tools and strategies to conquer your doubts and demons and step into the leader you know you truly are deep down inside.
NO SALES, NO PITCHES, Just RESOURCE, TOOLS and COMMUNITY.
(*Anyone attending who tries to pitch or promote will be respectfully removed from the event.)