About this Event
Stonewall at 50 will address the cutting-edge issues of our time, and beyond, with leading advocates from across the country. Panel discussions will focus on trans* rights, queer youth, housing discrimination, religious liberty, and the state of our community.
Alliance at Vermont Law School (VLS) is sponsoring a major symposium entitled Stonewall at 50: A Half-Century of LGBT+ Civil Rights Advocacy on November 16, 2019, at the Main Street Landing Performing Arts Center in Burlington from 9 a.m. to 5:00 p.m. The event is free and open to the public and media, but online registration is requested. The deadline for registration is November 14, at 11:59 pm.
The symposium will begin with remarks by Shirley Jefferson, Associate Dean for Student Affairs and Diversity at Vermont Law School. VT. Representative Bill Lippert will give the opening address, followed by moderated panels of leading advocates from across the nation. The panels will address workplace discrimination and cases pending before the U.S. Supreme Court, the state of the LGBTQ+ community, Queer Youth, and housing discrimination. The lunchtime keynote address will be by the Honorable Beth Robinson, an Associate Justice of the Vermont Supreme Court.
"The 50th anniversary of the Stonewall Rebellion is a fitting time to take stock of the LGBTQ+ civil rights movement," said Greg Johnson, Professor of Law and Alliance faculty advisor. "This symposium celebrates the incredible achievements of the early advocates for LGBTQ+ civil rights and examines the pressing issues before us. In fifty years, we have witnessed unimaginable success—but at what cost? As we reflect on those accomplishments, we will also discuss the important work still to be done, and the best way to achieve not just equality, but justice, for all."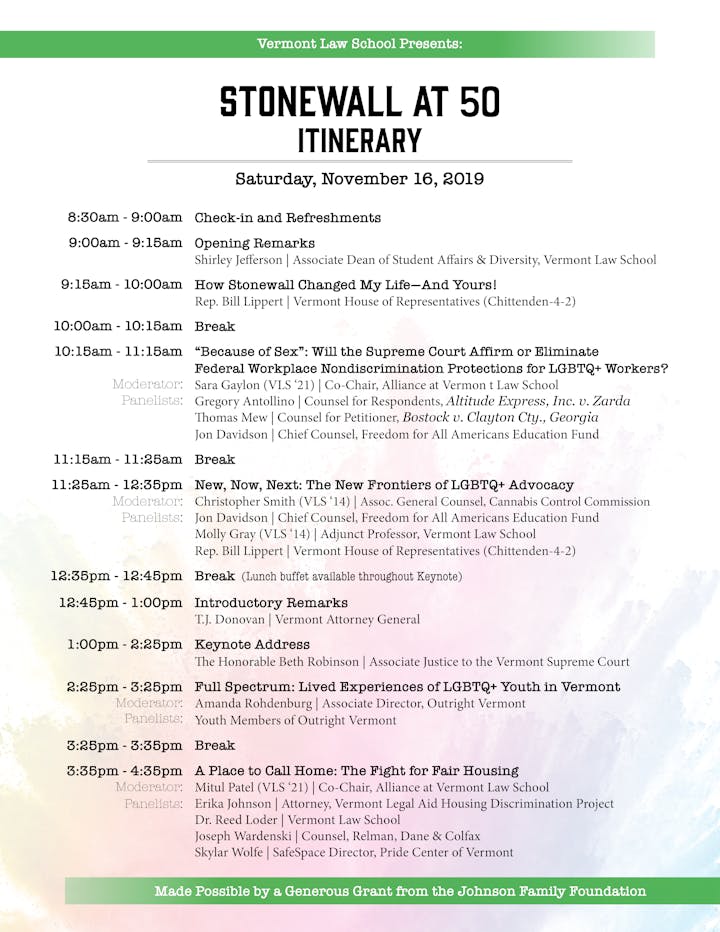 *Vermont CLE credits available*
This event is made possible by a generous grant from the Johnson Family Foundation.