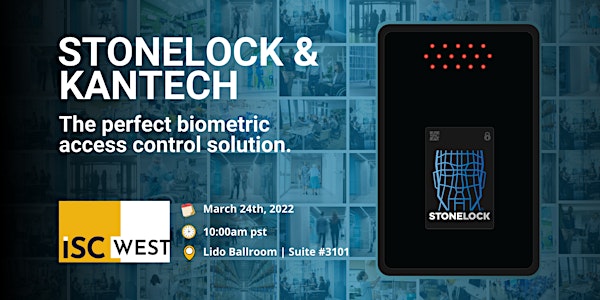 STONELOCK plus KANTECH The perfect biometric access control solution.
Ready To See Facial Biometrics Differently?
When and where
Location
ISC WEST | Lido Ballroom | Suite #3101, Venetian Hotel, Las Vegas 201 Sands Ave Las Vegas, NV 89169
About this event
We get it. You'd love to offer your customers a safe, secure, and private biometric option BUT Facial Readers have been complicated up until now. That's why we created the StoneLock GO!
Built by security industry experts with both the integrator and the end-user in mind.
No other Facial Biometric Reader on the market is as secure, private and provides as much ease of use as the StoneLock GO.
Our competitive edge is built on user privacy, user/administrator convenience combined with a proprietary infrared security technology that is spoof resistant.
We See People Differently
Private
A proprietary algorithm replaces an enrolled user's face with a mathematical representation. The reader does not store images.
Convenient
Enroll with a QR code or card. The easy-to-read display will guide users through a simple, touchless, self-enrollment process.
Secure
Using state-of-the-art near-infrared technology, we are able to create unique biometric keys that are unrecognizable outside of the StoneLock system.
Ready to GO?