Description
There will be a limited number of tickets available for purchase at the door.
While Stone has long had a reputation for brewing hop-forward IPAs, we've always had a deep appreciation for the glorious dark side of beer. If you've attended our Oakquinox or Pour It Black events in the past, we've combined them both into one massive celebration of the finest stouts, porters and barrel-aged delights.
We're putting together an incredible list of beers from Stone along with amazing guest beers from some of the finest craft breweries in the world. We got rave reviews from the attendees of the first DRK in 2017, and we can't wait to step it up and make it an even more fantastic experience for the second edition.
YOUR $65 TICKET INCLUDES:

- Fifteen 3oz tasters
- A commemorative glass to take home
- Amazing dark and rare beers to choose from!
Special Treats: We'll also have our friends from Nutista Stoneground Nutbutters providing samples of their locally handmade, all-natural nutbutters for you to pair with any of these abundantly flavorful beers.
This event will take place on Friday evening for the first time!
There will be a limited number of Stone DRK Festival T-shirts available for sale at the event.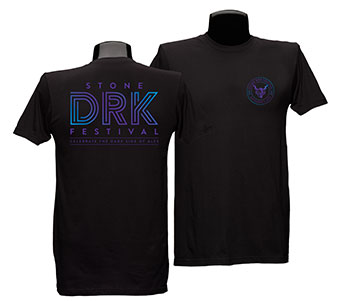 Beer List:
STONE BREWING BEERS
Fyodor's Classic (2013 Stone Imperial Russian Stout aged in Bourbon Barrels)
Guardian's Slumber (2013 Stone Old Guardian Barley Wine aged in Bourbon Barrels)
Stone Liberty Station - Stone Classics Stone Smoked Porter
Stone Liberty Station Wiser Moron (Wittiest Moron aged in Red Wine Barrels)
Stone Mission Warehouse Sour - Blackberry + Black Currant
Stone Mission Warehouse Sour - Mosaic Wild Ale
GUEST BEERS
Alesmith Cinnamon/Vanilla Barrel Aged Speedway Stout
Allagash James Bean (Ale aged in bourbon barrels with cold brewed Coffee)
Beachwood BBQ & Brewing SADIE w/Vanilla (Expressive ale aged in Bourbon Barrels)
Belching Beaver Barrel Aged Horchata w/Mostra Coffee (Aged in Templeton Rye Whiskey Barrels)
Cigar City Barrel Aged MOAT Water (Maple Bourbon Barrel Aged Imperial Stout w/coffee & vanilla)
Crux Fermentation Project Better Off Red (Barrel-Aged Flanders Red)
Mikkeller Grandma's Boy (Imperial Milk Stout w/Cinnamon & Raisins aged in Orange Liqueur Barrels)
Oskar Blues Death By Coconut
Prairie Artisan Ales Deconstructed BOMB CHILI
The Alchemist Luscious (English Imperial Stout)
The Lost Abbey Barrel Aged Serpents Stout
Three Weavers Extraordinary Humans (Imperial Porter w/Lactose and Vanilla Beans aged in Bourbon Barrels)
Upland Darken (Barrel Aged Sour Brown Ale)
Designated drivers do not require tickets. Just bring them along and make sure they have a valid photo ID.
---
THIS EVENT IS 21 AND OVER ONLY, INCLUDING DESIGNATED DRIVERS.
Please don't forget your valid photo ID. Beer list subject to change.
PLEASE NOTE: We will have plenty of chilled water on hand, so leave your single-use bottles at home.
Pace yourself, Your safety is in everybodys best interest; as such California law prohibits us to serve any obviously intoxicated guests.
Notice: Stone Brewing and its vendors sometimes take photos and videos at Stone events to use for promotional purposes. By participating in or attending any Stone event, you agree that you may appear in some of these photos and videos, and you authorize their use in this fashion. On the flip side, if you take any photos or videos of attendees at a Stone event and provide them to us, you authorize us to use them in the same fashion and confirm that the attendees who appear in your photos and videos have also consented to such use.