Description
STOMPING GROUNDS is a free two-month citywide celebration of authentic, rhythmic dance companies from a variety of world cultures, including American tap, Spanish, Mexican, African, Indian, Native American, Hip-hop, and Irish dance. The series culminates with the grand finale at the Pritzker Pavilion in Milennium Park on Thursday, June 7.
The program kicks off its fourth year on Monday, April 2nd at the Chicago Cultural Center's Claudia Cassidy Theater. This opening event will feature all of the companies participating in 2018 (see below for a list). Free Seats available at ALL events. New "I Support the Arts" $5 reservation allowed at some venues.
Each STOMPING GROUNDS event, known as a "Performalogue," features the performers and Artistic Directors of selected companies in a narrated performance and Q&A with the audience. And each event features a different lineup! For a list of locations and lineups, please see below.
The featured Chicago companies are:
Black Hawk Performance Company

Chicago Human Rhythm Project

Chicago Dance Crash

Ensemble Español Spanish Dance Theater

Mexican Folk Dance Company of Chicago

Muntu Dance Theatre of Chicago

Natya Dance Theatre

Trinity Irish Dance Company

Trinity Irish Dance Ensemble

NOTE: Ticket holders are allowed priority entry up to 10 minutes before showtime, otherwise seats will be given to those on the wait list.


---
Locations and Lineups for STOMPING GROUNDS events:
Monday, April 2 - 6:00 PM
Chicago Cultural Center (Kick-Off!)
featuring all Chicago companies
Saturday, April 14 - 7:30 PM
Beverly Arts Center
featuring Chicago Human Rhythm Project and more

Saturday, April 21 - 7:30 PM
Irish American Heritage Center
featuring Trinity Irish Dance Company and more

Saturday, April 28 - 7:30 PM
National Museum of Mexican Art
featuring Mexican Folk Dance Company of Chicago and more
Saturday, May 5 - 7:30 PM
DuSable Museum of African American History
featuring Muntu Dance Theatre and more
Wednesday, May 23 - 6:00 PM
Garfield Park Conservatory
featuring Ensemble Español Spanish Dance Theater, Chicago Dance Crash, and more
Thursday, June 7 - TBD
Pritzker Pavilion in Millennium Park (Grand Finale!)
featuring all Chicago companies
---
STOMPING GROUNDS is Supported By:


STOMPING GROUNDS Partner Companies: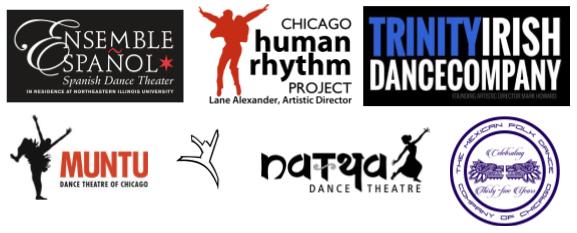 STOMPING GROUNDS Partner Venues: