Description
STOMP Workshop
When: September 28-29, 2017
9:00 AM - 4:00 PM
Where: Tower View Conference Center
For information on the installation and/or the location of the workshop please contact:
Monique O'Neil, Program Manager, EFMP
DSN: 476-2758/monique.y.oneil.civ@mail.mil
Workshop Layout Day 1 - What You Need to Know!
Your right as a parent of a child with a disability

What to have when PCS/ETS occurs

Communicating effectively to attain collaborative relationships for your child.

Your Childs' IFSP, IEP, or 504 (Please bring a copy if you would like to learn how they will be best supported)
Advocating – Making a Plan
Workshop Layout Day 2 – TRICARE, SSI, and Medicaid for the Military Family.
TRICARE/ECHO/ABA

The steps taken to apply for SSI and Medicaid
Wills, Guardianships, and Special Needs Trusts
Planning for the future of your child without you
Interactive Breakouts to learn:
What your child's IFSP/IEP can do for them when goals are written "SMART"

504 accommodations and modifications when transitioning out of high school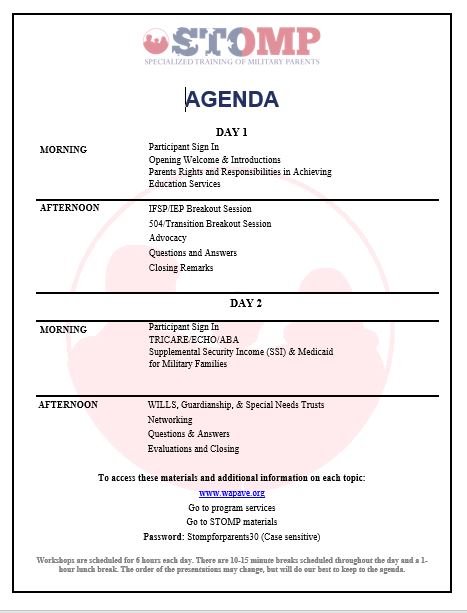 FAQs
Why should I attend?
STOMP provides information about parent rights and responsibilities in achieving special education services for military children whether located in the United States or overseas. STOMP also assists military families in accessing resources for their children by enabling them to navigate a variety of educational and medical systems/programs, both military and civilian, regardless of their current duty station/location.
Why do you need my email address to register?
We use your email address to alert you of reminders, changes, and cancellations. We will also use your email address to add you to PAVE newsletter.
Why do you need my cell phone number to register?
We use your cell phone number to alert you of reminders, changes, and cancellations.
I have never been on this installation before, how do I get there?
For information on the installation and/or the location of the workshop please contact:
Monique O'Neil, Program Manager, EFMP
DSN: 476-2758/monique.y.oneil.civ@mail.mil