Location
Jack Mountain
Catfish rd
Seymour, MO 65746
Sales Have Ended
Ticket sales have ended
Ticket can be purchased at the gate now.
Stomp The Mountain is a two day music festival nestled in the hills of the Ozarks in southwest Missouri.
About this event
Stomp The Mountain presented by H-MAG productions is a family friendly weekend filled with music from some of the best artist of the Midwest. There will be many food and merch vendors to choose from along with activities such as yoga, survival classes, and many more. Enjoy swimming, fishing and the great outdoors on this amazing piece of property.
About the property
With 86 acres to explore, we have hiking trails, creeks and 5 ponds stocked with catfish, bass and bluegill for fishing. Three ponds are naturally spring and creek fed with constant flowing water. At 3+ acres in size, the middle pond is used as the swimming area. The spring' constant moving water keep it cool and relaxing on hot summer days.
Our natural amphitheater allows music to travel through the valleys for an astonishing sound all over the property.
We have a general store for all your basic needs such as ice, water, snacks, camping supplies and more. There is a public water fill station in front of the store for water refills.
The bathroom/shower house has a male and female side with a total of 4 showers, 6 toilets and 4 sinks. Bathroom/shower passes can be purchased as an add on with your ticket or at the general store on site.
The campground has 18 full hook up RV spots, 12 pond view electric only RV sites, and 11 electric tent sites with many shaded and pond view tent sites available. We have a dump station and water fill station available as well. Reserve an RV electric tent site through this link.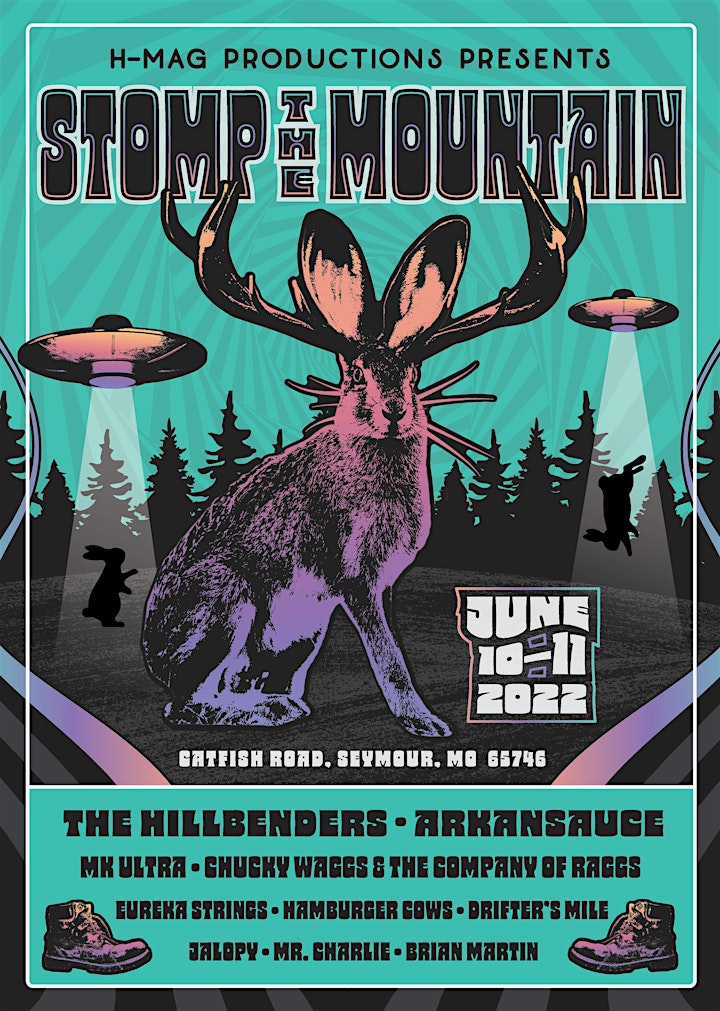 Featured Artists-
The Hillbenders-
From the deepest roots in bluegrass as the National Single Microphone Champions to the far left of progressive acoustic music The HillBenders have played the most elite stages in both the festival circuit and the performing arts world. High-energy performances, a diverse catalog, and a slice of humor make way for what appears to be more of a brotherhood than a business - and each audience they play for becomes a part of that family.
www.hillbenders.com
Arkansauce-
Arkansauce is a genre-hopping, four piece string band from northwest Arkansas, bending the
rules and blurring the lines between bluegrass, newgrass, folk, americana, country, blues, and
funk. With a loyal following growing every day in the Natural State and along their tour routes,
the band is proud to be stepping into a hard-driving sound unique to the Arkansas quartet.
www.arkansaucemusic.com
MK Ultra-
Double the beard- Double the weird
Ben Miller ( Ben Miller Band) and Pat Kay ( The Kay Brothers), renowned torchbearers from Ozark mountain music tradition heretofor,have together embarked on a journy exploring hillbilly music from a distant future. Banjos meet Synth... Dulcimers meet Wobble... these industrious builders of cobbled homemade instruments showcase some of their very most bizarre implements & soundscapes. The future of the past.
www.facebook.com/mkultraphonic/
Chucky Waggs and The Company Of Raggs-
Chucky Waggs is a multi-instrumentalist, singer/songwriter and recording artist based out of the hills of Eureka Springs, AR. Chucky Waggs plays a mix of acoustic and electric guitar, 5string and tenor banjo, dobro, resophonic guitar, harmonica, and kazoo, while using his feet to stomp out the back beat on a thrown together drum kit, during live performances. He has released three full length, original studio albums. Writing, arranging and performing the instrumentation on each with help from his rotating live band "the Company of Raggs". Drawing influences from early American roots music, as well as early punk and rock and roll, "the Company of Raggs" add to the energy and dynamic of his original material during live performances.
chuckywaggs.com
Eureka Strings-
Gracefully gliding across multiple genres from Psychedelic honky Tonk, Jam Grass, R&B, Americana and Folk pulled right out of the Ozark mountains. Eureka Strings offers a unique musical experience that is guaranteed to entertain anyone in the crowd. Between an all-star lineup of multiple singer/songwriters and an abundant amount of inspiration from their hometown, originality is their specialty. They have been on the rise fast this last year opening and playing direct support for bands like the Jerry Garcia Band, Rail Road Earth and Greensky bluegrass, just to name a few. Their stage antics and energy have made them a favorite must see act at most festivals.
Www.eurekastringsmusic.com
Hamburger Cows-
The Hamburger Cows have been delighting and bewildering audiences across the Ozarks for nigh on 10 years now. Featuring soul stirring vocals and honey harmony the band is 'The Mighty' Steve Ames on guitar, Jeff 'Rowdy Cat' Sowards on bass, and The Goat, Bo Brown, on guitar, mandolin and dobro. The Cows play a mix of funky americana country folk rock that has been described by many as "pert' dang good". Original and cover songs ranging from the serene to the surreal and all points in between. We'll see you in the pasture.
https://www.facebook.com/hamburgercows
Drifters Mile-
Born from the Ozark Mountains, Drifters Mile plays, sings, and writes folk music in a Country and Bluegrass Style. We might not be siblings but we are a family band. Drifters Mile plays roots music, influenced by nearly every type of music that one can listen to.
https://m.facebook.com/driftersmile/
Jalopy-
Jalopy is an original-funky-rock band based in Springfield, Missouri - think Steely Dan meets The Wood Brothers. All songs are crafted by four musicians that love and obsess over creating music. Members include Brandon Moore on guitar and vocals, John Anderson on drums and vocals, Kelly Brown on keys, and Jerry Twyford on bass. Soon to drop their first studio album, Jalopy is ready to perform in full stride in 2022!
Mr. Charlie-
Members of Jupiter Hollow,The HillBenders, Barefoot Revolution, The Shotgun Brothers join together to celebrate the music and impact of The Grateful Dead and other patchouli infused jambands. 
https://m.facebook.com/Mr-Charlie-Music-of-The-Grateful-Dead-106502178263230/
Brain Martin-
While keeping one foot planted firmly in the roots of American music, singer/songwriter Brian Martin is forging a distinct path into its future as well. Interweaving old-time country blues and mountain folk music with southern soul, funk and gospel, Martin seamlessly creates a style that he simply refers to as "front porch soul." His burly voice and down home witty tales result in music that is both alluring and enduring for generations young and old. 
www.brianmartinmusic.com