Stockton Real Estate Expo & Property Tour

Saturday, October 13, 2012 from 10:00 AM to 4:00 PM
Event Details
Do You Want to Secure a Rental Property for as little as $30,000 IN CALIFORNIA???

Realty411 is Going to Teach YOU How...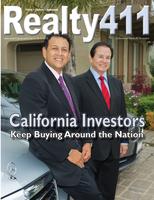 as we CELEBRATE Our New Issue...
JOIN US FOR OUR STOCKTON EXPO
AND PROPERTY TOUR THE NEXT DAY!!!

---
COME TO OUR EVENT, WE CAN GIVE YOU THE TOOLS TO SUCCEED FROM BEGINNING TO END.
This Special EXPO is Hosted by:
Pilar Tobias, President/CEO of Total Solutions Alliance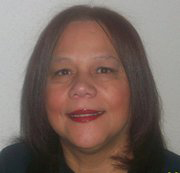 She has been in the Real Estate and Mortgage Industry since 1996 when she received her Real Estate Sales license.  She later received her Broker's license in 2006. Pilar has served as a Realtor at Century 21 Champion for nine years and Mentor and Broker Associate for Global Realty Marketing for two and a half years.
In addition, she was a Broker Associate & Mentor for a new company Connect Realty.com for two years. She  founded Total Solutions Alliance in 2009 which has five divisions: Tobias Realty, Innovative Lending, Light House Investor's Alliance, Tobias Property Management and Elite Mentoring.
 
Graduated in 1979 from Connecticut Business Institute and received an Associate Degree in Accounting. She moved to California thereafter where she worked as a Tax Accountant until 1996. She believes that anyone can be wealthy if they are properly informed and educated.
Kevin E. Clayson - Strongbrook Co-Founder and Director of Internal Sales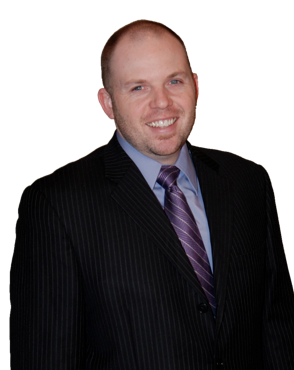 Kevin Clayson is one of the original founders of Strongbrook REIC and the Strongbrook Group, and has served as a vice-president, coaching manager and primary loan officer for the company. Today, he serves as the Director of Internal Sales and manages the company's internal sales process for new client acquisition, and frequently travels all over the country speaking and training on behalf of the company. Kevin also works closely with Strongbrook's independent sales force and participates in assisting the field in growing their business. Kevin continues to assist in the production of all marketing materials including writing copy, creating presentations and developing other sales tools for Independent Business Developers and Client Fulfillment Coordinators.
Kevin is also the primary creator of all the company's educational content, including weekly video and audio productions made available to online subscribers in the Strongbrook Wealth Academy. He is the main speaker and facilitator of the company's monthly, live, 2-day educational training event, The Strait Path Intensive. Kevin's other responsibilities include assisting with the development of Strongbrook's corporate vision and strategy, and its company culture. As a corporate trainer, he ensures that employees, and independent business developers acquire knowledge of products, customer service and corporate values.
Kevin Clayson spent ten years in retail management and merchandising and seven years in the mortgage, finance, and real estate industries before taking over more corporate responsibilities. He has been both a senior credit manager and assistant branch manager within the Wells Fargo organization. Kevin holds a BA in political science, and currently lives in Utah with his beautiful wife, his 3-year-old daughter, and his1-year-old son.
Sensei Gilliland with Black Belt Investors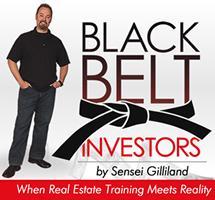 "Sensei" of Black Belt Investors
The founder and CEO of Black Belt Investors began his investing endeavors in 1995.
Since that time, Sensei has created cash through wholesale real estate, obtained wealth through rental properties and continues to teach his methods through workshops, seminars and club meetings helping people to achieve their financial dreams.
Through martial arts Sensei has learned the discipline it takes to channel his energy toward achieving personal goals.
Learn How SENSEI builds WEALTH through wholesaling without using any money or credit and without even taking ownership of the property!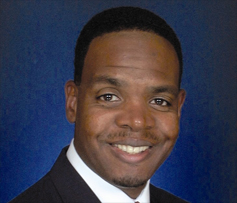 Lamarr Baxter, Director of Business Development, Accuplan Benefits Services, regularly conducts educational seminars outlining the benefits and rewards of investing in real estate with a self-directed retirement accounts. In addition to specializing in self-directed retirement accounts, he is very knowledgeable in residential mortgage loans for both primary homeowners and investors. He has previous experience in commercial leasing, A/R factoring and private note loans secured by real estate. Lamarr brings over 20 years of varied financial experience and knowledge to provide his clients, partners, financial professionals, real estate professionals and investors with the tools required to invest in real estate related transactions with a truly self-directed retirement.

PLUS, OUR LOCAL LEADERS....
Tamera Aragon has bought and sold over 300 properties, establishing her as an expert in the real estate investing field. Tamera is a professional online entrepreneur providing tools and training for her step by step methods to finding profits in any type of real estate market.

Because Tamera's true passion is to help others be, do and have more in their life, she immediately took to putting the real estate investing tools and resources she uses on the internet for others to benefit.  Tamera is one of the few trainers and coaches who is really "doing it" successfully in today's market.  She openly shares her tools, experiences and knowledge with others in hopes they will help to bring financial freedom to their life as well.

Tamera has been inspired to create over 17 websites and several specialized products to support fellow investors throughout the world.  She has personally coached and mentored over 120 others to real estate success since 2008.
Tamera's experience has earned her a solid reputation in the industry as well as the respect and friendship of many top national real estate investment and internet marketing experts.
Learn to Capture Your Audience with Mobile Target Marketing!

Mobile Target Marketing is a full service mobile marketing firm that offers a full range of services to engineer a successful revenue-enhancing mobile marketing campaign for your business.
 
* Learn how to integrate a Mobile Marketing Campaign for you business or organization.
 
Mobile Target Marketing is a mobile marketing consulting firm that creates mobile campaigns for businesses via various channels to ensure effectiveness and revenue generation.
 
If your business is not taking advantage of the Mobile Marketing technolgy, you're missing out on the hottest trend since the Internet.
 
Mobile Target Marketing Group, Inc. can fulfill all of your mobile marketing needs. From Mobile optimized websites, SMS texting services, Mobile Coupon campaigns, Enhanced Customized QR code generation, to Mobile Apps...Mobile Target Marketing can fulfill and create the projects you dream about on a shoestring budget.
Plus SPECIAL GUEST, John Hyland
from SouthWestCashFlow.com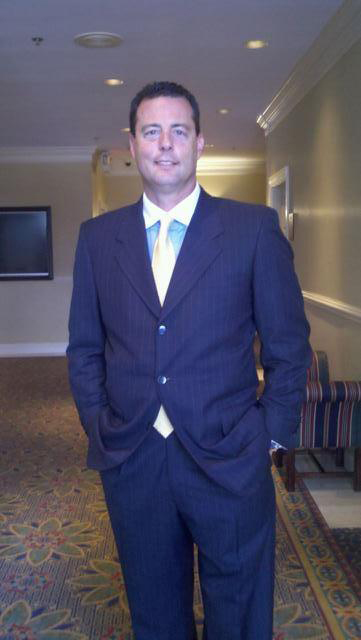 Mr. John Hyland has a great reputation as a huge builder
of houses, Telecom facilities and other structures. He and his 
partners have built many homes and have developed 
commercial space as well as built large warehouse/office
complexes. The biggest personal residence they have
built was 20,000 square feet. 

Hyland says his 

company 
www.SouthWestCashFlow.com rehabs quality, affordable, 
rental houses to turn whole cities around financially.



THANK YOU TO OUR SPONSORS!



 
 





---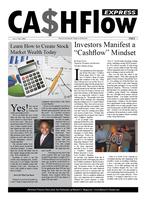 PLUS GET OUR LATEST NEWSPAPER:
CashFlow Express
Our newspaper is filled with great information about real estate and stocks as well as business tips.
This publication is ONLYavailable at our events and it is our special gift to you for attending.
---
Meet the Press...Who Started this Magazine & Why?
Linda Pliagas, founder/publisher
Hello, I'm Linda Pliagas. My family and I publish Realty411 (reWealth) Magazine.
I became intrigued with real estate at age 15, after my parents lost their home to foreclosure in the Central Valley of California (in Los Banos). That traumatic experience actually skyrocketed my "Wealth Consciousness" and I became determined to become successful.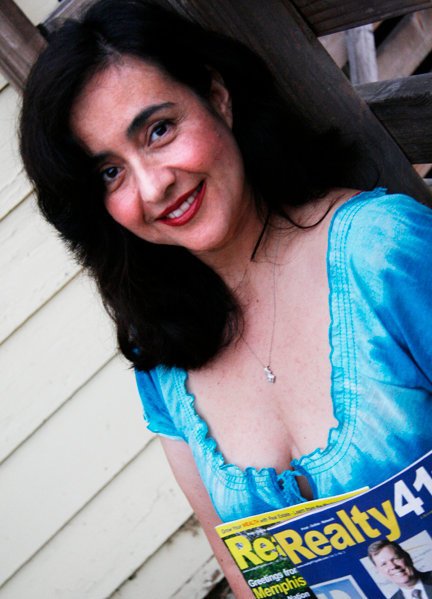 Through a lot of hard work in my dual professions in media and real estate and by using CREATIVE TECHNIQUES, I became a landlord by the age of 25. In fact, my husband and I have now owned properties in five states and are active landlords in California and Out of State.

I love and believe in real estate investing! Now that I'm a magazine publisher, with readers in 43 states and 24 countries, I want to help as many people as possible also change their life through the purchase of real estate.
This event will offer information on a variety of investing styles, plus fantastic networking! Our events are responsible for brining together the TOP leaders of real estate. Many people often end up doing deals and business with the investors and entrepreuners they meet at our events around the country. So brings tons of business cards!

Come Join Us for a Day of Education & Networking
THEN ON SUNDAY JOIN US FOR A TOUR!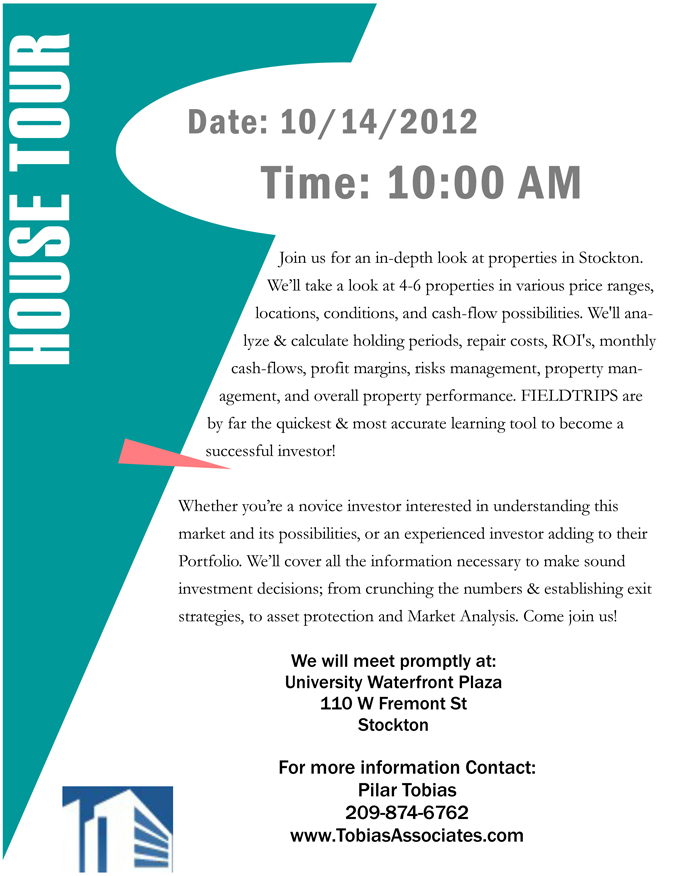 Need more info? See our video...
Try our video maker at Animoto.
When & Where

University Plaza Waterfront Hotel
110 W Fremont St.
Stockton, CA 95202


Saturday, October 13, 2012 from 10:00 AM to 4:00 PM
Add to my calendar
Organizer
* Event Organized by Realty411 *
Based in Santa Barbara County, Calif., Realty411 publishes online and print magazines, e-newsletters, produces expos, and mixers around the United States. Their mission to educate and empower everyone from all walks of life to invest in real estate. The media/marketing company is owned by a real estate investor and licensed California real estate sales agent. Realty411 currently reaches more personal investors around the nation with their in-house expos and events than any other realty investor publication in the world. Many expos are charity events where awareness and donations are raised for numerous worthwhile organizations, which focus on children, assisting the homeless, victims of domestic violence, and animal welfare.
For information, call: 805.693.1497 or visit http://Realty411.com or
our new expo website: http://Realty411expo.com
To contact us directly, call: 805.693.1497 or realty411magazine@hotmail.com
Save