SATURDAY, APRIL 17TH SEASON OPENER @ the STOCKTON 99 SPEEDWAY featuring the STOCKTON LATE MODELS, BOMBERS, B4'S, JR. B4'S & MINI CUPS
About this Event
Join us for a day of family fun and action packed racing featuring some of the best local drivers start off the season at the Stockton 99 Speedway
1pm Pit Gates
5pm Admission Gates
6pm Heats with Racing to follow
$20 Admission Ages 16+
$15 Admission Jr. (11-15), Sr. 60+ & Military
Kids 10 & Under FREE (No Eventbrite admission needed)
$40* Pit Passes All Ages, all Pit Entries must purchase a yearly Stockton 99 License, either a driver license $100 or a pit crew license $60
Stockton 99 Speedway
4105 N. Wilson Way, Stockton, CA 95205
209-466-9999
Stockton99.com
The following COVID-19 safety protocols will be in effect for Admission Safety:
• All guests must wear a face mask at all times, unless actively consuming food or beverage.
• All guests will be required to submit to a temperature check prior to entering the ticket gates.
• All guests must maintain six feet of social distancing from those not in your immediate party.
• All guests must adhere to any requirements set forth by state and local officials
• Attendees will be allowed to bring in ONE CLEAR BAG that is soft-sided and no larger than 14x14x14 inches. A small purse/clutch or fanny-pack no larger than 4.5" x 6.5" is permitted as well. All bags will be inspected upon entry. All styles of clear bags are acceptable providing they meet the size requirements. These include clear cinch sacks, clear diaper bags, clear backpacks, Ziploc bags, etc.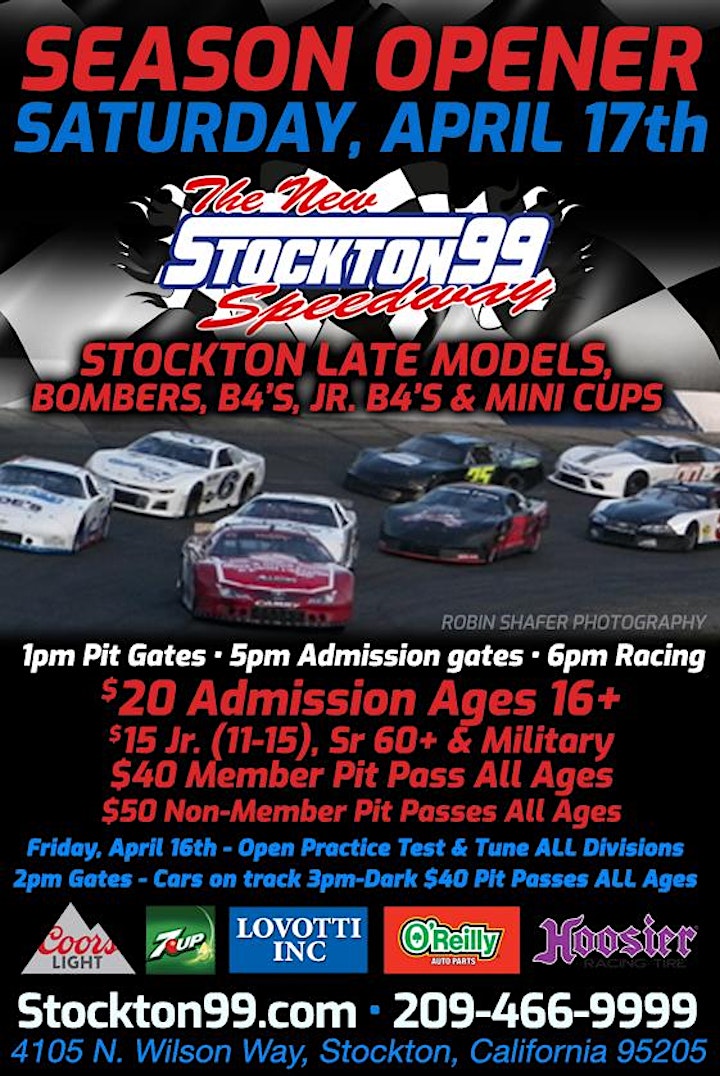 Assumption of the Risk and
Waiver of Liability Relating to Coronavirus/COVID-19
The novel coronavirus, COVID-19, has been declared a worldwide pandemic by the World Health Organization. COVID-19 is extremely contagious and is believed to spread mainly from person-to-person contact. As a result, federal, state, and local governments and federal and state health agencies recommend social distancing and have, in many locations, prohibited the congregation of groups of people. The Stockton Dirt Track, Stockton 99 Speedway and Outlaw Drift Series ("the Track") has put in place preventative measures to reduce the spread of COVID-19; however, the Track cannot guarantee that you or your child(ren) will not become infected with COVID-19. Further, attending the Track could increase your risk and your child(ren)'s risk of contracting COVID-19.
By signing this agreement, I acknowledge the contagious nature of COVID-19 and voluntarily assume the risk that I, my child(ren), and my family could be exposed to or infected by COVID-19 by attending the Track and that such exposure or infection may result in personal injury, illness, permanent disability, and death. I understand that the risk of becoming exposed to or infected by COVID-19 at the Track may result from the actions, omissions, or negligence of myself and others, including, but not limited to, Track employees, volunteers, and program participants and their families.
I voluntarily agree to assume all of the foregoing risks and accept sole responsibility for any injury to myself, my child(ren), and family including, but not limited to, personal injury, disability, and death, illness, damage, loss, claim, liability, or expense, of any kind, that I, my child(ren), and family may experience or incur in connection with attendance at the Track or participation in Track programming ("Claims").
On my behalf, and on behalf of my children and family, I hereby release, covenant not to sue, discharge, and hold harmless the Track, its employees, agents, and representatives, of and from the Claims, including all liabilities, claims, actions, damages, costs or expenses of any kind arising out of or relating thereto. I understand and agree that this release includes any Claims based on the actions, omissions, or negligence of the Track, its employees, agents, and representatives, whether a COVID-19 infection occurs before, during, or after participation in any Track related program or event.
THIS SECTION MUST BE CAREFULLY READ AND SIGNED BY THE APPLICANT IN CONSIDERATION OF BEING PERMITTED TO ENTER FOR ANY PURPOSE ANY RESTRICTED AREA (herein defined as including but not limited to the racing surface, pit areas, infield, paddock area, grandstand area and all walkways, concessions and other areas appurtenant to any area where any activity related to the EVENT(s) shall take place, or being permitted to compete, officiate, observe, work for, or for any purpose participate in any way in the EVENTS(s), THE UNDERSIGNED, for himself/herself, his/her personal representatives, heirs, and next of kin, acknowledges, agrees and represents that he/she has, or will immediately upon entering any of such restricted areas and will continuously thereafter, inspect such restricted areas and all portions thereof and which he/she enters and with which he/she comes in contact, and he/she does further warrant that his/her entry upon such restricted area or areas and his/her participation, if an, in the EVENT(S) constitutes an acknowledgement that he/she has inspected such restricted areas and that he/she finds and accepts the same as being safe and reasonably suited for the purposes of his/her use, and he/she further agrees and warrants that if, at any time, he/she is in or about restricted areas and he/she feels anything to be unsafe, he/she will refuse to participate further in the EVENT(S), will immediately advise the officials of such unsafe situation and will leave the restricted areas and not return.
1. HEREBY RELEASES, WAIVES, DISCHARGES AND COVENANTS NOT TO SUE THE PROMOTERS, PARTICIPANTS, RACING ASSOCIATION, SANCTIONING ORGANIZATION OR ANY SUBDIVISION THEREOF, TRACK OPERATOR, TRACK OWNER, OFFICIALS, VEHICLE OWNERS, DRIVERS, PIT CREWS, ANY PERSONS IN ANY RESTRICTED AREA, SPONSORS, ADVERTISERS, OWNERS AND LESSEES OF PREMISES USED TO CONDUCT THE EVENT(S), PREMISES OR EVENT INSPECTORS, SURVEYORS, INSURERS, UNDERWRITERS, CONSULTANTS OR OTHER PERSONS OR ENTITIES WHO GIVE RECOMMENDATIONS, DIRECTIONS, OR INSTRUCTIONS OR ENGAGE IN RISK EVALUATION OR LOSS CONTROL ACTIVITIES REGARDING THE PREMISES OR EVENT(S), THEIR PARENTS, SUBSIDIARIES, WHOLESALERS, AFFILIATED CORPORATIONS, AND EACH OF THEM, AND THE DIRECTORS, OFFICERS, AGENTS AND EMPLOYERS OF EACH OF THEM, ALL FOR THE PURPOSES HEREIN REFERRED TO AS THE "RELEASES" FROM ALL LIABILITY to the undersigned, his/her personal representatives, assigns, heirs, and next of kin for any and all loss of damage, and any claim or demands therefore on account of injury to the person or property or resulting in death of the undersigned whether caused by the negligence or gross negligence of the "RELEASEES", or otherwise while the undersigned is in or upon the restricted area, and/or competing, officiating in, observing, working for or for any purposes participating in the EVENT(S).
THE TICKET PURCHASER HAS READ AND VOLUNTARILY SIGNS THE RELEASE AND WAIVER OF LIABILITY AND INDEMNITY AGREEMENT FOR ALL PARTIES INVOLVED,
and further agrees that no oral representations, statements or inducements apart from the foregoing written agreement have been made.


NO NEED TO SIGN COVID WAIVER AT EVENT WHEN PURCHASING ON EVENTBRITE