STO Opportunities and Challenges for Asian Markets
About this Event
Security tokens are steadily being developed to bridge the crypto and capital market worlds. This new aspect of Fintech is made possible by Blockchain technology, which creates new use-cases for traditional asset classes including equity, debt and more. Digitized securities that are compliant with existent security regulations can be traded in more efficient and effective ways.
Date : 20 Sep 2019 (Fri)
Time : 16:00- 18:00 (Registration starts @15:30)
Venue : 9/F, Shui On Center, 6-8 Harbour Rd, Wanchai
Host : Ms. Joanne Wong, Director of BMI Funds Management / Deputy President General Secretary of BCAIA
Moderator : Mr. Sam Lee, Founder & CEO of Coinstreet Partners / Vice President of BCAIA
Topic : STO Opportunities and Challenges for Asian Markets
Eco-system and value chain
Regulatory environment and readiness
Fund raising opportunities for issuers
Value propositions for investors
Speakers :
Ms. Jacqueline Kwok, Director of Asia of Securitize
Mr. Galen Law-Kun, Crypto Team of PwC
Dr. Anthony Ng, CEO of Coinsuper Premium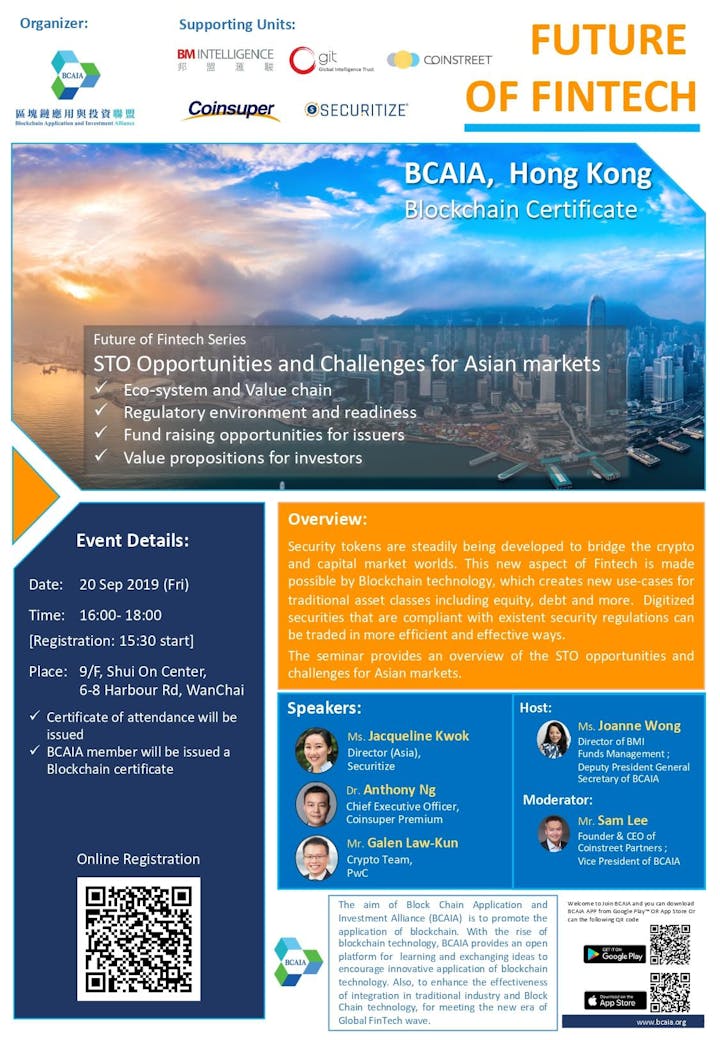 About BCAIA
The aim of Block Chain Application and Investment Alliance (BCAIA) is to promote the application of blockchain. With the rise of blockchain technology, BCAIA provides an open platform for learning and exchanging ideas to encourage innovative application of blockchain technology. Also, to enhance the effectiveness of integration in traditional industry and Block Chain technology, for meeting the new era of Global FinTech wave.