STO: Blockchain Powered Next-level Fintech
About this event
STOs are the exciting new frontier delivering opportunities that will democratise investment by fractionalisation of ownership through digital assets.
If you are keen to find out more, join our stellar line up of expert speakers. Hear them debate the way forward for STOs and meet them during the networking sessions before, between and after the speaker line ups during our networking sessions.
ASIFMA is going to be releasing the results in a new study called: Tokenised securities: A roadmap for market participants and regulators. It has been created by its leading members with review from tokenised security issuers and enablers from around the world. If you're in the room, you're in the game and can see where the players are taking the sector.
Bring your questions and your business cards and be ready to STOrm the future of investment at the Block O2O event during Hong Kong Fintech Week 2019. Register now as space is limited and we will have a waiting list. International registration is strong and accelerating as we approach Hong Kong Fintech Week.
Speakers
Mark Austen - CEO, ASIFMA
Lucy Gazamararian - Associate Director, Fintech & Crypto, PwC
Adam Vaziri - Founder & CEO, Blockpass
Luc Falempin - Founder & CEO, Tokeny Solutions
Dr. Hans Lombardo - Co-founder & CMO, Blockpass
Laurence Van der Loo - Director, Technology and Operations, ASIFMA
Samson Lee - CEO & Founder, Coinstreet Partners
Simon Hawkins - Counsel, Latham & Watkins
Juwan Lee - Chairman & Group CEO, NexChange Group
- Co-CEO & Co-founder, nexyst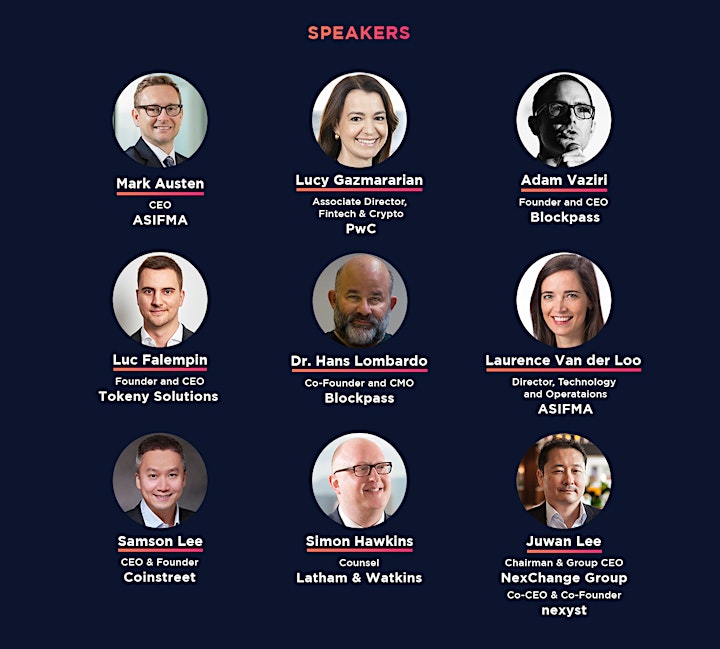 Organizer of STO: Blockchain Powered Next-level Fintech