| | |
| --- | --- |
| STN Sisterhood Christmas Luncheon | |
Event Details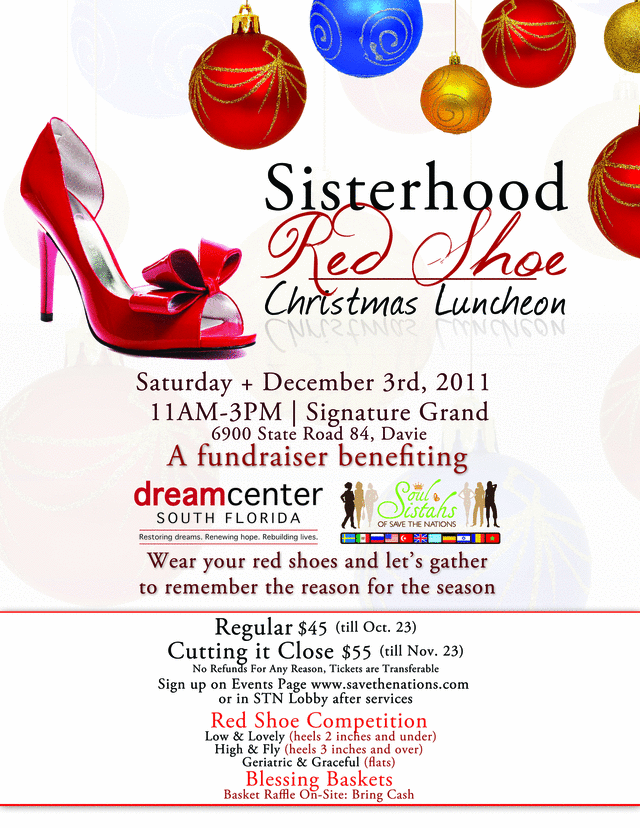 This event is not affiliated with any other organization that also hosts anything with RED SHOES, in case you are wondering.
---
BASKET RAFFLE
Listing of Tentative Baskets that will be raffled off at event. If you would like to get together with a sister, company, etc. to provide a basket please email pastorliz@savethenations.com
These are the categories and possible ideas to fill them:

1 Movie Night :    Movie theater microwave popcorn, blockbuster gift certificate, boxes of movie theater-size candy, popcorn bowl, popular DVDs

2 Head Start: Educational items for children 6mons to 5yrs:  stackable blocks, books, coloring books, crayons, games, puzzles, shape sorters, DVDs, arts and crafts, alphabets, numbers

3 Gift Card Mania Various denominations ($5, $10, etc.) of gift cards to a multiple of stores, i.e., Target, Publix, Best Buy, Wal-mart, CVS, MACY, Starbucks, Cold Stone, Red Lobster, Chili's, etc.

4 Jet Set:    Travel items: Neck pillow, eye mask, pressure reducing ear plugs, travel umbrella, travel alarm clock, sewing kit, passport cover, snacks, unique luggage tags, luggage scale, travel size toiletries, candles, 3oz bottles with quart size bag

5 Pay Day: Money tree with $1 or $5 bills affixed to the tree or plant

6 Game Day: A variety of chips, salsa, nuts, pretzels, cooler, cheese and crackers, poncho

7 Love and Basketball: HEAT team logo items, snacks

8 Book Lovers:    Girt card for books, bookmark, Starbucks coffee, mug, new bestseller, snacks, comfy slippers, neck pillow, book light, throw

9 Chocolate Lovers: All kinds of chocolate gourmet treats i.e., cookies, candy, toppings, cake, brownies, nuts

10 Coffee Lovers: Coffee table book, gourmet coffees, chocolate spoons, coffee mug, coffee syrup, coffee art, food items

11 Tea Time: Tea mugs, assorted teas, jar of honey, tea pot, sugar cubs, tea kettle, booklet about teas, food items

12 Sistah Survival Kit. All kinds of stuff needed to combat emergencies: lip balm, mints, toothpaste and toothbrush, moisturizer, discrete tampon and pad holders, make-up remover,  sewing kit,  folding hair brush with mirror, earring backs, hand lotion, nail clipper, an emery board, clear nail polish, nail polish remover, double-sided tape, lint remover, shoe shine wipes, stain remover, static remover, breath freshener, dental floss, pain reliever, deodorant wipes, facial tissues, shoe covers to protect shoes in rain, flash drive, ear pods, etc.

13 Sole Satisfaction:    Pampering foot care items and high heel insoles, slippers, fit in the purse flats, etc.

14 Red Light Special:    Items for a romantic evening: champagne, candles, massage oils, chocolates, music, gourmet snacks

15 Spa Retreat:    Soaps, candles, bath spa products, robe, music, bath pillow, sponge, affirmation book, slippers, etc.

16 Work It Out, Sistah:Pedometer, energy bars, water bottle, gift certificate to running store, gym bag, jump rope, resistant bands, workout videos, heart rate monitor, sweat bands

17 After God's Own Heart:    Bible, bible cover, gospel  music, inspirational books, Christian pins, church hat, handkerchiefs, mints, etc.

18 Single Moms Make Some Noise:Chocolate, Quick and Easy Cookbooks, kitchen gadget that makes meals easier: slow cooker, smoothie maker or George Forman Grille, bath products, gas card, gift certificate to a kid friendly restaurant, gift certificate for manicure/pedicure

19Go Red:    Numerous red-colored items. 

20Home Sweet Home:Cooking utensils, cookbook, recipes, home decor, pot holders, serving platters, cake stand etc,

21Sistah and the City:Fine dining gift certificate, aromatherapy spa items, bath pillow, eye mask,  chocolate
---
SPONSORSHIPS
This event is raising funds for the 2012 Dream Center Camp Bee-lieve for children ages 6-12 as well as for our women's ministry events for 2012.
If you have a company that would like to sponsor this event, please ask for our sponsorship package to be sent to you.. Thank you.
Where

Signature Grand
6900 State Road 84
Davie, FL 33317


Organizer
STN Girlfriends
The STN Girlfriends is the women's ministry of Save The Nations, a rocking 6 year old church in the heart of Davie.
Vision:  To have a growing women's ministry where diversity is celebrated and growth is encouraged in all areas of a woman's life.
Mission:  The Girlfriends of Save The Nations exists to touch the lives of women, teach  them to follow Christ's example, and create environments where  His power can transform them so they can grow and fulfill God's destiny for their life.

Find out more about our church at www.savethenations.com

STN Sisterhood Christmas Luncheon