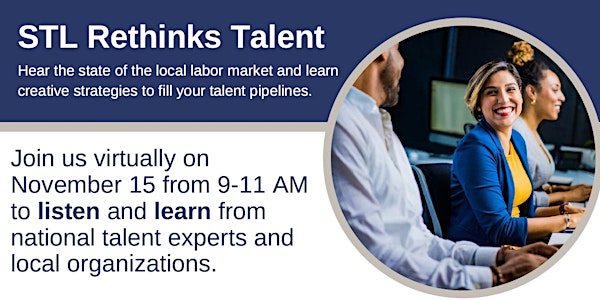 STL Rethinks Talent Webinar
Hear the state of the local labor market and learn creative strategies to fill your talent pipelines.
About this event
NOTE: If you experience issues with Eventbrite registration, please register directly via Zoom.
In this virtual session, we will level set on the talent challenges we face and share creative strategies from organizations you can partner with to help identify and develop overlooked talent pools within our region. You will also hear local success stories and discover other ways to rethink talent through transferrable skills and operational changes.
Organizations we'll hear from include:
Ameren
Concordance
The Mom Project
RUNG for Women
St. Louis Community College
STL Mosaic Project
Starkloff Disability Institute
True Manufacturing
50strong (Veterans)
We believe this is the beginning of many conversations to work together to support talent attraction and retention efforts in the St. Louis region. We look forward to your participation!