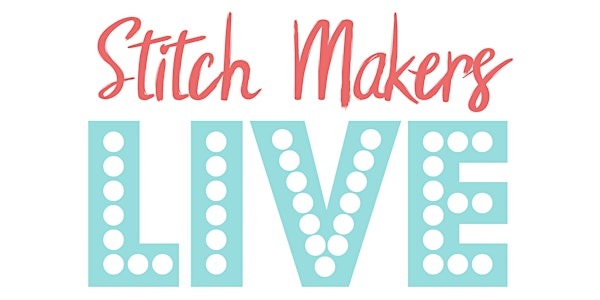 Stitch Makers Live 2019: The Worldwide Virtual Crochet Conference
Stitch Makers Live 2019 Crochet is a 3-day virtual event with 15 crochet sessions LIVE with industry experts!
Refund Policy
Refunds up to 1 day before event
Eventbrite's fee is nonrefundable.
About this event
Stitch Makers Live is the worldwide virtual crochet conference and YOU are invited! If you love to crochet then you should know that Stitch Makers Live is coming soon and it's going to be amazing!
What is Stitch Makers Live?
Stitch Makers Live is a 3-day virtual event during which 11 crochet designers and teachers are going to spend time with you – right on Facebook. We handpicked expert crochet teachers and designers to bring you the best instructors on a variety of crochet topics. Our experts are passionate about crochet, and excited to share their knowledge with you.
Join us for 3 days of fun including 15 LIVE video classes and a place to chat with designers and other crocheters, all from the comfort of your own home. Whether your goal is to improve your skills in hat making, gather the bravery to begin your first sweater, or dive into short rows, our goal is to help you. We'll have classes on topics including:
How to assemble amigurumi
How to crochet toe-up socks
How to JAYGO
How to use short rows for fabric shaping
How to finish your first garment perfectly
How to use gauge to plan your projects
How to master the basics of Tunisian crochet
This is the only CROCHET ONLY online summit we know about – and we're excited to launch it with you on board!
What's Included In Your Stitch Makers Live Ticket
From September 19th to September 21st, we'll be sharing 15 LIVE video classes in an exclusive Facebook group. But that's not all!
Each class comes with a BONUS crochet pattern – to help you master those skills! These patterns are exclusive to Stitch Makers Live and aren't available anywhere else!
PLUS, you'll get full access to the recordings in the group for ONE FULL YEAR!
You'll also get to chat with other crocheters and ask questions in the group LIVE.
Best of all? Registering for Stitch Makers Live is less than the cost of the 15+ bonus crochet patterns that are included and there's no need to worry about travel costs, arranging child care, or taking time off from work!
When you register for Stitch Makers Live, you'll receive an email with a link to join our exclusive Facebook group where you'll find a supply list with pictures of all the included patterns and a class schedule so you can be ready to start crocheting when the event starts. Your bonus crochet patterns will be delivered to the email you used to register on September 18th.
Participating Designers
We recruited our favorite designers and teachers and each one of them is thrilled to share her work with you. During Stitch Makers Live, you'll get access to exclusive crochet patterns and classes by:
Linda Dean from Linda Dean Crochet
Julie Desjardins from ACCROchet
Edie Eckman
Andee Graves from Mamas 2 Hands
Tamara Kelly from Moogly
Alexis Middleton from Persia Lou
Jessie Rayot from Jessie At Home
Marie Segares from Underground Crafter
Mary Beth Temple from Hooked for Life Publishing
Pia Thadani from Stitches n Scraps
Courtney Whitehead from Creations By Courtney
What are you waiting for?
Sign up today! Once Stitch Makers Live ends, you won't be able to buy tickets to access the classes for this event. Remember, even if you can't watch every class live, you'll still have access to the recordings and the exclusive Facebook group for a full year, and the 15+ bonus patterns are yours to keep forever.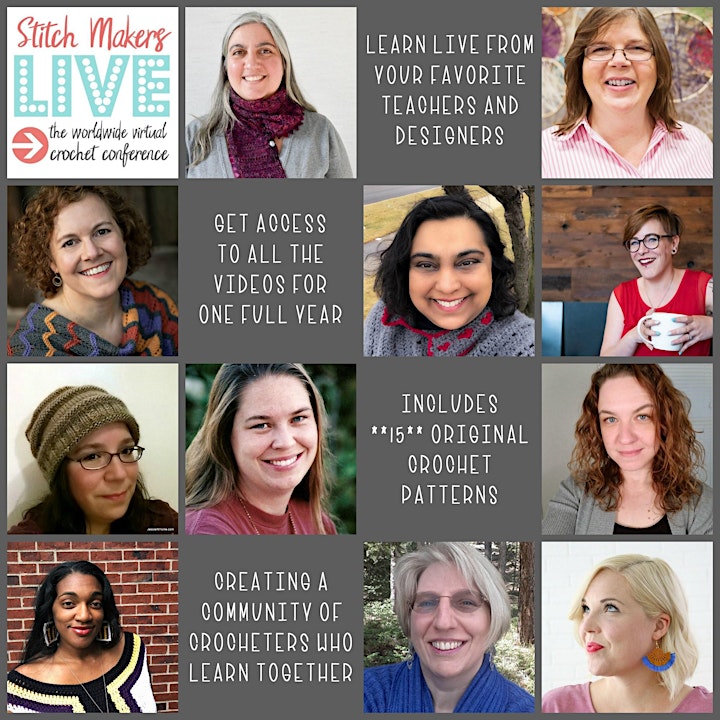 Frequently Asked Questions
When is the Stitch Makers Live worldwide virtual crochet conference?
Live classes are scheduled from Thursday, September 19 through Saturday, September 21, 2019. Your ticket includes access to the exclusive Facebook group with access to replays of all the classes through September 21, 2020.
How much does registration for Stitch Makers Live cost?
Early bird tickets are $55 through 11:59 PM Eastern on Monday September 2, 2019. General admission tickets are $80 from Tuesday September 3 through Saturday, September 21 at 9 PM Eastern. All prices are in US dollars.
How long will tickets be on sale?
Until 9 PM Eastern on September 21, 2019. No tickets will be sold after the last class has been taught live.
Can I get a refund if I change my mind?
The last day for a refund is Wednesday September 18, 2019. After this, the bonus pack of 15+ patterns will be emailed to the email address you used for registration. A full refund = the amount you paid minus the Eventbrite fee which is nonrefundable.
How many classes do I get when I register?
15 crochet classes are included in your Stitch Makers Live registration.
How long are the classes?
Each class will be be between 15 and 45 minutes depending on the depth of the topic and the amount of class interaction.
How do I watch the classes during the conference?
You will be able to join our exclusive Facebook group after you have purchased your tickets. All the live classes will be happening in the group.
How do I watch the classes after the conference?
All classes will remain available for replay in the exclusive Facebook group through September 21, 2020.
When will I receive my bonus pattern bundle?
Once you purchase your ticket, you'll be invited to join our exclusive Facebook group. In the group, you will find a PDF with photos of the projects and the materials lists for all the patterns so you can gather supplies for the projects you're interested in. The actual patterns will be delivered via email (to the email address you use when you register) on Wednesday September 18, 2019.
How long are these patterns available to me?
The patterns are yours to keep forever, and they won't be available anywhere else until September 22, 2020.
How long are the videos available to me?
You will have access to our exclusive Facebook group where you can watch replays of each of the classes as videos through September 21, 2020.
Do I need a Facebook account to attend Stitch Makers Live?
Stitch Makers Live is held entirely on Facebook, so it wouldn't be possible to attend without a Facebook account. You can still receive the bonus patterns, but won't be able to watch the classes or interact with the teachers and other crocheters without a Facebook account.
Who do I contact with any questions?
Send an email to StitchMakersLive@gmail.com and we will be in touch as soon as possible.