Description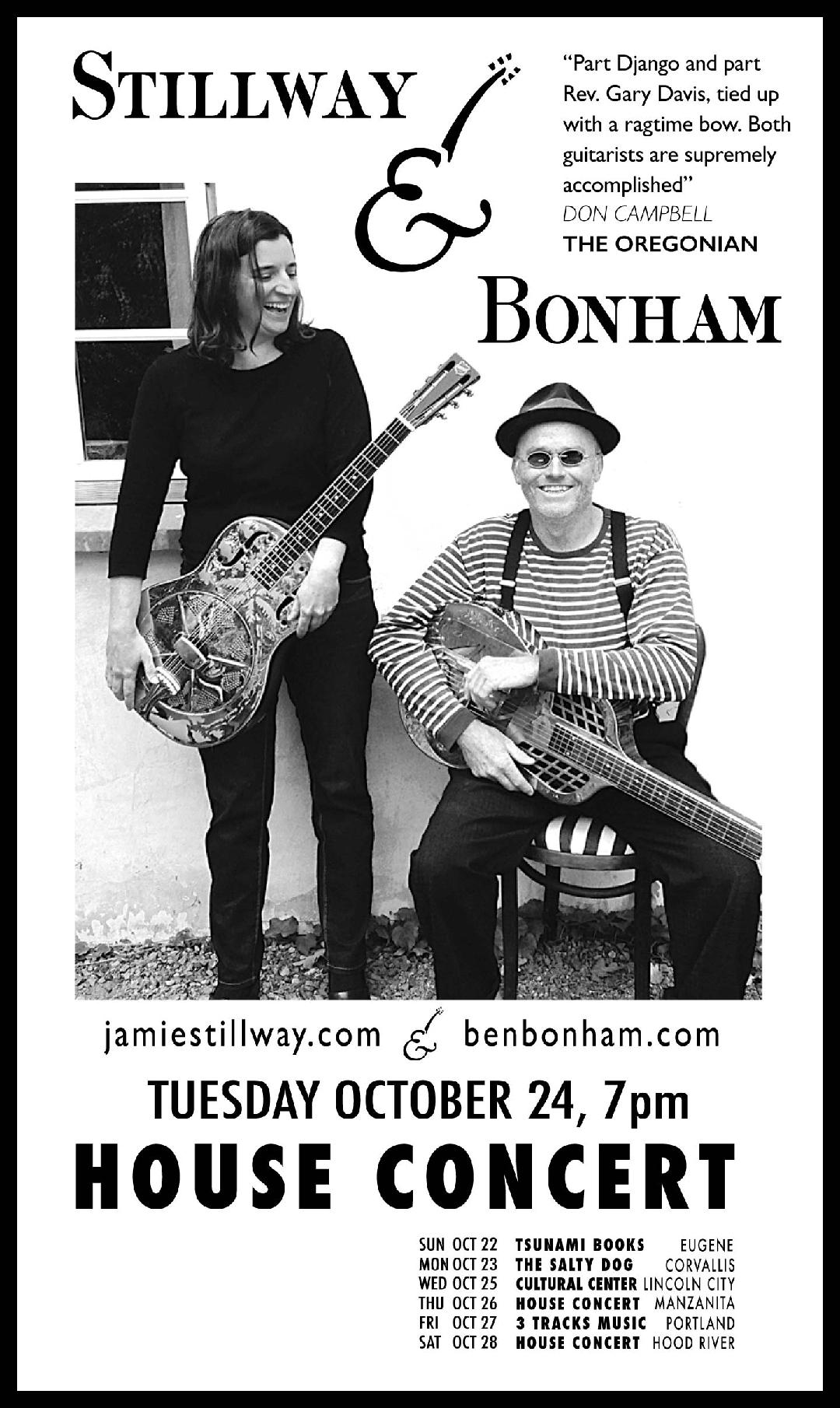 Jamie Stillway and Ben Bonham are setting out on their "mostly annual" fall tour, and will be stopping in Bandon on Tuesday, October 24th, for a concert and workshop. Their eponymous debut release snagged serious accolades from all corners, and was named one of the top albums of the year by Willamette Week. "Stillway and Bonham cut through the clatter of pop music with a package that's part Django Reinhardt and part Rev. Gary Davis, tied up with a ragtime bow. Jamie Stillway not only comps big, fat, swinging and expensive jazz chords but picks with a ferocity that would make Django proud, and her technique is commanding and artful. Ben Bonham devilishly evokes front-porch picking sessions and Hawaiian luaus with his liquid strokes but can cop a nasty swing on demand -- both guitarists are supremely accomplished."
--Don Campbell, The Oregonian

Since moving to Portland, Oregon in 2002, Jamie Stillway has quietly been making her mark in the world of fingerstyle guitar. She has become an in-demand instructor, having taught at the Healdsburg Guitar Festival, Peghead Nation's online course, Advanced Fingerstyle Workshop, and the Swannanoa Gathering. Stillway has toured nationally and internationally, and is an endorsing artist for Stevens Guitars of Munich, Santa Cruz Guitar Company, Schertler amplifiers and pickups, and Shubb capos. Jazz Times magazine notes, "Mixing up genres without pretension, the nimble Stillway moves freely with wit and creative restlessness." Additionally, a transcription of one of Stillway's compositions was recently published in Acoustic Guitar, and she has also become a contributing author for the magazine. "One of the best fingerstyle guitarists around today." Fretboard Journal
www.jamiestillway.com

Ben Bonham has worked professionally as a performer, educator and session musician for 20 years. He makes his home in the beautiful Hood River valley in Oregon's Columbia River Gorge. "Ben Bonham, an expat Brit, spends most of his time on National Steel guitars and lap steels. He devilishly evokes front-porch picking sessions and Hawaiian luaus with his liquid strokes, but can cop a nasty swing on demand . . .a supremely accomplished guitarist" –Don Campbell, The Oregonian. Ben's guitar playing is rooted in the music of pre-radio America when all music was LIVE and styles weren't pigeonholed. Like his favorite musicians from the 1920's, Ben's range comfortably spans genres—on any given night you might catch him playing country blues, ragtime, vintage swing, Delta blues, folk, jazz, old-time country, and Hawaiian.
www.benbonham.com
Click below for videos:
https://www.youtube.com/watch?v=PGZk7QDuuWQ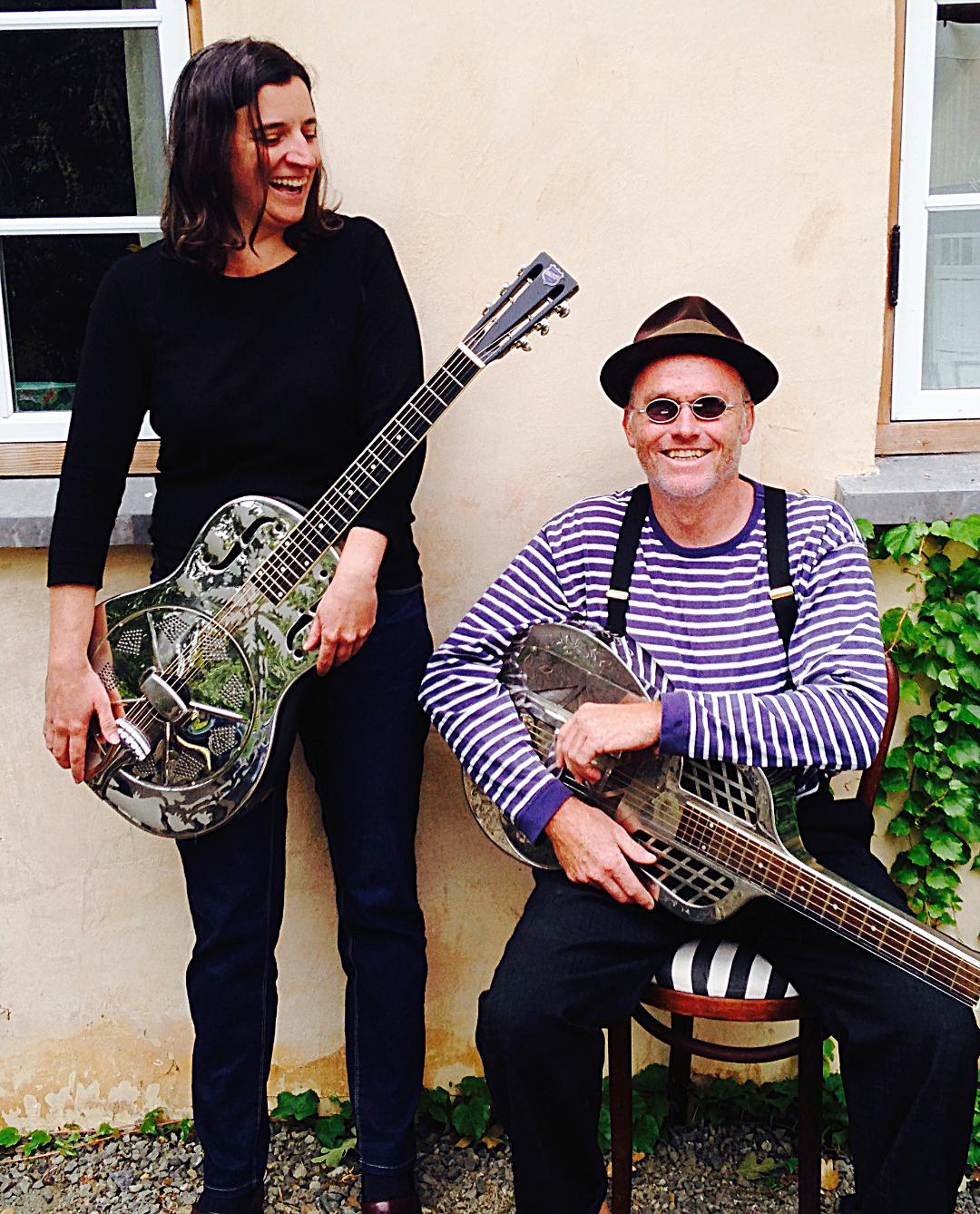 Jamie Stillway, acclaimed fingerstyle guitarist and popular instructor, will be in Bandon on Tuesday, October 24, 2017, for an evening concert and will offer a workshop that same day for local guitarists. A description of the workshop, and a link for more details and to make a workshop reservation are below.

WORKSHOP TITLE: Developing Your Own Style in Fingerstyle
Has your fingerpicking groove developed into a rut? As fingerpicking guitar is often taught via specific songs, the advancing player might begin wondering how to embellish the tunes in his or her repertoire, or maybe even how to improvise freely, instead of always playing by rote. This workshop is intended to give you some new ways to practice and to set your own path as a fingerstyle player. We'll discuss ways to develop thumb/finger independence via scales and harmonized string pairs, incorporating new right hand techniques such as banjo rolls, and but not least, ways to develop a meaningful relationship with your metronome.
https://www.eventbrite.com/e/developing-your-own-style-in-fingerstyle-a-workshop-with-guitarist-jamie-stillway-tickets-38416985237
Please note: tickets are available only on Eventbrite.com. Refunds can be made up to 7 days before the concert. After purchase, you will receive an email with the street address of the venue, located in the City of Bandon on Beach Loop Road, directions and parking information. Seating is limited. Please purchase your ticket early. Thanks and hope to see you on the 24th!