Stillhouse Junkies in the Elks 3rd floor Ballroom
About this event
Stillhouse Junkies in the Elks Ballroom
Thurs, December 2nd, 7pm $26.00
Born in a distillery in Durango, CO, Stillhouse Junkies play a delirious, head-spinning mixture of original roots, blues, funk, swing, and bluegrass music. With all three band members sharing vocal, songwriting, and arranging duties, the Junkies conjure a wide range of tonal landscapes that pay tribute to the iconic sounds of Gillian Welch, the Allman Brothers, Tim O'Brien, John Hiatt, and others while breaking new musical ground with their genre-bending original material. Stillhouse Junkies are proud to have been 2018 and 2019 Telluride Band Contest finalists.
...One of the premier bluegrass and Americana bands in the Four Corners Region.— Chris Aaland, KSUT Radio
Stillhouse Junkies make a mighty big joyful noise for a trio! There is some really fine pickin' and songwritin' within. Y'all need to check them out. — Becky Buller, the Becky Buller Band
They don't play like junkies. They sound great! — Ray Benson, Asleep at the Wheel
A Folk Sessions 3rd Thursday Production. Co-sponsored by the Elks Performing Arts Center.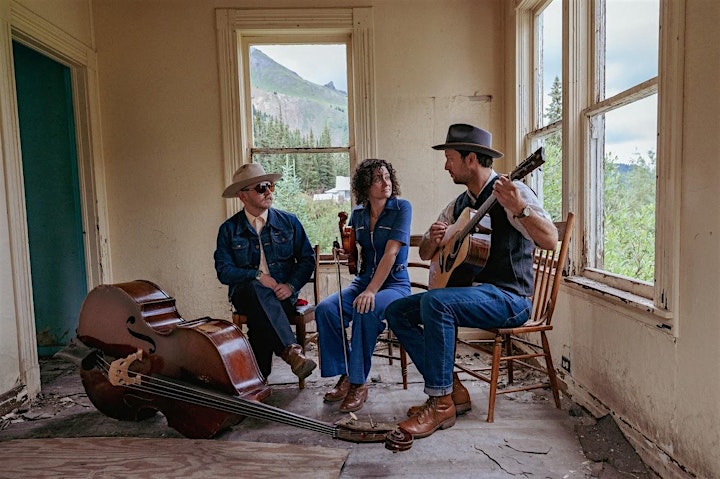 Organizer of Stillhouse Junkies
The Folk Sessions has established a loyal following, producing quality radio programs and live concerts, and providing a community voice for Arizona businesses and organizations offering valuable services. We present the popular Highlands Center and PCA concert series, as well as producing two Folk Sessions Music Collections. The Folk Sessions can now be heard on Prescott Public Radio 89.5 fm in Arizona.