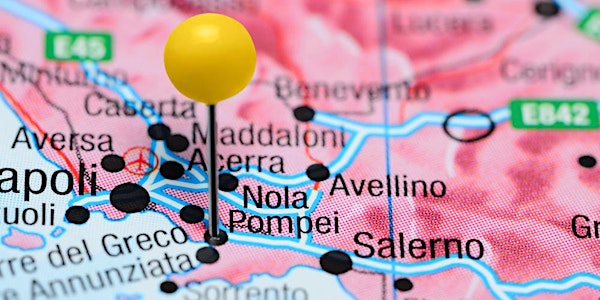 Still Traveling: Southern Italy's Archeological Treasures
Zoom with us live to Italy for "tours" with our terrific, professional, local guide, who shares sites & insights of this dynamic city!
Refund Policy
Contact the organizer to request a refund.
About this event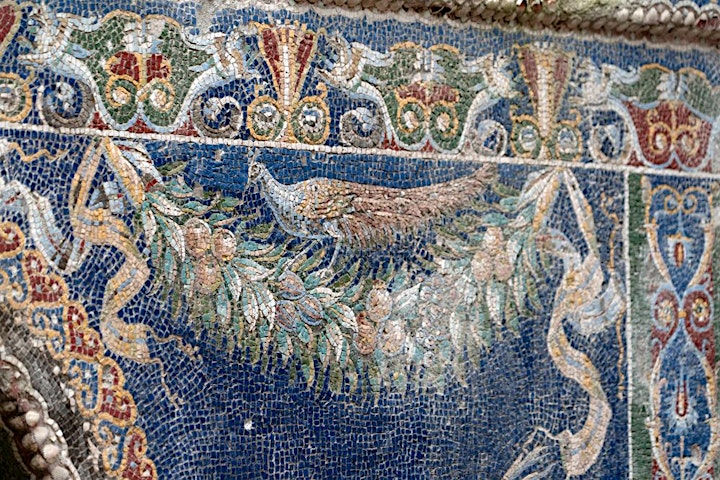 Still Traveling
Would you like to still travel? Now you can without leaving your home – just stay still!
Let us whisk you away for an "armchair adventure" on an interesting, educational, fun & live, guided group tour in a destination beyond your front door ...even beyond the grocery store!
Forget the long, masked airplane ride, we take you across the time zones by Zoom where a local professional guide from a distant destination will take us to explore sites or topics. Live Q&A, photos, graphics & video clips (when available) will transport us to the destination!
Your ticket purchase helps support our special guests – professional guides – who are mostly or completely out of work.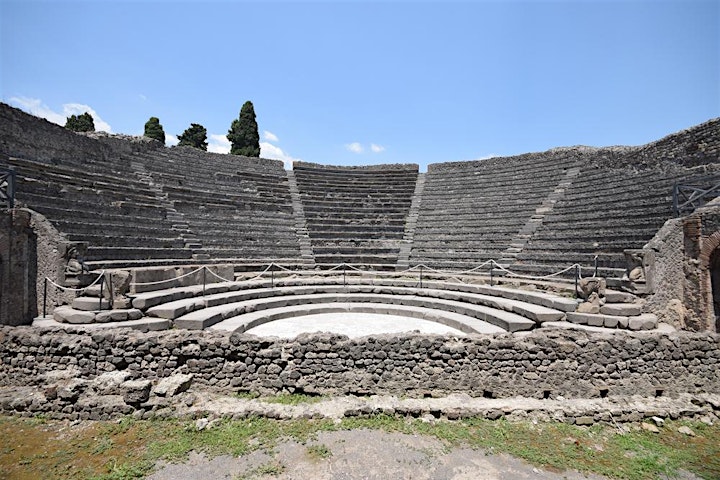 Southern Italy's Archeological Treasures
Four Mondays, October 31 & November 7, 14, 21, 2022
11am-12:15pm (PT), 12-1:15pm (MT), 1-2:15pm (CT), 2-3:15pm (ET)
on Zoom
Our fantastic guide in Napoli – Antonella – returns with an all-new exploration of important archeological sites (some famous, some hidden gems) not far from her hometown.
Our virtual "trips" include: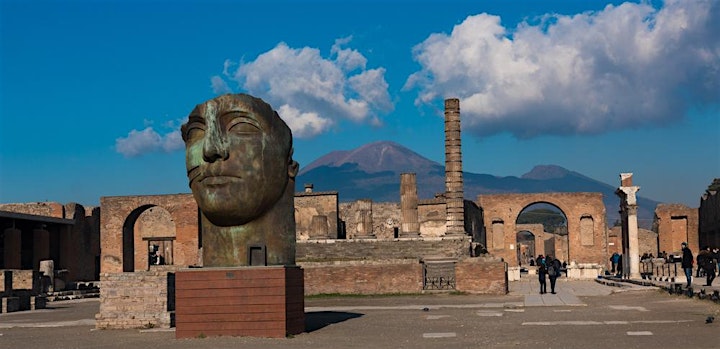 Pompeii (Oct 31)
Visit one of the most well-known archeological sites in the world! Transport back to 79 AD and live for a while in this ancient roman town while strolling through to explore the forum, homes, public baths, temples and brothels. Visit the Archeological Museum of Naples to see mosaics and frescoes brought to light since 1748.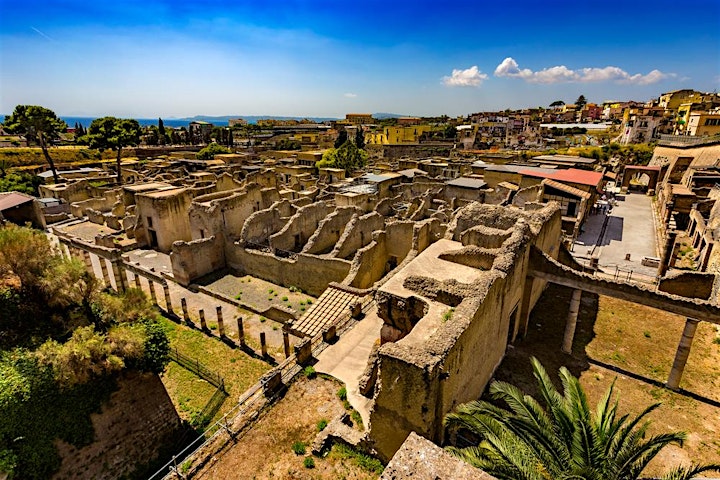 Herculaneum & the So-Called "Minor Sites" (Nov 7)
Lesser-known than Pompeii, but still spectacular, Herculaneum offers outstanding decorations. Due to the way it was buried, wooden elements, including a boat in which fugitives hoped in vain to escape, are still preserved. From Herculaneum, travel to Oplontis, Poppea's residence and to the villas of Stabiae, the modern Castellammare di Stabia.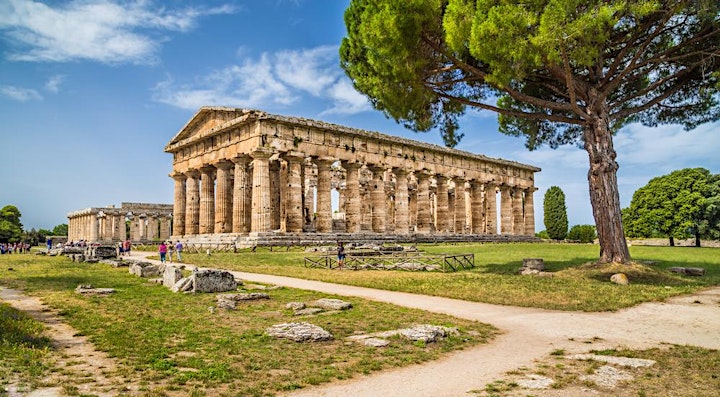 Paestum (Nov 14)
Head further south, beyond Salerno to see three temples dating back to the 6th & 5th centuries BCE which, incredibly, are still standing in spite of the unfortunate circumstances experienced by Paestum. Also, visit the nearby Museum with its well-known "Tomb of the Diver."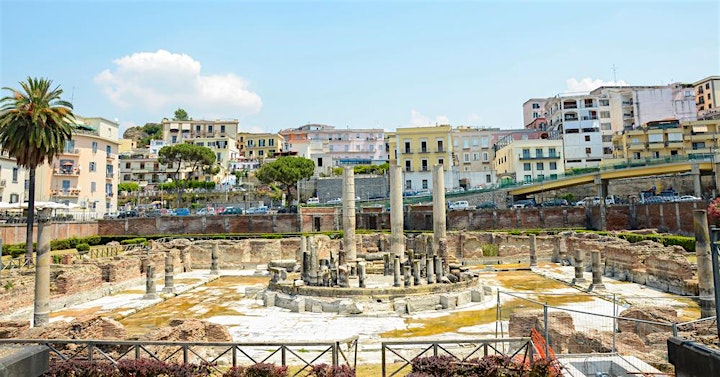 The Phlegraean Fields (Nov 21)
Today, head off to what are literally called "the burning fields," due to the presence of volcanic activities. Explore Cumae, where Sybil, the priestess of Apollo, uttered the oracles; Lake Averno, considered to be the entrance of the underworld; and Piscina Mirabilis, an enormous cistern that provided water to the Roman Fleet.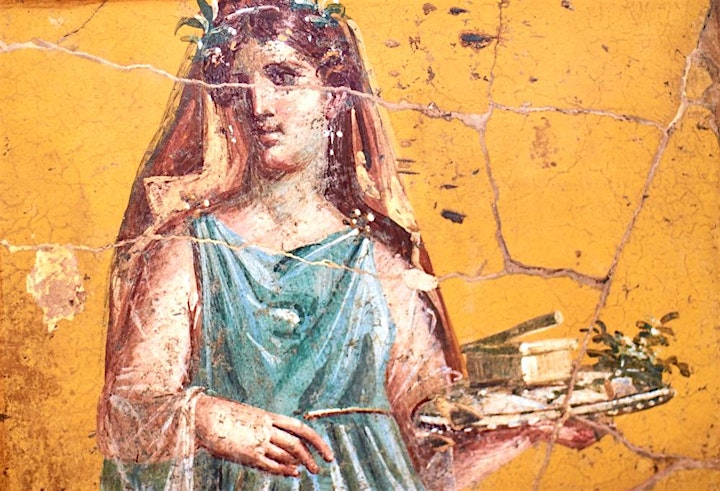 Tickets & Notes:
Full Series Ticket ($50): Series of 4-visits (equals $12.50/visit).
"Give-Us-A-Try" Ticket ($12.50): Check us out by giving our first "trip" (Oct 3) a try. Single tickets are not available to subsequent trips and cannot be credited toward series purchase.
All Tickets: ...are 1) are per device, not per person on Zoom, and 2) are non-refundable & non-exchangeable.

The Fine Print:
Fortunately, we've had very few issues, but just to be clear...
Your Zoom "Event Link": The Zoom event link will automatically be emailed to all guests upon registration, then again 1-2 hours before each "trip." To help it land in your "inbox," please add the following emails to your contacts:
James Sokol -- jsokol@marinjcc.org
JCC Alliance -- alliance@marinjcc.org
Registrants are requested to make sure the email w/link has arrived by the evening of Sat, Oct 29th. If the email does not arrive, please see "Troubleshooting" below.
The email w/link will be re-sent to all registrants about 2-hours prior to the first tour. NB: However, if it landed somewhere other than in your inbox the first time, it will probably do the same later.
Have a Comcast email? Please refer to this guide: https://www.xfinity.com/support/articles/spam-filters-and-email-blocking-new-experience.
Troubleshooting: We will do our best to remedy any issues. Registrants who have NOT received the email w/link are asked to check their email "junk" and "spam" folders. If found, please move the email to your inbox. If the email/link is still not there, please contact James (see below) immediately.
Late Troubleshooting: We will try our best - but cannot guarantee - help with Zoom links to guests contacting James less than 2-hours prior to the event.
Live Only: In agreement with our guides, artists, instructors, special guests, etc., events are not recorded. Make-up sessions are unavailable. Credit/refund is not given for missed events.
Liability: While we will do our best to remedy any issues, The Osher Marin JCC & its Program Partners cannot be held responsible for 1) issues related to Eventbrite or Zoom, 2) ticket buyers not following the instructions above, nor 3) packing, shipping, or deliver services of food/beverages not received in time for tasting events.
Don't ya just hate "the fine print?!!"
Questions? Email James at jsokol@marinjcc.org.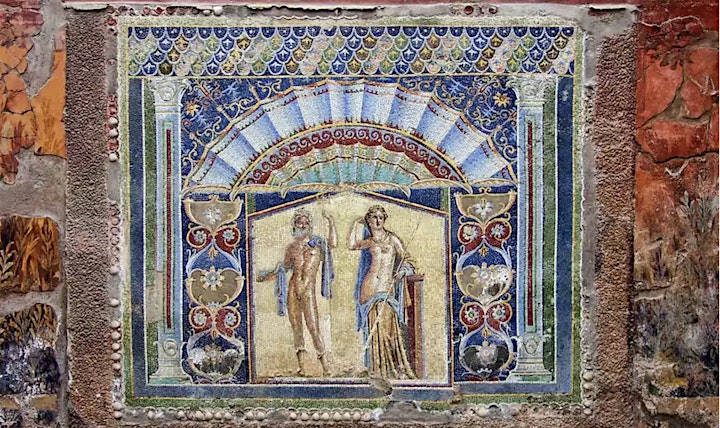 Still Traveling is created by the Osher Marin JCC (San Rafael, CA) and offered by the National JCC Adult & Senior Alliance. See below for a full list of Alliance Partners.
ALL ARE WELCOME to join in our activities! JCC members, non-members, those who live near or far, people of all backgrounds, faiths, ethnicities, hair styles, fashion choices, chocolate preferences, etc. "The more the merrier!"