Still Traveling: Magical Morocco More Than Marrakech
Let us Zoom you to Morocco to spend time with our terrific, local guide, who leads these interesting "trips" beyond its most famous city.
About this event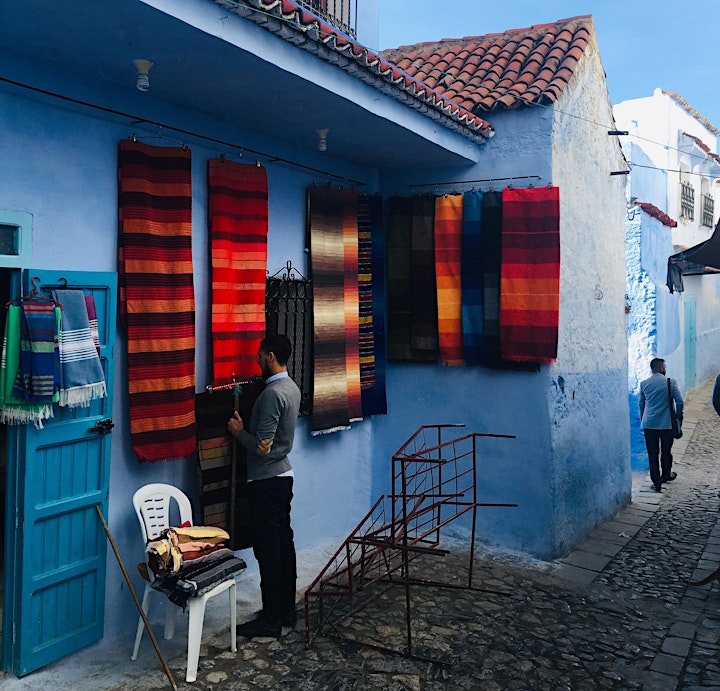 Still Traveling
Would you like to still travel? Now you can without leaving your home – just stay still!
Let us whisk you away for an "armchair adventure" on an interesting, educational, fun & live, guided group tour in a destination beyond your front door ...even beyond the grocery store!
Forget the long, masked airplane ride, we take you across the time zones by Zoom where a local professional guide from a distant destination will take us to explore sites or topics. Live Q&A, photos, graphics & video clips (when available) will transport us to the destination!
Your ticket purchase helps support our special guests – professional guides – who are mostly or completely out of work.
Made possible, in part, by a generous grant from the Senior Excursion fund of the Jewish Federation of San Francisco, The Peninsula, Marin & Sonoma Counties.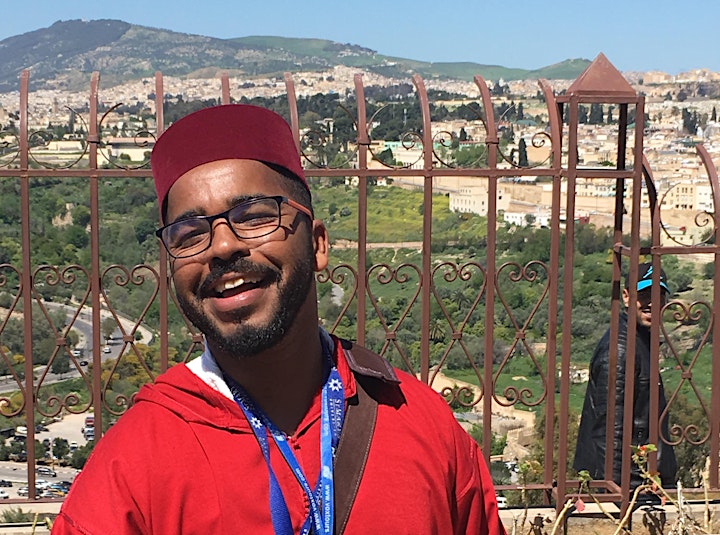 Morocco: More than Marrakech
Four Mondays, May 3, 10, 24, 31 (no "trip" on 5/17)
11:00am-12:15pm (PT), 12:00-1:15pm (MT), 1:00-2:15pm (CT), 2:00-3:15pm (ET)
on Zoom
Many visitors go to Morocco to visit its most famous city, Marrakech. But, the country holds countless interesting treasures throughout the land from its coasts to the deserts!
Pour yourself a cup of mint tea (click here for a recipe) and let Trip Leader James Sokol zoom you away on our virtual "trips" to this magical North African country, so different from most Arab-dominant countries. Morocco has its own unique, fascinating culture – a blend of indigenous Berber, Arabian, Sub-Saharan African & European (Christian & Jewish) influences. In this new series on Morocco, join our wonderful, local, professional guide for visits around his diverse & vibrant country to discover wonders that await!
Our Visits Include:
Imperial Cities: Fes, Meknes & Rabat (May 3)
Northern Highlights: Tangier, Chefchouen & Volubilis (May 10)
Oasis/Desert Life & Customs: Zagora & Draa Valley (May 24)
Coastal Treasures: Essaouira & Casablanca (May 31)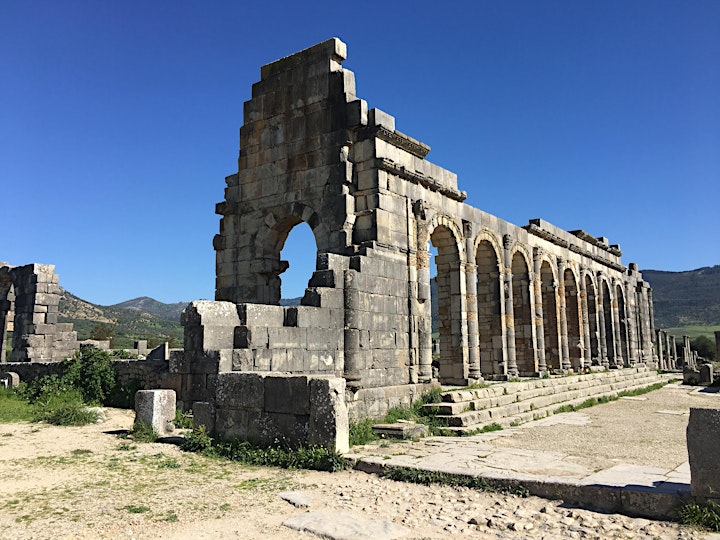 Tickets & Notes:
Series Tickets ($50): Series of 4-visits (equals $12.50/visit).
Give-Us-A-Try Tickets ($15): Single visit for May 3rd only. Check us out by giving our first visit a try. Single tickets are not available to subsequent sessions; unfortunately, single tickets cannot be credited toward series purchase.
All Tickets: ...are 1) are per device, not per person on Zoom, and 2) are non-refundable & non-exchangeable.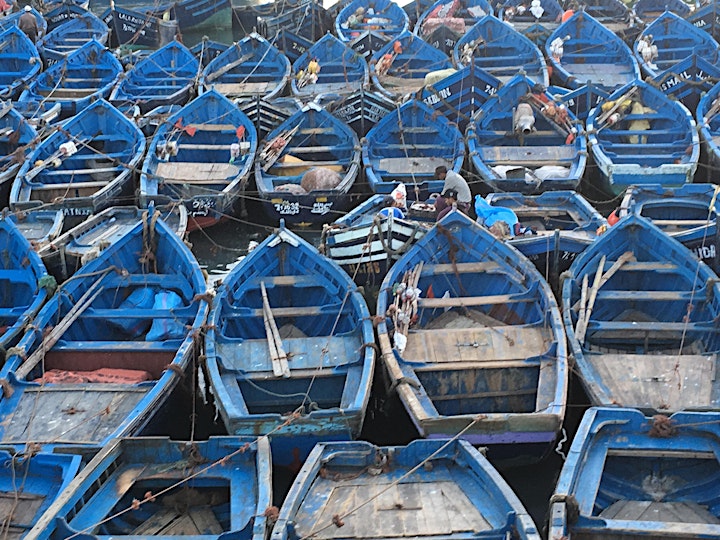 The Fine Print:
Fortunately, we've had very few issues, but just to be clear...
Your Zoom "Event Link": The Zoom event link will be emailed to all registered guests 2-days prior to the first "tour." To help it land in your "inbox," please add the following emails to your contacts:
James Sokol -- jsokol@marinjcc.org
JCC Alliance -- alliance@marinjcc.org
Registrants are requested to make sure the email w/link has arrived by the evening of May 1st. If the email does not arrive, please see "Troubleshooting" below.
The email w/link will be re-sent to all registrants about 2-hours prior to the first tour. NB: However, if it landed somewhere other than in your inbox the first time, it will probably do the same later.
Have a Comcast email? Please refer to this guide: https://www.xfinity.com/support/articles/spam-filters-and-email-blocking-new-experience.
Troubleshooting: We will do our best to remedy any issues. Registrants who have NOT received the email w/link are asked to check their email "junk" and "spam" folders. If found, please move the email to your inbox. If the email/link is still not there, please contact James (see below) immediately.
Late Troubleshooting: We will try our best - but cannot guarantee - help with Zoom links to guests contacting James less than 2-hours prior to the event.
Live Only: In agreement with our guides, artists, instructors, special guests, etc., events are not recorded. Make-up sessions are unavailable. Credit/refund is not given for missed events.
Liability: While we will do our best to remedy any issues, The Osher Marin JCC & its Program Partners cannot be held responsible for 1) issues related to Eventbrite or Zoom, 2) ticket buyers not following the instructions above, nor 3) packing, shipping, or deliver services of food/beverages not received in time for tasting events.
Don't ya just hate "the fine print?!!"
Questions? Email James at jsokol@marinjcc.org.

Still Traveling is created by the Osher Marin JCC (San Rafael, CA) and offered by the National JCC Adult & Senior Alliance. See below for a full list of Alliance Partners.
ALL ARE WELCOME to join in our activities! JCC members, non-members, those who live near or far, people of all backgrounds, faiths, ethnicities, hair styles, fashion choices, chocolate preferences, etc. "The more the merrier!"
Organizer of Still Traveling: Magical Morocco More Than Marrakech
The Osher Marin JCC has created the National JCC Adult & Senior Alliance to offer an array of interesting, engaging, educational, sometimes delicious, and often, just plain fun programs for continued growth and learning; educational and entertaining classes, workshops, activities, and cultural arts trips to enrich life. Guests may explore a new topic, connect with others, even discover a new passion. JCC members, non-members, those who live close or far, people of all background, faiths, ethnicities, hair colors, fashion choices, chocolate preferences, etc. - All are welcome to join in our activities!
Currently, the following organizations are active partners in the Alliance: 
USA: AZ - the East Valley JCC (Chandler); AZ - JFCS of Arizona (Phoenix/Scottsdale); AZ - the Martin Pear JCC (Scottsdale); CA - the JCC of the East Bay (Berkeley); CA - the Peninsula JCC (Foster City); CA - the Valley JCC (Granada Hills); CA - the Merage JCC of Orange County (Irvine); CA - the Addison-Penzak JCC of Silicon Valley (Los Gatos); CA - the Oshman Family JCC (Palo Alto); CA - the Lawrence Family JCC (San Diego); CA - the Fromm Institute at USF (San Francisco); CO - the Boulder JCC; CT - the Mandell JCC (Hartford); CT - the Stamford JCC; DE - the Siegel JCC (Wilmington); FL - the Jewish Federation of Sarasota-Manatee; FL - the Tampa JCCs & Federation; GA - the Marcus JCC of Atlanta; GA - Jewish Educational Alliance (Savannah); LA - the New Orleans JCC; MA - the JCC of the North Shore (Marblehead); MA - the Springfield JCC; MA - the Worcester JCC; ME - the JCA of Southern Maine (Portland); NC - the JCC Asheville; NC - the Levine JCC (Charlotte); NC - the Levin JCC (Durham-Chapel Hill); NC - the Raleigh-Cary JCC; NJ - the Katz JCC (Cherry Hill); NJ - the Katz JCC (Margate); NJ - the Kaplen JCC on the Palisades (Tenafly); NY - the Sidney Albert Albany JCC; NY - the Gural JCC (Cedarhurst); NY - the JCC of Mid-Westchester (Scarsdale); NY - the Schenectady JCC; NY - the Bernikow JCC of Staten Island; NY - the JCC Rockland (West Nyack); OH - the Mayerson JCC of Cincinnati; OH - Jewish Living Center of Greater Toledo; OR - the Mittleman JCC (Portland); PA - the Jewish Federation of Greater Harrisburg; PA - the Jewish Community Alliance of NEPA (Kingston); PA - the Kaiserman JCC (Wynnewood); PA - the York JCC; TN - the Gordon JCC of Nashville; TX - Shalom Austin; TX - the Aaron Family JCC (Dallas); TX - the Rubenstein JCC of Houston; and VA - the Pozez JCC of Northern Virginia (Fairfax).
CANADA: the Calgary JCC.
NB: Though the organizations above choose different events on which to partner, members of all centers (partners or not) and all non-members are welcome to join in any and all programs of interest.