Still Traveling: Magical Morocco - Food, Film & Fine Crafts
Let us Zoom you to Morocco for time with our terrific, local guide, who leads this new trio of diverse and interesting virtual "trips."
Refund Policy
Contact the organizer to request a refund.
About this event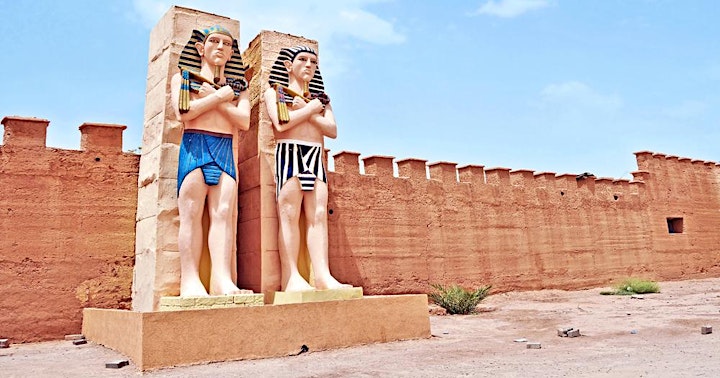 Still Traveling
Would you like to still travel? Now you can without leaving your home – just stay still!
Let us whisk you away for an "armchair adventure" on an interesting, educational, fun & live, guided group tour in a destination beyond your front door ...even beyond the grocery store!
Forget the long, masked airplane ride, we take you across the time zones by Zoom where a local professional guide from a distant destination will take us to explore sites or topics. Live Q&A, photos, graphics & video clips (when available) will transport us to the destination!
Your ticket purchase helps support our special guests – professional guides – who are mostly or completely out of work.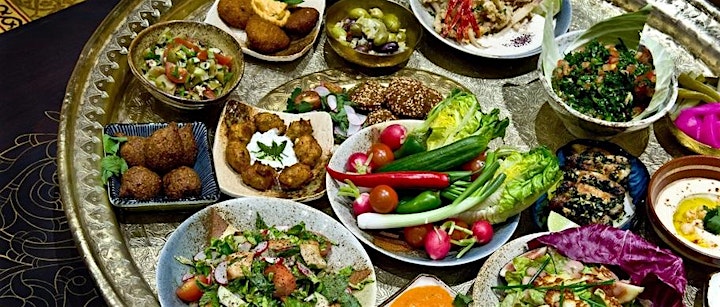 Magical Morocco - Food, Film & Fine Crafts
Three Mondays, July 11, 18 & 25, 2022
11am-12:15pm (PT), 12-1:15pm (MT), 1-2:15pm (CT), 2-3:15pm (ET)
on Zoom
Let us zoom you away on our virtual "trips" to this magical North African country, so different from most Arab-dominant countries. Morocco has its own unique, fascinating culture – a blend of indigenous Berber, Arabian, Sub-Saharan African & European (Christian & Jewish) influences.
In this new mini-series on Morocco, our wonderful, local, professional guide returns with a special mini-series on three unique aspects of his diverse & vibrant country!
Save! Register before July 9th for "Early Bird" ticket pricing.
Our Virtual "Trips" Include: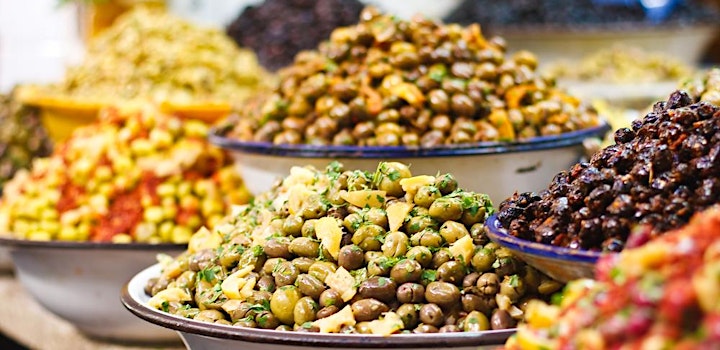 Moroccan Cuisine: from Market to Table (July 11)
Morocco = Couscous. Yes, it's a most popular dish, but the cuisine offers more than these ubiquitous pasta pebbles. Fragrant and flavorful (but, not spicy), a variety of treats feature lovely combinations of cinnamon, cumin, ginger, saffron, turmeric, nutmeg, and more. Today, tour from market to table to see various aspects of this delightful and delicious cuisine. Please bring a napkin or tissue in case of drooling.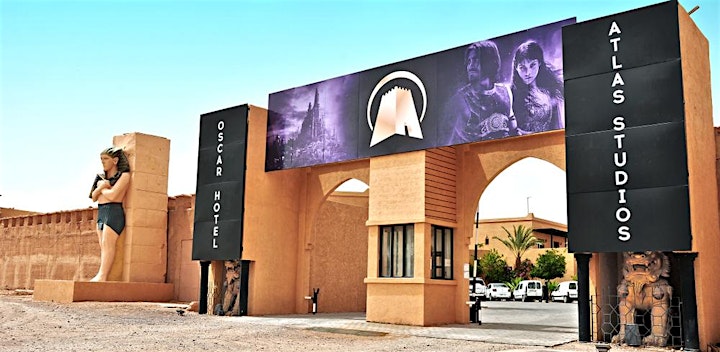 "The Hollywood of Africa" (July 18)
Seemingly countless films have been entirely or partially shot in Morocco. Ironically, Casablanca was not one of them. Beyond the fact that many movies made there – from Othello w/Orson Welles and Lawrence of Arabia w/Peter O'Toole to The Jewel of the Nile w/Michael Douglas and Gladiator w/Russell Crowe – join in this tour to better understand how the country earned its nickname.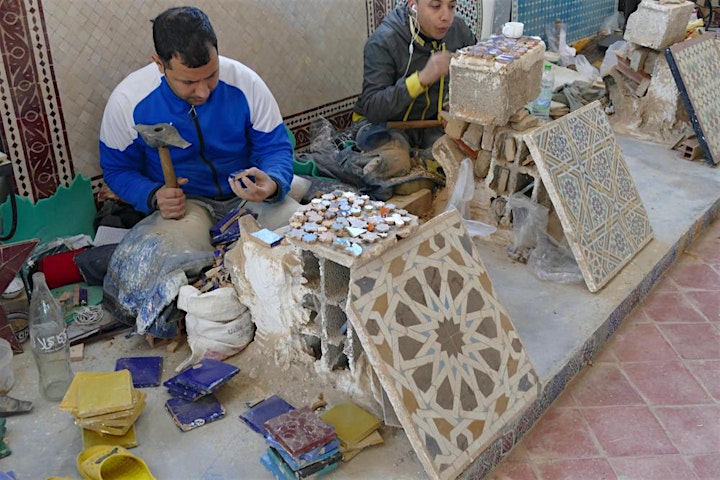 Captivating Crafts (July 25)
Traditional design & craftsmanship are deep-rooted in Morocco's cultural heritage. Materials of all sorts – wool, clay, metals, leather and more – are finely worked by hand using machines and traditional tools to make gorgeous items prized around the world. On this visit, stop by an array of workshops to see and learn about many of the beautiful treasures painstakingly and lovingly created at the hands of Moroccan craftspeople.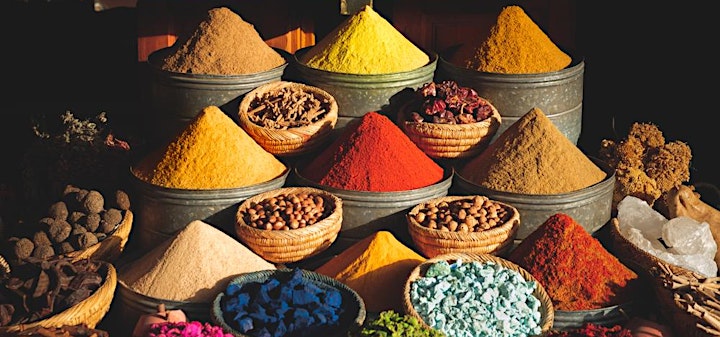 Tickets & Notes:
"Early Bird" Series Ticket ($37.50): Series of 3-visits (equals $12.50/visit).
Regular Series Ticket ($45): Series of 3-visits (equals $15/visit).
All Tickets: ...are 1) are per device, not per person on Zoom, and 2) are non-refundable & non-exchangeable.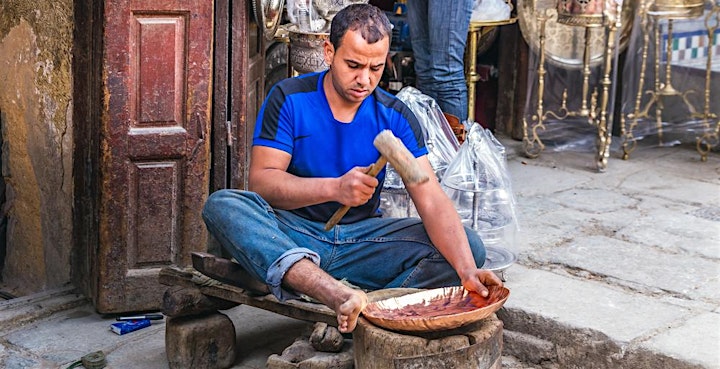 The Fine Print:
Fortunately, we've had very few issues, but just to be clear...
Your Zoom "Event Link": The Zoom event link will be emailed to all registered guests 2-days prior to the first tour. To help it land in your "inbox," please add the following emails to your contacts:
James Sokol -- jsokol@marinjcc.org
JCC Alliance -- alliance@marinjcc.org
Registrants are requested to make sure the email w/link has arrived by the evening of Sat, July 9th. If the email does not arrive, please see "Troubleshooting" below.
The email w/link will be re-sent to all registrants about 2-hours prior to the first tour. NB: However, if it landed somewhere other than in your inbox the first time, it will probably do the same later.
Have a Comcast email? Please refer to this guide: https://www.xfinity.com/support/articles/spam-filters-and-email-blocking-new-experience.
Troubleshooting: We will do our best to remedy any issues. Registrants who have NOT received the email w/link are asked to check their email "junk" and "spam" folders. If found, please move the email to your inbox. If the email/link is still not there, please contact James (see below) immediately.
Late Troubleshooting: We will try our best - but cannot guarantee - help with Zoom links to guests contacting James less than 2-hours prior to the event.
Live Only: In agreement with our guides, artists, instructors, special guests, etc., events are not recorded. Make-up sessions are unavailable. Credit/refund is not given for missed events.
Liability: While we will do our best to remedy any issues, The Osher Marin JCC & its Program Partners cannot be held responsible for 1) issues related to Eventbrite or Zoom, 2) ticket buyers not following the instructions above, nor 3) packing, shipping, or deliver services of food/beverages not received in time for tasting events.
Don't ya just hate "the fine print?!!"
Questions? Email James at jsokol@marinjcc.org.
Still Traveling is created by the Osher Marin JCC (San Rafael, CA) and offered by the National JCC Adult & Senior Alliance. See below for a full list of Alliance Partners.
ALL ARE WELCOME to join in our activities! JCC members, non-members, those who live near or far, people of all backgrounds, faiths, ethnicities, hair styles, fashion choices, chocolate preferences, etc. "The more the merrier!"