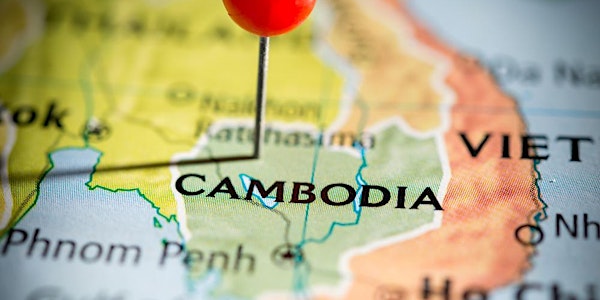 Still Traveling: Captivating Cambodia – Food, Art, Crafts & Dance
Zoom with us live to Cambodia for "tours" with our terrific, local guide, who shares beautiful aspects of his culture.
Refund Policy
Contact the organizer to request a refund.
About this event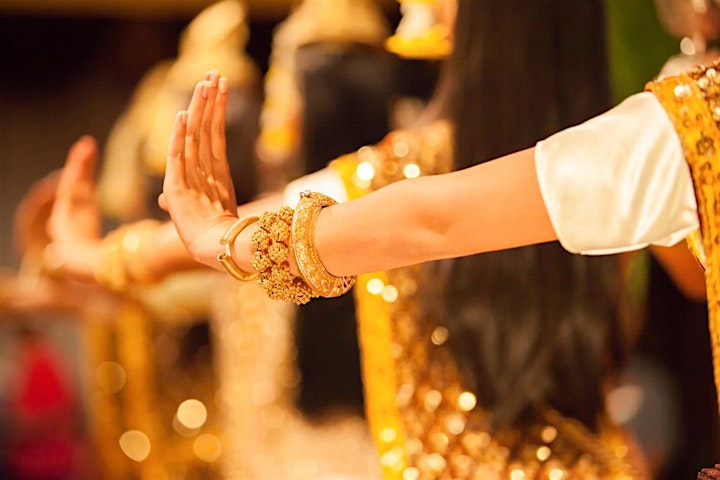 Still Traveling
Would you like to still travel? Now you can without leaving your home – just stay still!
Let us whisk you away for an "armchair adventure" on an interesting, educational, fun & live, guided group tour in a destination beyond your front door ...even beyond the grocery store!
Forget the long, masked airplane ride, we take you across the time zones by Zoom where a local professional guide from a distant destination will take us to explore sites or topics. Live Q&A, photos, graphics & video clips (when available) will transport us to the destination!
Your ticket purchase helps support our special guests – professional guides – who are mostly or completely out of work.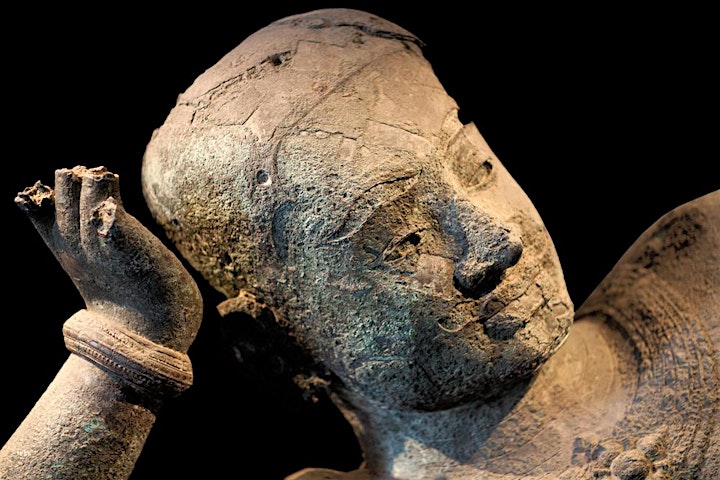 Captivating Cambodia – Traditions in Food, Art, Crafts & Dance
Four Mondays, December 5, 12, 19 & 26, 2022
11am-12:15pm (PT), 12-1:15pm (MT), 1-2:15pm (CT), 2-3:15pm (ET)
on Zoom
Zoom into the home of our beloved, professional, Cambodian guide - Tek - for an all-new exploration of vibrant artistic traditions in his homeland.
Our virtual "trips" include: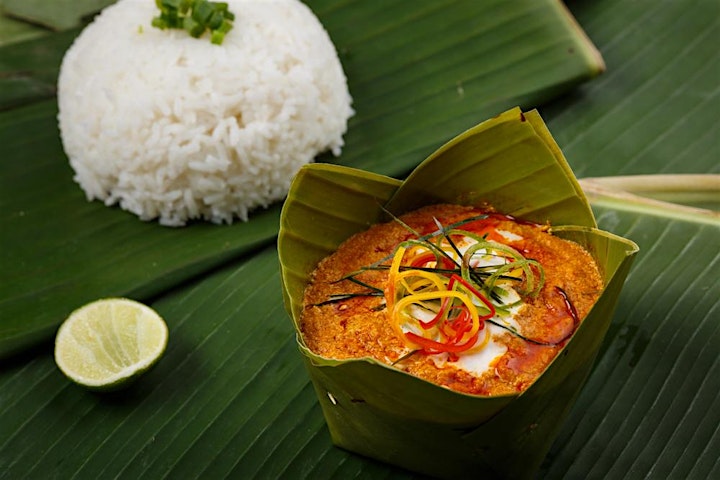 Cambodian Cuisine: From Market to Table (Dec 5)
Unfortunately little-known in the West, Cambodian cooking offers a delicious mix of culinary influences from its neighboring countries – Thailand & Vietnam – and, to a lesser extent, from countries that colonized the area – China & France. Start on this journey at a local market to see produce and products and get a taste (pun intended) of the excitement. Then continue to a kitchen where the scent of lemongrass, ginger and coriander fills the air. Finally, sit virtually at the table to explore an array of traditional dishes.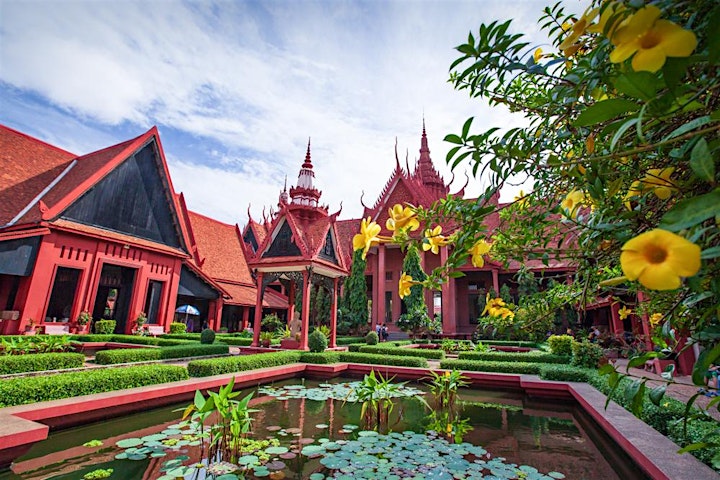 Cambodian Fine Art: Museums & Galleries (Dec 12)
Visit Cambodia's largest museum of cultural history and its leading historical & archaeological museum. Its collection includes over 14,000 works of art from prehistoric times to periods before, during and after the Khmer Empire, which stretched from Thailand, across present-day Cambodia, to southern Vietnam. Then, pop in some of the art galleries, exhibiting the works of current day artists.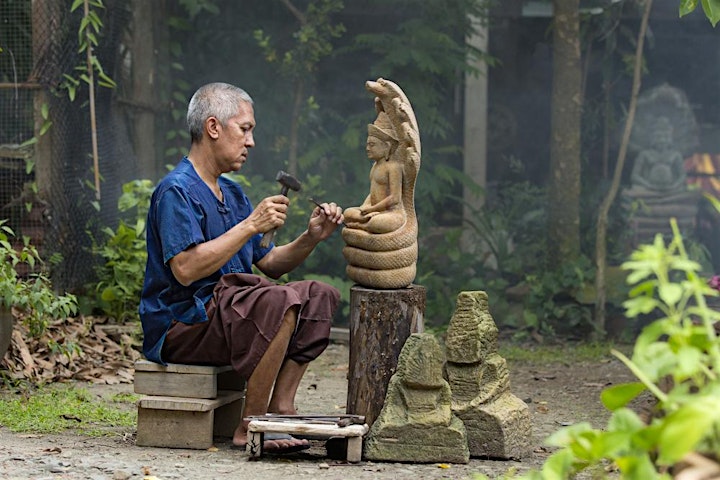 Cambodian Crafts: A Renaissance of Traditions (Dec 19)
Cambodia's rich history of beautiful, handmade crafts was extinguished by the Khmer Rouge in the 1970s. Fortunately, recent times have seen a rebirth of these lovingly created works. Visit workshops of different types of craftspeople from silk weavers and lacquer painters to stone carvers, ceramicists, and more.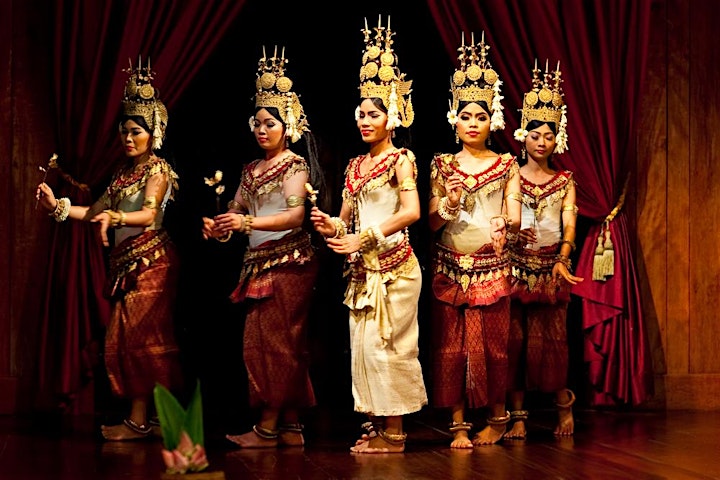 Cambodian Dance: Ancient History, Modern Practice (Dec 26)
Traditional Cambodian dance dates back to ancient times, but is as popular today as ever. Discover images of dancers in the stone relief of the Angkor temples. See how the gorgeous silk brocade costumes. Learn the meanings of various hand symbols. Watch performance clips of these beautiful dancers.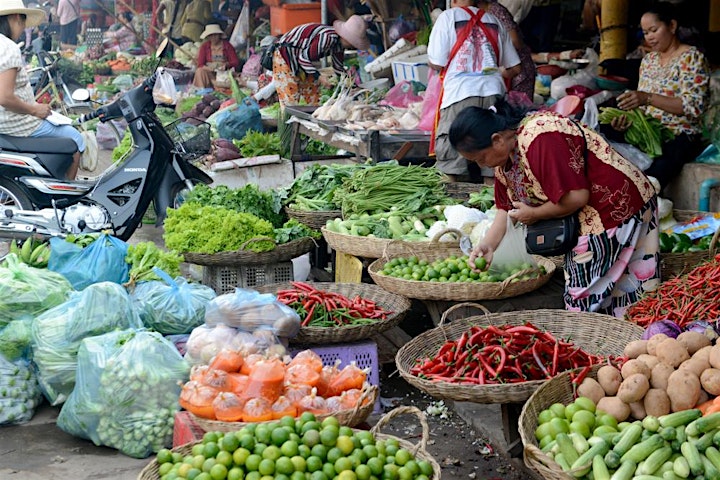 Tickets & Notes:
Full Series Ticket ($50): Series of 4-visits (equals $12.50/visit).
"Give-Us-A-Try" Ticket ($12.50): Check us out by giving our first "trip" (Nov 28) a try. Single tickets are not available to subsequent trips and cannot be credited toward series purchase.
All Tickets: ...are 1) are per device, not per person on Zoom, and 2) are non-refundable & non-exchangeable.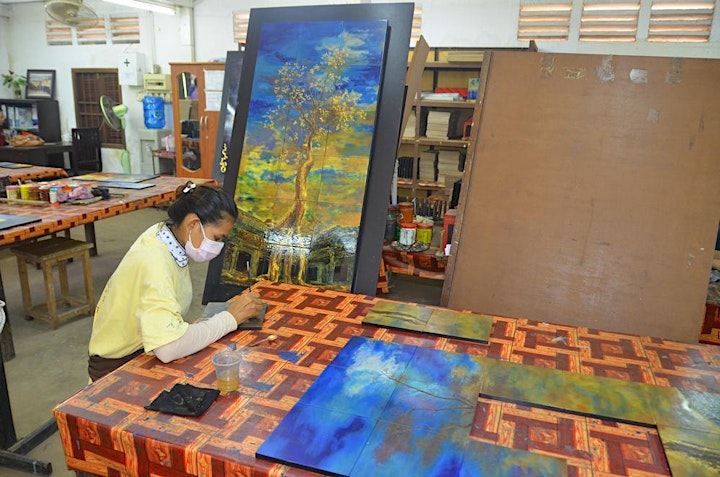 The Fine Print:
Fortunately, we've had very few issues, but just to be clear...
Your Zoom "Event Link": The Zoom event link will automatically be emailed to all guests upon registration, then again 1-2 hours before each "trip." To help it land in your "inbox," please add the following emails to your contacts:
James Sokol -- jsokol@marinjcc.org
JCC Alliance -- alliance@marinjcc.org
Registrants are requested to make sure the email w/link has arrived by the evening of Sat, Dec 3. If the email does not arrive, please see "Troubleshooting" below.
The email w/link will be re-sent to all registrants about 2-hours prior to the first tour. NB: However, if it landed somewhere other than in your inbox the first time, it will probably do the same later.
Have a Comcast email? Please refer to this guide: https://www.xfinity.com/support/articles/spam-filters-and-email-blocking-new-experience.
Troubleshooting: We will do our best to remedy any issues. Registrants who have NOT received the email w/link are asked to check their email "junk" and "spam" folders. If found, please move the email to your inbox. If the email/link is still not there, please contact James (see below) immediately.
Late Troubleshooting: We will try our best - but cannot guarantee - help with Zoom links to guests contacting James less than 2-hours prior to the event.
Live Only: In agreement with our guides, artists, instructors, special guests, etc., events are not recorded. Make-up sessions are unavailable. Credit/refund is not given for missed events.
Liability: While we will do our best to remedy any issues, The Osher Marin JCC & its Program Partners cannot be held responsible for 1) issues related to Eventbrite or Zoom, 2) ticket buyers not following the instructions above, nor 3) packing, shipping, or deliver services of food/beverages not received in time for tasting events.
Don't ya just hate "the fine print?!!"
Questions? Email James at jsokol@marinjcc.org.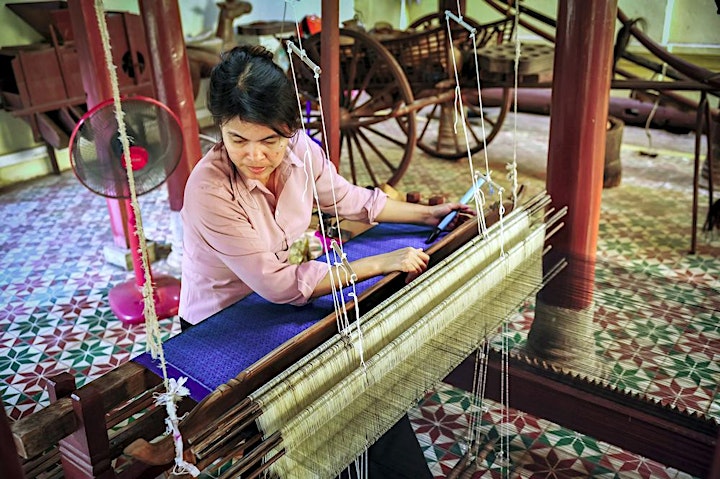 Still Traveling is created by the Osher Marin JCC (San Rafael, CA) and offered by the National JCC Adult & Senior Alliance. See below for a full list of Alliance Partners.
ALL ARE WELCOME to join in our activities! JCC members, non-members, those who live near or far, people of all backgrounds, faiths, ethnicities, hair styles, fashion choices, chocolate preferences, etc. "The more the merrier!"