Let us Zoom you to NYC to spend time with our terrific, professional, local guide, who leads these live fact-filled "visits."
About this Event
Still Traveling
Would you like to still travel? Now you can without leaving your home – just stay still!
Let us whisk you away for an "armchair adventure" on an interesting, educational, fun & live, guided group tour in a destination beyond your front door ...even beyond the grocery store!
Forget the long, masked airplane ride, we take you across the time zones by Zoom where a local professional guide from a distant destination will take us to explore sites or topics. Live Q&A, photos, graphics & video clips (when available) will transport us to the destination!
Your ticket purchase helps support our special guests – professional guides – who are mostly or completely out of work.
Made possible, in part, by a generous grant from the Senior Excursion fund of the Jewish Federation of San Francisco, The Peninsula, Marin & Sonoma Counties.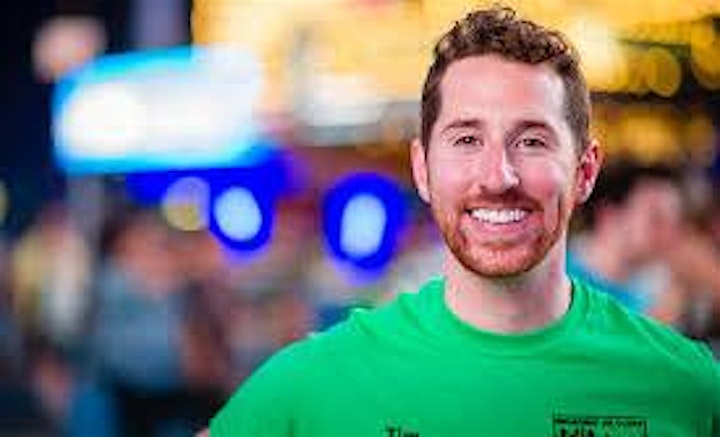 Bewitching Broadway
Four Mondays, February 1, 8, 15 & 22
11:00am-12:30pm (PST), 12:00-1:30pm (MST), 1:00-2:30pm (CST), 2:00-3:30pm (EST)
on Zoom
Let JCC Trip Leader James Sokol zoom you to New York City to meet and "tour" with our terrific, local guide, a Broadway history expert who shares interesting stories, rarely seen photographs & videos to see Broadway's past and present merge before their eyes.
Our Visits Include:

Act I: Broadway's Beginnings (Feb 1)
Explore the Broadway theaters at the southern end of the Broadway theatre district from 41st Street to 44th Street. Journey back in time with our guide to Broadway's early years full of roof garden theaters, tap shoes, and theatrical con artists. Learn the true difference between a Broadway theater and an Off-Broadway theater and revel in the secrets hidden in plain sight in some of Broadway's most famous theaters. Tour-goers will hear how a show is created from the first rehearsal to opening night and all of the craziness in between. And, of course, we'll explore the spirits that may still be lurking in the shadows backstage with a few unbelievable ghost stories.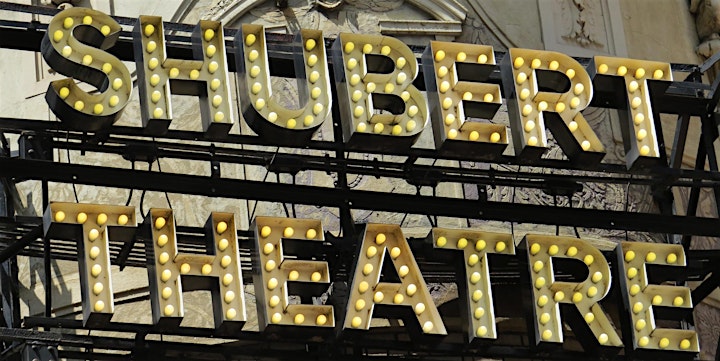 Act II: The Shuberts & Beyond (Feb 8)
Explore the Broadway theaters in the central Theater District from 44th Street to 46th Street. As Times Square transformed from an area full of manure and horse stables to one of the busiest tourist destinations in the world, a battle for Broadway was brewing between a group of theatrical titans and three scrappy brothers with the last name of Shubert. Set against the backdrop of Broadway's most famous theaters, tour-goers will hear about the Shubert Brothers who monopolized Broadway against all odds with the help of an awkwardly named architect. Add in the true origins of the Tony Awards and rarely heard stories from famous musicals ranging from Oklahoma! to Hamilton and walk away with a new appreciation for just how far Broadway has come over the past 100 years.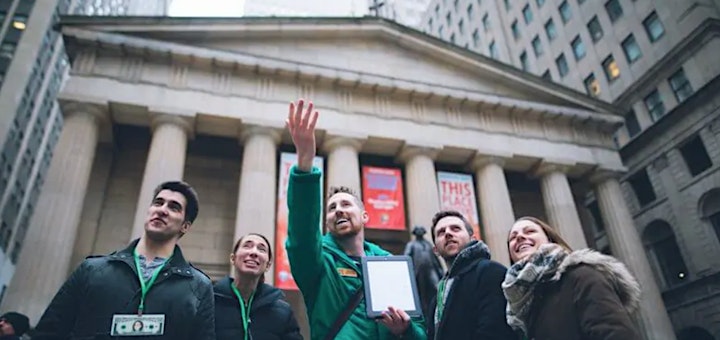 Act III: "Hamilton": The Real NYC Sites (Feb 15)
Celebrate Presidents' Day with an exploration of one of the US' Founding Fathers. For those obsessed with or wanting to learn more about the real settings of Hamilton: An American Musical, follow our guide on Alexander Hamilton's sidewalks and explore "the revolution happening in New York" in the 1700's. In addition to seeing the historical sites, hear stories and secrets about the creation of the record-breaking musical. After culminating at the gravesite of Alexander & Eliza Hamilton, tour guest may walk away even more obsessed with the show than ever before! Be sure to join us so that you, too, will be "in the room where it happens!"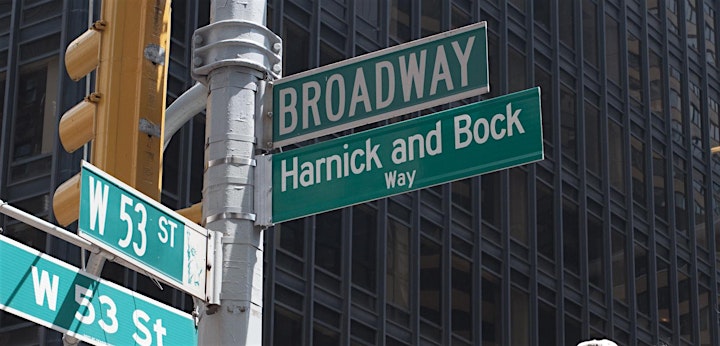 Act IV: Hippies, Discos & Dogs, Oh My! (Feb 22)
Explore the Broadway theaters at the northern end of the Broadway theatre district from 47th Street to 54th Street. Weave among the original facades on the sidewalks north of Times Square and hear how Broadway transformed with the first million dollar show and the introduction of rock musicals. Learn how a dog named Sandy would change one Tony Award winner's life - and Broadway's canine future - while little orphan Annie belted "Tomorrow" in front of thousands. And with some of Broadway's longest running shows, from Hair! to Wicked, housed within these blocks, our guide will bring to light the backstage quirks and secrets that are rarely heard.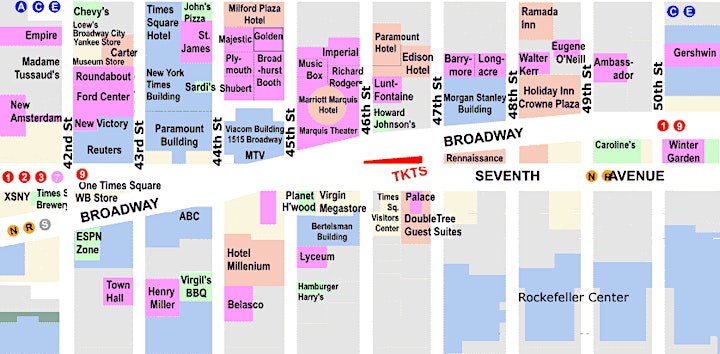 Tickets & Notes:
Full Series Tickets ($50): Series of 4-visits (equals $12.50/visit).
Acts II, III & IV Ticket ($37.50) - This specially created ticket is for those who went on the Act I tour during last September's Broadway series and would now like to take the remaining walks.
Give-Us-A-Try Ticket ($12.50): Check us out by giving our first "trip" (Feb 1) a try. Single tickets are not available to subsequent trips and cannot be credited toward series purchase.
All Tickets: ...are 1) are per device, not per person on Zoom, and 2) are non-refundable & non-exchangeable.

The Fine Print:
Fortunately, we've had very few issues, but just to be clear...
Your Zoom "Event Link": The Zoom event link will be emailed to you automatically within minutes after registration. To help it land in your "inbox," before registering, please add the following emails to your contacts:
James Sokol -- jsokol@marinjcc.org
JCC Alliance -- alliance@marinjcc.org
Registrants are requested to make sure the email w/link has arrived within 30-minutes after registration. If the email does not arrive, please see "Troubleshooting" below.
The email w/link will be re-sent to all registrants about 2-hours prior to the event. NB: However, if it landed somewhere other than in your inbox upon registration, it will probably do the same later.
Have a Comcast email? Please refer to this guide: https://www.xfinity.com/support/articles/spam-filters-and-email-blocking-new-experience.
Troubleshooting: We will do our best to remedy any issues. Registrants who have NOT received the email w/link are asked to check their email "junk" and "spam" folders. If found, please move the email to your inbox. If the email/link is still not there, please contact James (see below) immediately.
Late Troubleshooting: We will try our best - but cannot guarantee - help with Zoom links to guests contacting James less than 2-hours prior to the event.
Live Only: In agreement with our guides, artists, instructors, special guests, etc., events are not recorded. Make-up sessions are unavailable. Credit/refund is not given for missed events.
Liability: While we will do our best to remedy any issues, The Osher Marin JCC & its Program Partners cannot be held responsible for 1) issues related to Eventbrite or Zoom, 2) ticket buyers not following the instructions above, nor 3) packing, shipping, or deliver services of food/beverages not received in time for tasting events.
Don't ya just hate "the fine print?!!"
Questions? Email James at jsokol@marinjcc.org.

Still Traveling is created by the Osher Marin JCC (San Rafael, CA) and offered by the National JCC Adult & Senior Alliance. See below for a full list of Alliance Partners.
ALL ARE WELCOME to join in our activities! JCC members, non-members, those who live near or far, people of all backgrounds, faiths, ethnicities, hair styles, fashion choices, chocolate preferences, etc. "The more the merrier!"