"Still I Rise" is a benefit concert for those severely injured by the 2020 Beirut explosion.
About this event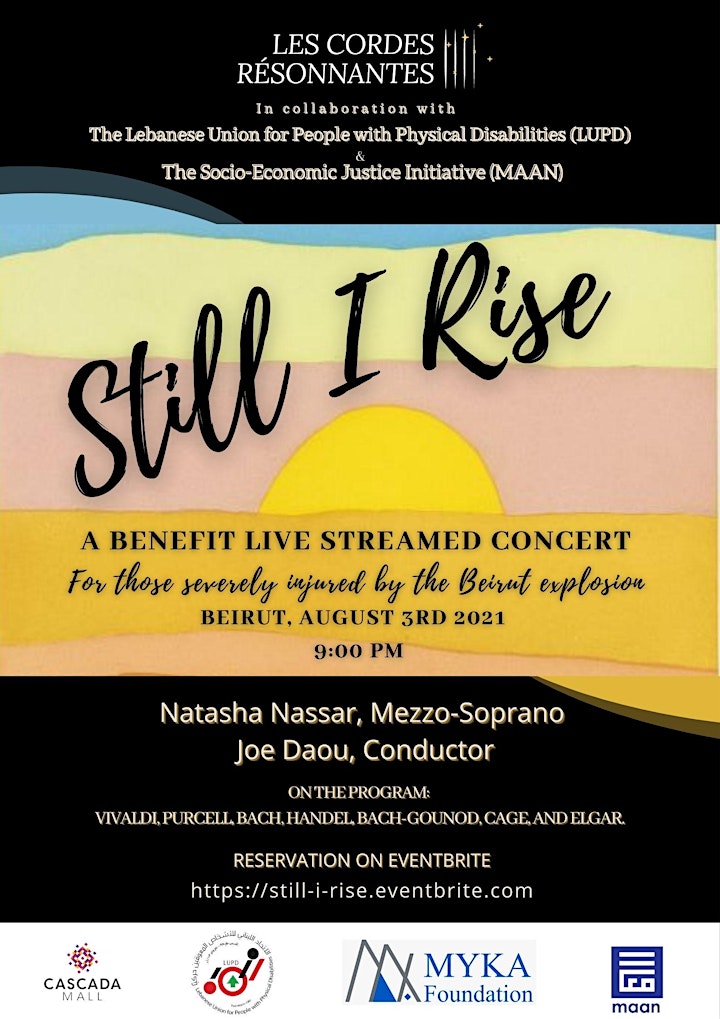 We present to you "Still I Rise"-
A benefit concert for those severely injured in the Beirut explosion. The concert will be live streamed out of Beirut-Lebanon on August 3rd at 9:00 p.m.
Conducted by Joe Daou, Les Cordes Résonnantes ensemble will be performing sacred works by Vivaldi, Purcell, Bach, Handel, Bach-Gounod, Cage, and Elgar.
This concert will feature Mezzo-Soprano Natasha Nassar.
ALL PROCEEDS FROM TICKET DONATIONS WILL GO DIRECTLY TO THE LEBANESE UNION FOR PEOPLE WITH PHYSICAL DISABILITIES (LUPD) TO ASSIST THOSE WHO WERE SEVERELY INJURED BY THE BEIRUT EXPLOSION
JOIN US FOR THIS GREAT CAUSE!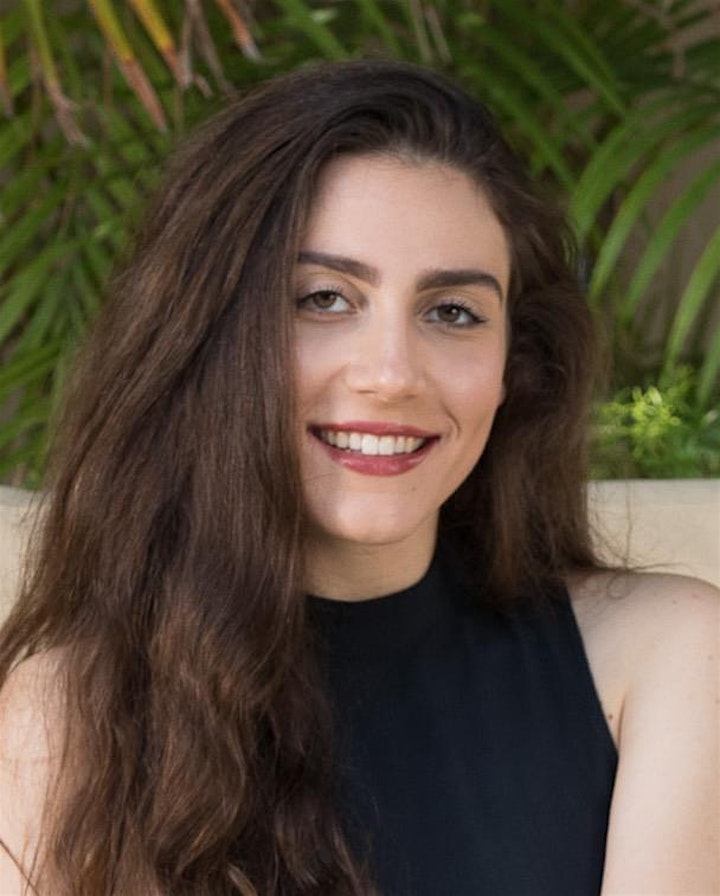 Natasha Nassar is a Lebanese- American mezzo-soprano whose career has taken her across the globe. Born in London and raised in Dubai, Ms. Nassar later attended prestigious boarding schools in the United States of America. Ms. Nassar is a graduate of Northwestern University, where she completed her degree in opera performance. Her accomplishments include numerous operas and musical productions, master classes, competitions, awards, opera programs, and concerts/recitals. Some of the highlights of her career include her Carnegie Hall debut where she performed as a solo guest artist, as well as her performance at the Dubai World Cup, where she was invited to sing at the opening ceremony. Currently, Ms. Nassar is based between New York and Beirut.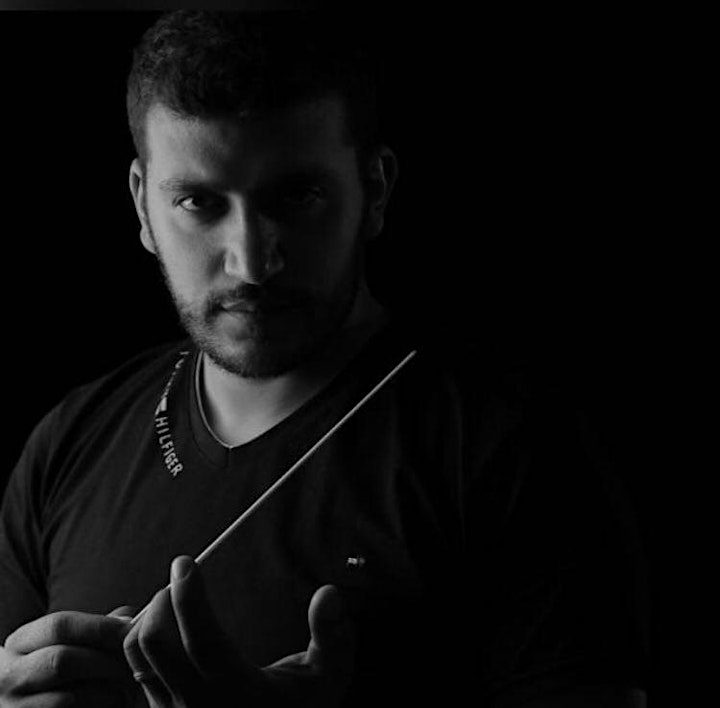 Joe Daou is a Lebanese conductor, violist, musicologist, and Organ specialist. He was the conductor of the Barock-Ensemble chamber orchestra between 2012 and 2018. He currently conducts the Les Cordes Résonnantes ensemble. Mr. Daou is a graduate of Notre Dame University in Lebanon as well as the Lebanese National Higher Conservatory of Music. He subsequently studied conducting and early music interpretation in Italy and France. Being a distinguished engineer as well as a musician, Mr. Daou is currently the leading Organ builder and restorer in the Middle East.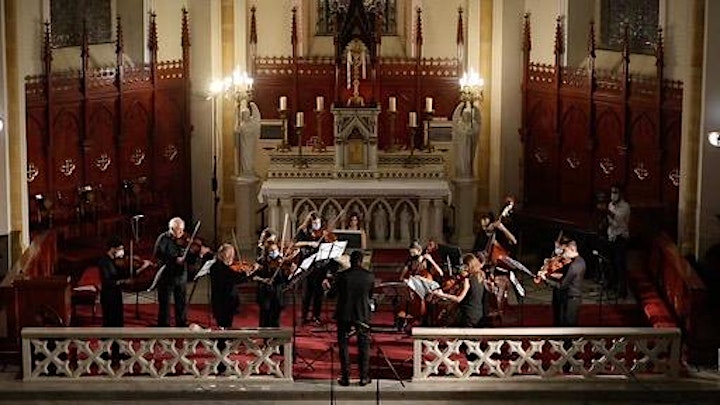 Les Cordes Résonnantes, founded in 2018, is a string ensemble based in Lebanon. They perform concerts across different regions of Lebanon with the aim of decentralizing music in the country, as well as promoting classical repertoire to Lebanese society. Some of their recent performances include "Les soirées du Clavecin" (2019), "Stabat Mater - G. Pergolesi" (2019), "La Cathedrale en Musique" (2019), "Beirut Chants Festival" (2020), and "Music Leads to Bach" (2021).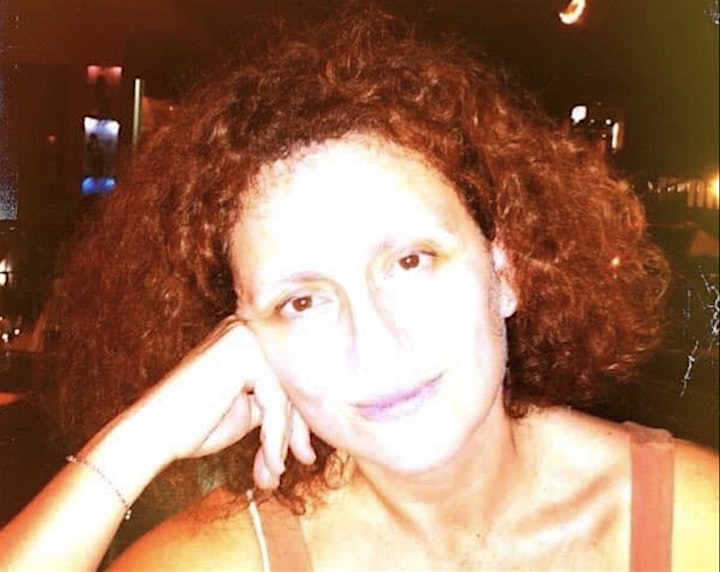 Fadia Doumani is a Lebanese pianist and composer. After an extensive career in the medical field and in therapeutic education, she began creating musical projects that use music as a vector for peace, unity, wellbeing, and social inclusion. She strives to merge music with humanitarianism, creating thematic and inter-cultural events for a cause.