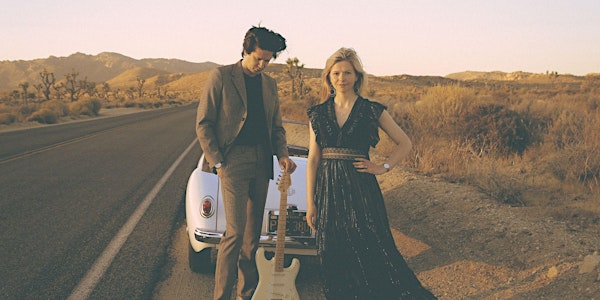 Still Corners | Foxes in Fiction
Ages 21+
Noise Pop Presents
Dream pop duo Still Corners comes to San Francisco with Foxes in Fiction
When and where
Location
The Great Northern 119 Utah St San Francisco, CA 94103
Performers
Headliners
Still Corners
Foxes In Fiction
About this event
Still Corners
Still Corners is the musical project of Tessa Murray and Greg Hughes. The group formed shortly after Murray met Hughes by chance at a London train stop in 2009. Over the past decade, the band has delivered a steady stream of music that is at once reflective, searching and romantic.
In a world where everyone thinks all the corners of the map are filled in, Still Corners believe there's something beyond what we see and feel, something eternal in the landscape of those never-ending drives. With the shimmering desert noir sound the band has become known for, The Last Exit takes you on a hypnotic journey, one filled with dilapidated towns, rolling unconcerned skies, and long trips that blur the line between what's there and not there.
---------------------------------------------
Foxes in Fiction
The solo project of Toronto musician and Orchid Tapes founder Warren Hildebrand, Foxes in Fiction was born as an an outlet for their dreamy sound collages and grew into a far more musical vision of ambient pop. Along with frequent limited-release cassettes and free songs posted online, Foxes in Fiction's sound grew richer and more refined on releases like 2014's Ontario Gothic.
Toronto-born musician Hildebrand formed Foxes in Fiction in 2005 during their second year in high school. The project initially showcased their trippy sound collages and ambient soundscapes. Early recordings like 2010 debut full-length Swung from the Branches tended more toward this style. In the earliest days of the project, Hildebrand recorded and released new music prolifically, churning out EPs, cassette releases, 7" singles, and a wealth of songs fans could download for free. Foxes in Fiction developed at the same time Hildebrand's label Orchid Tapes was becoming a home for trend-setting artists like Elvis Depressedly, Ricky Eat Acid, and Alex G. The second Foxes in Fiction album, Ontario Gothic, arrived in 2014. More song-oriented than some of their earlier ambient collage material, the seven-track album drew on themes of loss and musically veered toward lo-fi production and intimate shoegaze textures. By this time, Hildebrand had relocated from Toronto to New York, and that transition, along with the self-destructive impulses it wrought, provided the inspiration for third album Trillium Killer. The release was recorded between 2017 and 2019 in Hildebrand's home studio and proved their most versatile and shifting effort yet, incorporating elements of glowing dream pop, ambient atmospheres, loungey pop, and vocal manipulations representing different characters within the tiny universe the songs created. Trillium Killer was released in October of 2019 on Orchid Tapes.