A posh social experience for loss mamas and friends, that will leave you feeling a little spoiled and a little less heavy.
About this Event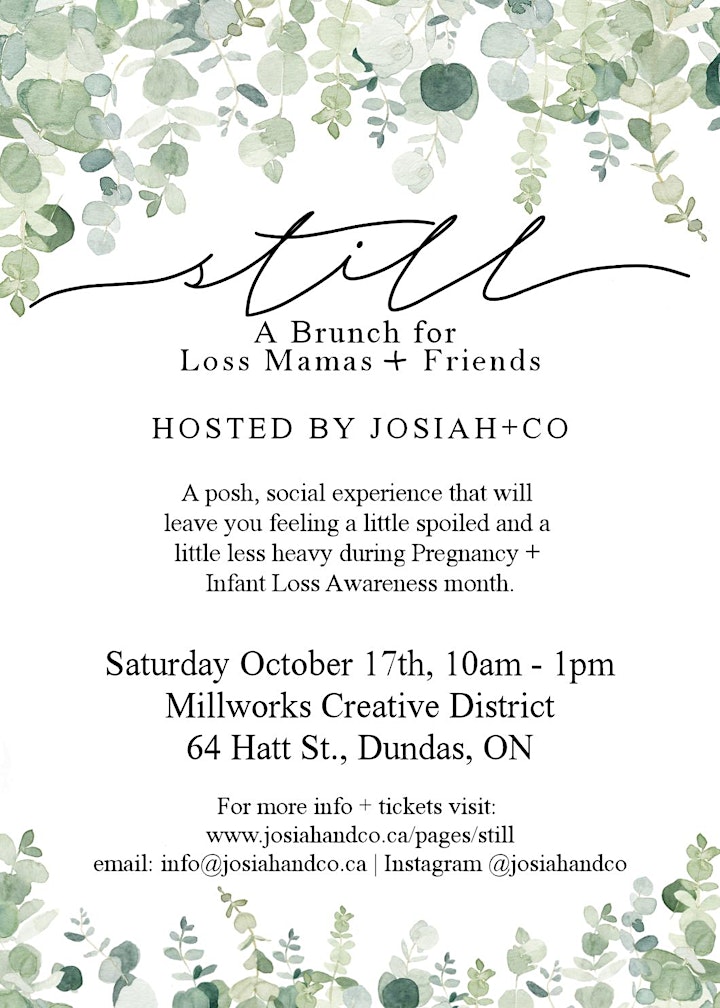 Navigating pregnancy and infant loss can be extremely isolating. We want to smash down those stigmatizing walls, and provide a safe space for you to connect with others who JUST GET IT, who understand the pain and joy associated with life after loss. Our events are light-hearted in nature. We may drop a few curse words, cry, and then laugh till our bellies hurt. So if this sounds like your jam, come join us!
EVENT DETAILS
Still: a Brunch for Loss Mamas + Friends is a posh, light-hearted social event for those impacted by pregnancy and infant loss. Hosted in the beautiful Millworks Creative District in Dundas, ON.
connect and mingle with other loss mamas
gourmet catered brunch by Blend Catering Co.
live music from Brad Soucie
navigating grief speaker
Q+A panel discussion, covering various loss journeys
photobooth* and make your own EO rollers
gift bags, door prizes, resources + more!
*each attendee will receive one free professionally edited photo from @enjedanielsphoto_
Please note there may be women in attendance who are pregnant after loss, we recognize this could be a trigger for some; we want all to feel welcome.
LOCATION
Our event is hosted in The Loft Space in the beautiful, new Millworks Creative District in Dundas, ON, just a stones throw away from Hamilton. This beautiful, bright space has a vintage vibe with white washed brick walls and exposed wood beams, making it the perfect spot for this special event.
There is free parking on site (a site map will be emailed out prior to the event), and there is one flight of stairs. If you need elevator access please let Melissa know (melissa@josiahandco.ca).
TICKET PRICING
Regular pricing: $100+hst
SPONSORSHIP: Sponsor a Loss Mama
We recognize that some mother's impacted by pregnancy and infant loss may want to attend this event but may not be able to due to financial reasons. We don't want to turn anyone away, so please consider sponsoring a mother impacted by loss, so that she doesn't miss out on this impactful social event.
*If you would like to attend, but cannot due to financial reasons, please email Melissa directly at melissa@josiahandco.ca
FAQs
Your event sounds so lovely, can I come if I haven't experienced pregnancy or infant loss, but have experienced other forms of grief? Yes! You are more than welcome to come! We have discovered that navigating grief of any sorts is similar in many ways. Even though the event will be geared towards pregnancy and infant loss, there will be many take-away points for other forms of grief. We are in this together!
I'm a father and I would love to attend with my partner, is that ok? Yes! You are more than welcome to attend! The majority of attendees will be women, but there will be a few men in attendance. We will also have a loss dad on the Q+A panel who will be a great resource and connection for you!
Will you have vegan options? Yes! We are working closely with Erica from Blend Catering Co., to customize the menu if needed. Make sure to include dietary restrictions when you purchase your ticket, and we will accomodate.
Can I bring my children/baby? Due to the nature and sensitivity of this event we would prefer that babies + children stay home - maybe your partner can take one for the team, or if you need a babysitter we might be able to hook you up.
Can I come if I am visibly pregnant? Yes, yes you can! In all our marketing materials we are giving a disclaimer that there most likely will be women attending who are visibly pregnant, so that if it is potentially triggering for someone they can make the personal call if they would like to attend or not. Pregnancy after loss is a whole other bag of potatoes, and we will be addressing this topic at the event, as we are frequently asked about how to navigate those water.
Is it wheelchair accessible? Yes. There is a lift elevator at the Millworks Creative District, we just need to give a heads up to the site manager so she can let us up.
I really want to come, but can't really afford the ticket price, can you help me? Yes we can! We have sponsorship opportunities available for those who need it. Email Melissa at melissa@josiahandco.ca and she can chat with you about details.
I would love to cover the cost of a ticket for someone else, can I do that? Why yes you can! How generous! Under our tickets section there is an opportunity to donate towards our sponsorship fund. You can donate towards a general fund, or you can specify someone you would like it to go towards.
Can I bring a friend? Or my mom? Or my partner? Yes you can, you can! The more the merrier!
I would love to donate towards the gift bags or door prize, who can I talk to? Send an email to Melissa (melissa@josiahandco.ca) and she can hook you up!