Description
This talk is sold out. However we are going to have a live audio stream available to Long Now members.
Join Long Now today and you can tune in live.
We hope to release some tickets to the waiting list closer to the date.
But interest is very high and our space is limited.

Many more great talks at The Interval are coming up in 02015.

The Interval's donors hear about our events first: become a donor today.
The Long Now Foundation presents
Stewart Brand
Long Now's co-founder and president
and Paul Saffo
Long Now Board member / Stanford University
@ The Interval at Long Now: check-in begins at 6:30; talk will start at 7:30
Join us afterwards for drinks and conversation with our speakers
"All durable systems have this sort of structure; it is what makes them adaptable and robust."
—Stewart Brand from The Clock of the Long Now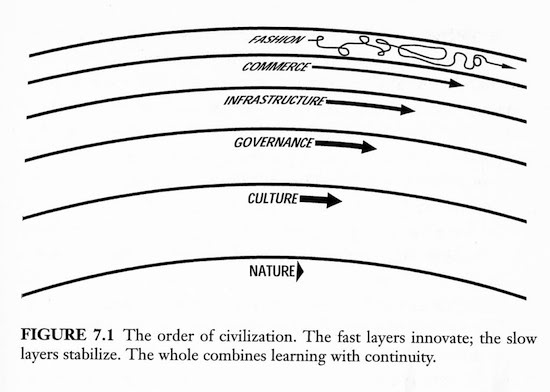 "Pace Layers" diagram from Stewart Brand's book "The Clock of the Long Now"
In "Pace Layer Thinking" Stewart Brand and Paul Saffo will discuss Stewart's six-layer framework for how a healthy society functions. It is an idea which, 15 years after he first suggested it, continues to be influential and inspiring.

Stewart Brand first explained the idea of "Pace Layers" in his 01999 book The Clock of Long Now. On page 37, in a chapter that cites Brian Eno and Freeman Dyson amongst others, the above diagram appears showing six layers that function simultaneously at different speeds within society. As the layers progress, Stewart proposed, they help a society to be adaptable, robust and healthy precisely because their speeds conflict.
In a healthy society each level is allowed to operate at its own pace, safely
sustained by
the slower levels below and kept invigorated by the
livelier levels above.
Pace layers is a framework with many applications. When Stewart spoke about Pace Layers recently at Evernote's EC conference, Phil Libin, Evernote's CEO, said in reference to the Pace Layers chapter: "it was the most profound thing that I'd ever read." Jeff Veen of Adobe (formerly Typekit and Adaptive Path) recently told Om Malik that pace layers provide a vocabulary to talk about the stacked layers of design. Stewart explains it in the book as it applies to a forest--from pine needle to tree crown at the top all the way down to biome.
Pace layers is an even more useful tool today than when Stewart originally proposed it. In a networked world where everything seems to be about speed, awareness of how slower layers and perspective on how they all interact gives valuable insight on what the future may hold.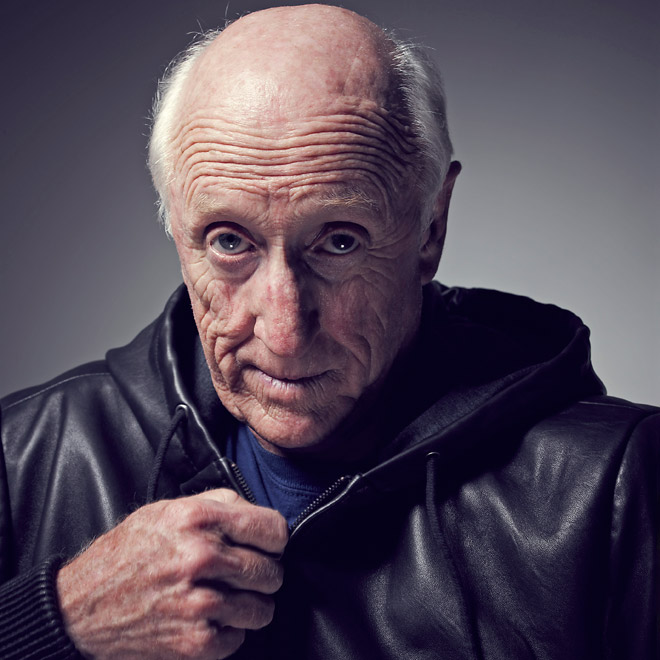 Stewart Brand is co-founder and president of The Long Now Foundation and co-founder of Global Business Network. He created and edited the Whole Earth Catalog and co-founded both the Hackers Conference and The WELL. His books include The Clock of the Long Now; How Buildings Learn; and The Media Lab, and most recently Whole Earth Discipline. He graduated in Biology from Stanford and served as an Infantry officer in the US Army. He curates and hosts Long Now's monthly Seminars About Long-term Thinking series in San Francisco. Stewart is also co-founder of Revive & Restore, a Long Now project focused on genetic rescue for endangered and extinct species. Photo: Joe Pugliese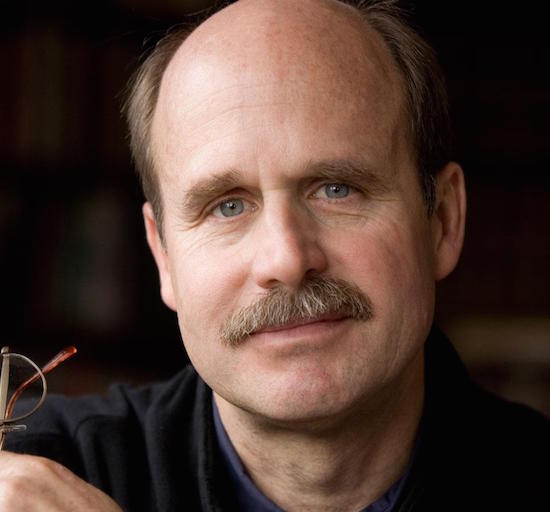 Paul Saffo is a forecaster with over two decades experience exploring the dynamics of large-scale, long-term change. He teaches forecasting at Stanford University and chairs the Future Studies and Forecasting track at Singularity University. Paul is also a non-resident Senior Fellow at the Atlantic Council and a Fellow of the Royal Swedish Academy of Engineering Sciences. Paul serves on several not-for-profit boards including The Long Now Foundation. Paul's essays have appeared in The Harvard Business Review, Fortune, Foreign Policy, Wired, The Los Angeles Times, Newsweek, The New York Times, and the Washington Post amongst many others. He holds degrees from Harvard College, Cambridge University and Stanford University. Photo: Intel Free Press.


Interval donors hear about our events first: become a donor today.