Description
This talk is sold out, but Long Now members can watch via livestream on our member site. For streaming access and to find out first about upcoming talks join Long Now today.
The Interval presents Stewart Brand, Kevin Kelly, and Alexander Rose:
Siberia: A Journey to the Mammoth Steppe
Check-in begins 6:30pm; talk starts at 7:30pm at The Interval

Long Now Foundation board members Stewart Brand and Kevin Kelly, joined by Long Now Executive Director Alexander Rose, will discuss their recent trip to Siberia's Pleistocene Park.

In August of 02018, Stewart, Kevin, Alexander, with renowned geneticist George Church and other scientists, traveled to remote Siberia to witness the ongoing restoration of a Pleistocene-era ecosystem, where woolly mammoths walked hundreds of thousands of years ago. The team returned with DNA samples that will aid the ongoing mammoth de-extinction project, as well as lots of photos, video, and stories of a place that connects geological deep time and the future of life on Earth.

Filmmakers David Alvarado and Jason Sussberg, who are working on a documentary about Stewart Brand, were also on the trip. They will show never before seen footage throughout the night, and join the trio of Long Now leadership to explain how one of the most remote places on Earth holds both a key to our climate future as well as rich evidence of the prehistoric past.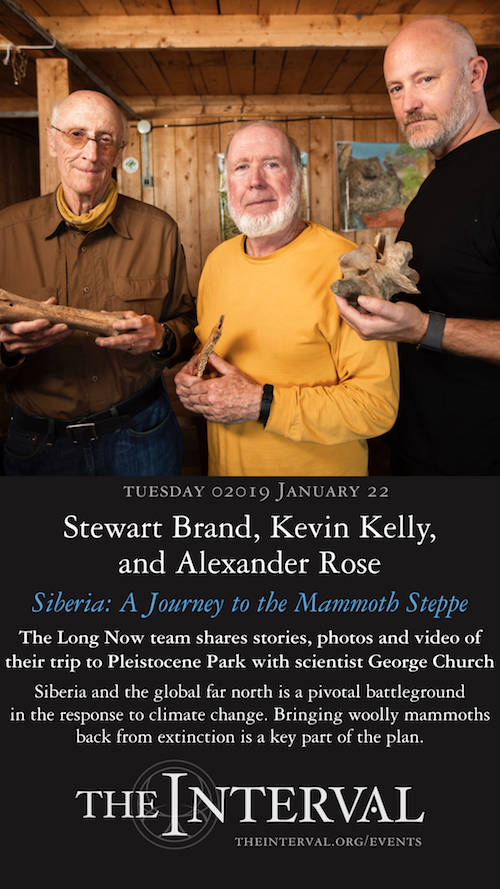 Join Long Now to support our programming and get access to livestream video of our talks.

Stewart Brand is co-founder and president of The Long Now Foundation and co-founder of Global Business Network. He created and edited the Whole Earth Catalog and co-founded both the Hackers Conference and The WELL. His books include The Clock of the Long Now; How Buildings Learn; and The Media Lab, and most recently Whole Earth Discipline. He graduated in Biology from Stanford and served as an Infantry officer in the US Army. He curates and hosts Long Now's monthly Seminars About Long-term Thinking series in San Francisco. Stewart is also co-founder of Revive & Restore, a Long Now project focused on genetic rescue for endangered and extinct species.
Kevin Kelly is a founding board member of The Long Now Foundation and Senior Maverick at Wired Magazine. He co-founded Wired in 01993 and served as its Executive Editor until 01999. He is founding editor / co-publisher of the long-running tool review site Cool Tools. Kevin has authored more than a dozen books including Cool Tools, What Technology Wants, New Rules for the New Economy, Out of Control, and most recently The Inevitable, a New York Times and Wall Street Journal bestseller. During the 01980s Kevin was publisher / editor of The Whole Earth Review, co-founded the Hackers Conference, and helped launch the pioneering online service the WELL. He has written for The New York Times, Wall Street Journal, GQ, and The Economist, among many others. His website is www.kk.org.
Alexander Rose is Executive Director of The Long Now Foundation. An industrial designer by training, he has been working with computer scientist Danny Hillis to build the monument scale, all mechanical 10,000 Year Clock of the Long Now since 01997. As director of Long Now, Alexander oversees and facilitates projects including the 10,000 Year Clock, The Interval, The Rosetta Project, and the Seminars About Long Term Thinking. He speaks about the work of The Long Now Foundation all over the world at venues ranging from the TED conference to corporations and government agencies. Alexander's combat robots have won six world championships and appeared in the TV show BattleBots. Alexander has built large pyrotechnic displays for the Burning Man festival, robotic bartenders and other dangerous machines.

Long Now members hear about Interval events first: become a member today