Location
Olton Community Center
406 2nd St
Olton, TX 79064
Master naturalists, farmers, ranchers, educators, and the interested public are invited to attend a Stewarding Our Aquifer (SOA) Field Day!
About this event
The purpose of the SOA Field Day series is to provide education about management practices that can reduce or stabilize groundwater depletion levels in the region, assist in the transition from irrigated agriculture to rainfed agriculture, and help to sustain water resources for municipalities, as well as for wildlife and the natural world.
Registration for the event is $20 per person (which includes the cost of lunch and snacks).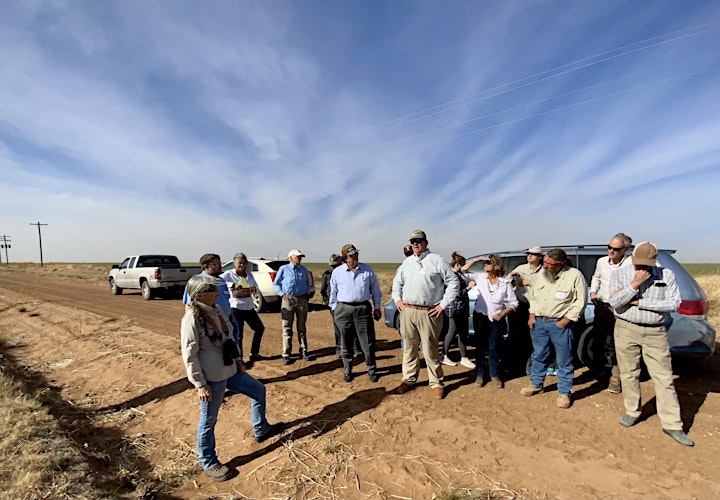 AGENDA:
9:00am Doors Open with Registration & Snacks
9:30am Welcome & Overview
Darryl Birkenfeld, Director, Ogallala Commons, and playa landowner
9:45am Playa Restoration through TX Playa Conservation Initiative
Heather Johnson, Migratory Game Bird Specialist: Region I, of the Texas Parks & Wildlife Department, Littlefield, TX
10:15am Consequences of Aquifer Depletion on the Llano Estacado
Dr. John E. Stout, Physical Scientist at Wind Erosion and Water Conservation Research Unit, United States Department of Agriculture-Agricultural Research Service, Lubbock, TX
10:45am Break
11:00am Region O Water Planning: Impacts/Guidance for the South Plains
Dr. Melanie Barnes, Public Representative, Llano Estacado (Region O) Water Planning Group, Lubbock, TX
11:40am Depart for Field Trip in the Olton locality
(10-minute drive)
12:30pm Lunch (catered by Rejino Barbeque) back at Olton Community Center
1:00pm Closing Remarks
Jim Steiert, Moderator, ag journalist and playa enthusiast, Hereford, TX
1:15pm Adjourn